Now that we are in the heart of earnings season, many investors are zeroing in on company reports to drive the market. While investors seem to be pretty bullish on financials for this quarter, one segment that may also provide some earnings growth is technology.
However, not just any tech company will do, as you will need to drill down into a few key segments for strong earnings growth. In particular, the semiconductor segment could be an interesting choice, thanks to the high Zacks Industry Ranks for this space and the surging stock prices of many companies in this corner of the tech world. A number of semiconductor firms fit this bill as solid investments during this time frame, but one stands out for its promise this earnings season: Cree (NASDAQ:CREE).
CREE in Focus
Cree is a North Carolina-based company that focuses on LED products that are used in a number of applications including game displays, automobiles, signage, among others. Beyond their LED division, the company also makes power conversion products, Radio Frequency-based items, and semiconductor materials. The firm is becoming increasingly well-known as demand increases for energy efficient applications across the board. Plus, it doesn't hurt that the firm's stock has risen by almost 200% in the past 52 weeks alone. While this is obviously an already amazing level of stock price growth, there is plenty of reason to believe that this trend can continue, especially if you look to earnings estimates for the company.
Estimate Picture
The consensus is looking for earnings growth of 87.5% for the current quarter and then 100% growth for the next quarter. Meanwhile, for the current year and next year, earnings growth is expected to come in at a robust 60%-plus for both periods. Estimates have also been rising lately, with all in the past 90 days rising. In fact, the most recent analyst estimates -- for next quarter and next year -- were up 10%, suggesting that expectations are continuing to rise for CREE.
While this might be concerning to some investors, especially with the lofty growth that is baked into the company's projections, CREE does have a good track record of beating or meeting analyst expectations. The firm has met or beat expectations in all five of the last earnings reports, including double digit beats in two of the last four.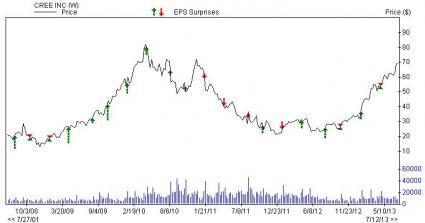 Thanks to these factors, the company has earned itself a Zacks Rank No. 1 (Strong Buy), suggesting that the firm could outperform in the months ahead as well. Plus, the stock has a Zacks recommendation of Outperform, meaning that the longer-term look is also favorable. To top things off, the Zacks Industry Rank for this corner of the semiconductor market is ranked extremely well. In fact, the industry is actually the highest ranked one, bar none, in our classification system -- suggesting that the space is well poised to rise this earnings season too.
Bottom Line
As companies try to become more energy efficient, Cree's products look to become more in demand. This could continue to boost CREE's surging stock, and make this top-ranked firm a solid investment. This is especially true given how bullish many analysts are on the company and the firm's solid history at earnings season. And then when you add in the No. 1 overall Zacks Industry Rank, investors could definitely still have a winner on their hands with this interesting tech company.
Cree: Free Stock Analysis Report (email registration required)