The news on the Vivus (NASDAQ:VVUS) and First Manhattan battle has taken yet another turn. The latest is a press release issued by First Manhattan which expresses a desire to reach a compromise in the battle for control.
There has been a lot happening. Early this weekend Vivus had extended an olive branch of sorts stating that it would invite three First Manhattan nominees to sit on the Board of Directors if it was successful in its bid to maintain control of the company. First Manhattan has now matched that offer by extending the exact same invitation to Vivus should First Manhattan prevail in getting its board slate elected.
Thus far neither side has been capable of setting aside the slings and arrows in this process, even while saying that they want to get along. In many ways it is like being slapped one second and then kissed the next. The First Manhattan offer states this:
While we view these efforts to disenfranchise Vivus shareholders as egregious, we remain committed to doing what is best for the company and its shareholders, and we intend to invite three current Vivus directors to join the newly reconstituted board in the event that all nine FMC nominees are elected. We are committed to realizing value at Vivus for the benefit of all shareholders.
In fairness, there has been just as much venom combined with a touch of honey in the the public statements of the current Vivus board and management.
In my experience the most "fair" deals are the ones where both sides walk away feeling that they did not do bad, but could have done better. I am not sure that either side is at that point yet.
Let's face it. Carrying three seats on a twelve member Board of Directors does not wield very much power. Essentially, the three can be the odd men out every time, and will perhaps simply take up space, having never won a voting issue.
So, while it seems that both sides have a similar deal on the table, the legal documents, if accurate and true, would point to First Manhattan having enough votes in hand to actually win its proxy contest and effectively take over the company if the votes were counted. Thus, First Manhattan is actually being a bit more generous in its offer, even if the three seats carry little weight.
According to legal filings in Deleware, First Manhattan did indeed have enough votes to win the battle. First Manhattan had also objected to the adjournment of the annual meeting and contends that the adjournment was against company bylaws.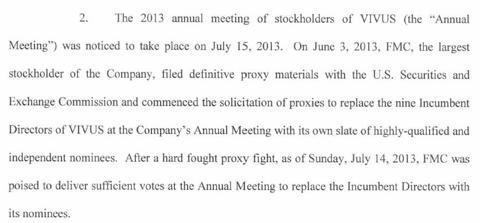 With all of this to consider, it would appear that what investors need to prepare for is as follows:
A path where First Manhattan will likely take control of the Board of Directors and make good on its promise to include three current board members on a 12 member slate.
A path where this goes into court in a longer and more drawn out process where the issue of whether or not First Manhattan misled shareholders in a presentation will have to first be decided, and then whether the cast votes are deemed acceptable.
In my opinion, the current board has a fiduciary responsibility to shareholders to act in the best interest of the shareholders. I am not convinced that a long and drawn out court process is that path. It would appear that First Manhattan, even if it were to lose the argument about how it discussed the proxy issue with shareholders, could simply make corrective actions and bring the challenge again.
Essentially, I think that, as difficult as it may be for the current Board and management, the writing is on the wall here, and to save shareholders pain, these sides need to join together, put on a brave smile, and get the issue resolved. Stay tuned.
Disclosure: I have no positions in any stocks mentioned, and no plans to initiate any positions within the next 72 hours. I wrote this article myself, and it expresses my own opinions. I am not receiving compensation for it (other than from Seeking Alpha). I have no business relationship with any company whose stock is mentioned in this article.