The purpose of this series is to highlight stocks that are undervalued, profitable, underperformed the market, and have a favorable technical outlook. The stock that I will be covering for my undervalued series this week is SodaStream International (NASDAQ:SODA). SODA stock has dropped 16.10% in the last month but has significantly outperformed the S&P 500 (NYSEARCA:SPY) year to date. I believe SODA is a solid undervalued long-term choice to gain exposure to the trend of consumers choosing foods & drinks that are healthier and more cost effective. The chart below from the SodaStream website shows that SodaStream products are a healthier alternative to traditional sodas like Pepsi and Coca-Cola. With the cost of healthcare rising, I believe consumers are taking a deeper look into their diets and seeing that some products they consume are unhealthy, but consumers are attached to those unhealthy products, therefore the problem is deciding between what you want, and what is healthy for you. This is where SodaStream comes in; soda is not "healthy" for you, but for consumers looking to be able to drink soda, SodaStream is a great alternative because SodaStream products have significantly less calories, carbohydrates, sugar, and sodium.

Value
To value SODA I will be using a DCF calculator, with data for earnings and growth coming from Zacks.com, benchmark data from longrundata.com, and CPI data from the BLS. The DCF table below shows shares of SODA are undervalued by 29.67%, which represents a potentially significant price appreciation opportunity for shares of SODA.
EPS [ttm]: $2.18
Long-term Growth Rate: 26.55%
Earnings grow for next: 5 years
Level off: to 1% after
Benchmark return: 10 yr annualized SPY return of 7.34%+1.4% inflation= 8.74% benchmark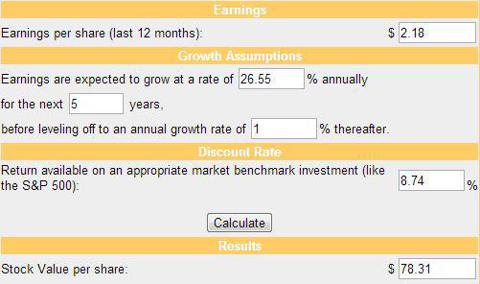 Technical Outlook
The chart below shows that shares of SODA have been rising steadily over the last two years, but in the short term, the stock looks like it will test the rising trend line [Red Line] of support. SODA has tested the trend line twice before and held the level each time. In addition, on the chart are two other important levels, first, the blue line, represents the closing price of SODA the day it broke out to new highs in May. The stock is sitting right near the blue line and has tested the level once before and has held; therefore, SODA in the short-term could be poised for a bounce off this level. In addition the purple line is the level at which the stock was at before the breakout to new highs, and represents another significant level of support for the stock. In the long term, I expect SODA to continue its long-term uptrend because of the high growth of the company.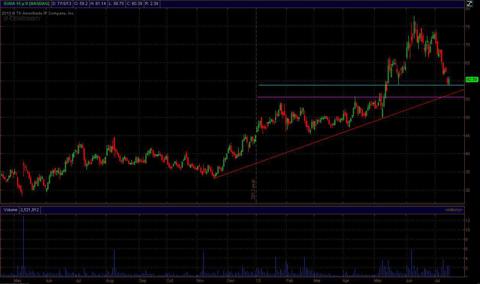 Catalyst
The biggest long-term catalyst for SODA is the continued growth and expansion in the underlying home soda business. In addition to continuing to grow its use in homes, SodaStream is expanding into new areas like built in machines at restaurants. The SodaStream investor presentation shows the company is aggressively expanding this category of its business because it currently has 350 built-in machines, and it plans to have 1500 machines testing in restaurants by the end of 2013. In addition, SodaStream has partnered with Samsung to have SodaStream units built into new refrigerators to provide sparkling water. This is a major opportunity for SodaStream, because the investor presentation also states that even though the current Samsung refrigerators have just sparkling water, in future models you will be able to make flavored sodas right out of your fridge, so sparkling water is just the first step in the process of having a refrigerator that can make flavored sodas. The biggest short-term catalyst for SODA is it is reporting earnings on July 31st; out of the last 5 quarters, SODA has beat its earnings estimate 4 out of 5 times, and I expect it to do so again when it reports.
Risks
The biggest risk to SODA is takeover speculation, and with the speculation earlier this year, shares greatly outperformed the market. Then SodaStream said that it was not going to be acquired by another company, and the shares have fallen over 16% because of the rumor. This is a double-edged sword; if rumors are false, shares could continue falling until the next earnings report to get a read on the underlying business of SodaStream. If rumors of a sale are true, shares could once again trend much higher because of the takeover speculation.
Closing thought
I believe shares of SODA are poised to move higher from current levels, because the stock is undervalued, the underlying business is strong and expanding into new categories, and the stock is near three levels of support. With earnings coming later this month, I believe shares will trend sideways to slightly down until then because the overall market has had a big winning streak and is due for a short-term pullback, which could also pull down shares of SODA. Once SodaStream reports earnings, I expect that the report will show the business is growing, and it will be the start of the long-term move towards my fair value of $78.31/share.
Disclosure: I have no positions in any stocks mentioned, and no plans to initiate any positions within the next 72 hours. I wrote this article myself, and it expresses my own opinions. I am not receiving compensation for it (other than from Seeking Alpha). I have no business relationship with any company whose stock is mentioned in this article.