Traders often follow the "buy the rumor, sell the news" mantra during earnings season. The logic is that you want to own the stock ahead of a market-moving event in the hopes that the news will cause the stock to rally. But regardless of what the news is, you want to be out of the stock shortly after the release because there is now no catalyst for sending the stock higher. This trading approach may be partly to blame for the recent weakness in Neutral Tandem, Inc. (NASDAQ:TNDM).
On August 6, the company released figures for the second quarter, showing a healthy 44% increase in revenue, and a very impressive 82% increase in earnings per share. On top of the historical information, management also upped their guidance for 2009 with revenue expectations of $162 to 168 million and expected billed minutes of 85-88 billion. Previously the guidance had been for revenue of $158-165 million and minutes of 38 to 87 billion. TNDM has now added 18 new markets to its coverage and is serving 118 markets as of the end of the second quarter (compared to 82 markets June 30, 2008).
Neutral Tandem is not a household name, but certainly affects the way many household telephone calls are handled. The company provides switching between competitive carriers and essentially builds redundancy, security and operational efficiencies into the US telecommunication infrastructure. According to the latest press release, TNDM has access to 443 million telephone numbers and while it doesn't necessarily handle every call coming from those numbers, it is clear that the company is competitive in growing the number of call minutes it services. The company is aggressively expanding its network and pursuing opportunities in new geographic and technological markets.
In addition to focusing on developing interconnections with both our existing and new customers, we are continuing our efforts to diversify our revenue streams by increasing the different types of traffic transited over our network. ~Rian Wren, President and CEO
On May 26, ZachStocks issued a positive note on the telecom company stating that a healthy balance sheet would allow the company to aggressively expand its territory without taking on debt. Within just five trading days the stock had rallied 23%, but the recent weakness has offered us another chance to buy at a discounted price. The balance sheet is actually in even better condition with a cash balance of $142 million and no long-term debt. Management has also issued guidance for just $18 to $20 million in capital expenditures for the year so even with aggressive growth, the company is still retaining cash.
At some point soon, one would expect investors to begin asking management to put that cash to work. While I personally believe that today's economic market requires more financial strength than may have been needed just five years ago, it would be nice to see management use some of this capital to either make an attractive acquisition, or to repurchase stock. With a current multiple of roughly 23 times 2009 expectations, the stock isn't cheap. However, the long-term growth expectations along with the disciplined fiscal approach makes for a very attractive long-term investment. In a healthy market, this name could fetch north of 35 or 40 times earnings and while I would not be willing to pay that much for the company, I certainly would love to own the stock and sell it at this inflated multiple.
An uncertain economic environment will certainly lead to volatility in stock prices, but trading these swings successfully can actually increase returns over time. I would suggest beginning a core position in this health growth company, and then adding to the position on dips, and possibly trading some away when new highs are breached. However, while trading around the position, be sure to leave a core number of shares in play to benefit from the long-term appreciation.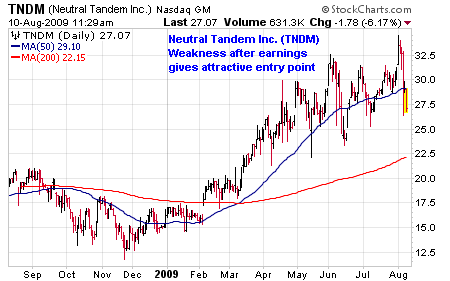 Disclosure: Author has a long position in TNDM in the ZachStocks Growth Model