A major segment of the credit market - secured loans - still has to show the kind of comparable primary issuance pick up that has been witnessed in equities and riskier high-yield debt. Primary loan volumes are still running at half of the comparable 2008 period, particularly in the middle-market.
A recent poll by Thomson Reuters' Loan Pricing Corporation demonstrates that the outlook for this key credit product is still very murky, especially with an onslaught in secured maturities in the 2011-2014 time frame. Another concern is that the majority of non-bank investors still demand a 9.5-10.5% return on loan investments.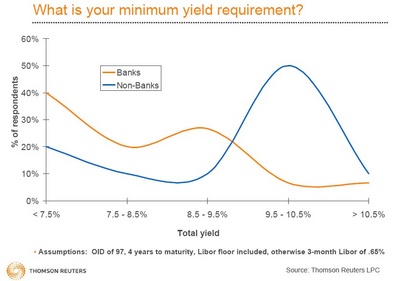 With LIBOR at unprecedented low rates, this means the spreads on new deals will be record, implying 1st liens will soon demonstrate spreads that previously were expected from 2nd and lower-lien deals, and that every new deal will likely have a very significant LIBOR floor, making the BBA LIBOR quoting essentially irrelevant as a metric of credit market "health."
This and much more in the presentation below.