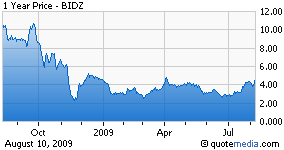 Bidz.com (NASDAQ:BIDZ) shares are trading lower this afternoon on weaker-than-expected Q2 financial results.
For the quarter, the online jewelery retailer posted revenue of $26.9 million, down from $55 million a year ago, and below the Street consensus at $30 million. EPS of 3 cents a share was shy of the Street at 5 cents, and down from 14 cents a year ago. The company blamed the shortfall on the soft global economy, and a decrease in wholesale merchandise sales to $500,000 from $8.4 million a year ago.
Average orders per day was down 43.4% from a year ago, items sold per day was down 40.9%, and ASP was down 1.6%, while acquisition cost per new buyer rose 14.6%.
BIDZ said it bought back 714,000 shares in the latest quarter for $2.5 million, at an average price of $3.50.
For Q3, the company expects revenue of $22 million to $24 million, and profits of 1-3 cents a share; the Street had been expecting $29.6 million and 6 cents.
BIDZ, which in the regular session rose 52 cents to $4.80, has now reversed course. In late trading, the stock is down 55 cents, or 11.5%, to $4.25.