We have been pulling our hair out (though in reality we lost it 20 years ago), in no less than 5 weather markets right now. The grain market is seeing its normal volatility due to hot, dry weather in Iowa, Nebraska, Missouri and Illinois, versus what we consider to be "later on", mostly beneficial weather for crops and a cooler weather ahead. After a record wet spring in Iowa (easing the drought), we are now on the verge to seeing one of the driest July's ever in the Hawkeye state -- talk about volatility!
Natural gas prices have struggled to rally, even in the face of this week's hot weather (see map). Coffee has shown some life and our original forecast from 3 months ago, about a possible frost threat for coffee areas during the summer, seems to have some merit now. After a "dog" of a market in coffee for 2 years, due to ample world supplies and poor demand, the combination of tighter Robusta stocks, a slight-modest threat for frost over a few Brazilian coffee areas within 10 days and disease issues in Central America, could mean the lows in coffee prices and the ETF (NYSEARCA:JO) are in.
Even big eastern heat and another Bermuda High has not been able to rally natural gas prices. Why? We are still cooler, nationally than the last 2 summers and slowly building back stocks. Also, hurricane hype is not a bullish factor right now. With cooler weather ahead this weekend and next week, natural gas prices and the ETF (NYSEARCA:UNG), have little chance for anything more than possibly a brief rally. Big, cooler changes are coming to the Midwest and East this weekend and next week due to teleconnections over Alaska and western Canada, which support some cooler weather.
Coffee and Cocoa -- After Bearish World Demand and Crops, Some Potentially Friendly Factors?
Ocean temperatures are changing in the Atlantic and off the West Coast of California. While we do not anticipate El Nino type conditions, which could adversely affect global cocoa crops in the months ahead (historically during El Nino, world cocoa production declines between 3-8% -- 70% of the time), some minor crop issues have begun in Ghana and Ivory Coast. Cocoa prices have seen a bit of a rally off their recent lows, and 20% downturn in prices the last 9 months, mainly because of excess forward contracting by producers and hedgers. However, areas of dryness have also begun to develop in Ghana and Ivory Coast, which produces 60% of the world's cocoa. However, it is not clear cut due to weak La Nina conditions, whether or not world cocoa production will be affected in the weeks and months ahead. Wet weather in Indonesia is also affecting some of the cocoa crop, so after my bearish attitude for months in the ETF (NIB), I am growing less bearish and more cautious.
However, though perhaps not a sleeping giant, the one soft commodity market that "may"(?) have some upside potential is in coffee and the ETF. Prices have been depressed by two back to back huge Brazilian coffee harvests and weak demand. While it is possible, a robust 2013-2014 Brazil crop could eventually mean another leg down in prices later this fall and winter, I think that many traders and other meteorologists missed the boat last week, not calling for a possible frost in Brazilian coffee areas, after July 23rd. While the odds of a market impact Brazil coffee frost, has fallen from about a 1:4 chance during the 1970's to 1990's, to less than a 1:20 chance the last 20 years, there is a legitimate threat of some minor to moderate crop damage to at least 20-30% of Brazil's coffee belt within 10 days. This will be watched closely by traders and though more often than not, these frost threats are a "buy on rumor", sell on fact type market and prices could come spiraling back down again later, I think the risk at these present prices in coffee, is to buy the ETF (JO) or buy some distant coffee call futures options, heading into late summer.
The map above shows a NW flow from Argentina into Brazil later next week. If coffee production was a few hundred miles further south (as it was up until the 1990's) and if it were early July (Brazil -- December), rather than late month, I would put the chances at 70% of a modest to major coffee market impacting freeze. Nevertheless, this has to be watched next week.
We told clients about this possible scare, last Thursday/Friday. Computer models have gone further north with this cold high in Brazil for later next week, like we predicted. This is because of a very positive AAO index (similar to 1979). If the winds die down in Sao Paulo and southern Minas Gerias, a modest frost may occur. The key clients will be watching is the position of the surface high you see here. Winds are calmer and temperatures drop when the center of the high is over-head. Hence, in the main growing areas, the center of the high may be too far south. However, some of the southern coffee areas may get nipped.
The AAO index is off the scale positive (below). This will have implications for Brazil and grain weather in South America for later this summer, fall and winter. The AAO (Antarctic Oscillation Index) is similar, but opposite to the AO (Arctic Oscillation Index) over Greenland and Iceland. The AO has a huge impact on world cocoa production, as well as winter weather for Europe and the United States. The AAO can affect crops and many commodity markets, in Australia and South America.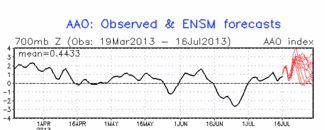 Disclosure: I have no positions in any stocks mentioned, and no plans to initiate any positions within the next 72 hours. I wrote this article myself, and it expresses my own opinions. I am not receiving compensation for it (other than from Seeking Alpha). I have no business relationship with any company whose stock is mentioned in this article.