The market took another break today, as the financials pulled back. Goldman Sachs (NYSE:GS) was very weak, dropping another $3.29 and going below $160 intraday. Just two days ago, GS traded above $170. Nevertheless, beaten-down insurers continued to rebound' AIG (NYSE:AIG) added another +5.75%. Freddie Mac (FRE) jumped +128%. Fannie Mae (FNM) gained +51.5%. Commodity sectors were mostly on the weak side.
This morning, Pimco Corporate Income Fund (NASDAQ:PCLN) reported great earnings and good guidance going forward. Its stock hopped +14.41%, up almost $19, closing just above $150, at $150.24.
The Dow finished down 32.12 points; SPX fell 3.38 points; Nasdaq lost 8.01 points: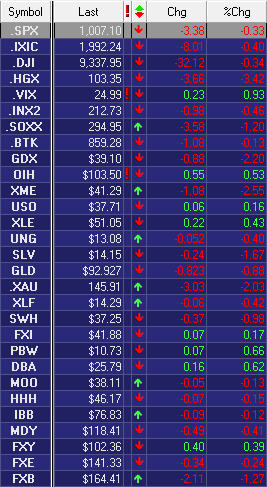 XLF (financials) slid 0.42% while HGX (housing) lost 3.42%. XME (metals and mining) dropped 2.55% and GDX (gold miners) slipped 2.2%. Techs were also mostly down, with SOXX (semiconductors) falling 1.2%. USO (oil) managed to close in the green; so did XLE (energy) and OIH (oil services). FXI (Chinese ADRs) added +0.17%.
SPX fell 3.38 points to close at 1007.1. It stayed above the 1000 level. Its MACD flattened.
Nasdaq dropped 8.01 points to close at 1992.24. Its daily MAs remained higher, but, the MACD slid.
(See charts below.)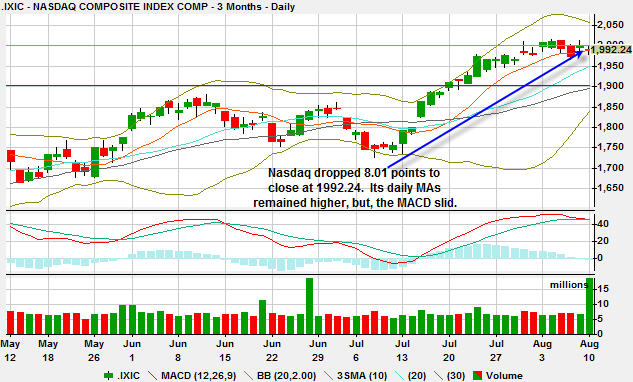 Financials have gone up quite a bit in the past 3 weeks. They finally stalled today, and the market as well. Things actually did get pretty weak and looked like they could finally break down. But, with 1 hour left in the trading, money on the sidelines came in again and helped the market to a respectable close. VIX tried going higher today, but, again closed under 25.
I do think we have to be more careful here. We closed most of our long August options positions today and went into cash. We are seeing some consolidation after a month-long rally that started in early July. Tomorrow, we'll get wholesale inventories and productivity data that will present more clues about the state of our economy. On Wednesday, the Fed will release its rate decisions. So, for now, some consolidation and profit-taking are only prudent.
The techs are showing some weakness and Nasdaq barely closed above its 10-day moving average. We'll watch the 10-day MAs on both SPX and Nasdaq as the initial support levels. The delicate balance between the economic recovery, the strength of the dollar, and how the commodity sectors respond to the dollar is still among the key factors for the stock market. Although the market was a bit more on the defensive today, the big movement may only be decided until after the FOMC meeting.