There are many ways to come to some conclusion if the market is overbought or not. Please note, the market might be expensive but not overbought, and it can also be overbought, but not expensive.
One way to filter for overbought conditions is how much above -- in percentage terms -- is the S&P 500 Index (NYSEARCA:SPY) trending from its 200 day moving average (or some other average for that matter). In today's article I will use the 200 moving average, but on a weekly time frame. Why weekly? It gives a better view of the longer term picture and it gives you a perspective you don't get on the daily chart.
Years ago I used this method to filter for overbought or oversold conditions in both stocks and indexes. Back then I used TradeStation, today I use MultiCharts.
On the chart below, the closing of the S&P 500 index yesterday was 1676 and the 200 weekly average of the index is about 1294. If you do the calculations, the S&P Index is about 30% above its 200 weekly average.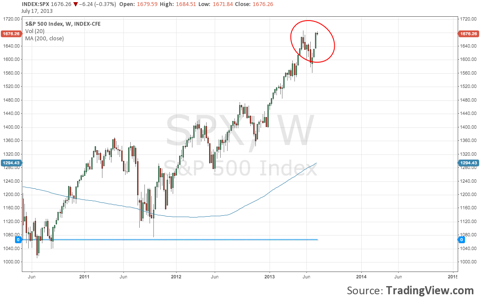 Click to enlarge
(Click to enlarge)
So what you might say? Well, if history is any guide, the index has not traded so much above this particular average since November 2007, right before the sub-prime crisis (chart below).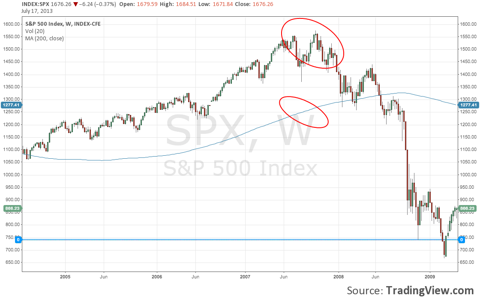 Click to enlarge
(Click to enlarge)
And before that, the last time was in March of 2000, when the S&P 500 index went from 1550 all the way down to 750 (chart below).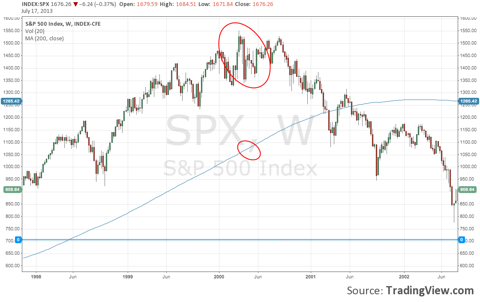 Click to enlarge
(Click to enlarge)
While past overbought technical signals are not a guarantee of a future market correction, this is not an indicator that triggers every day. And while I do not think this market is overly expensive or a bubble, being overbought is another issue.
So looking ahead, I would say that this revelation warrants caution and investors might need to take some money off the table. Either until the market corrects or we get a confirmed false alarm.
Again let me repeat myself. While the whole market will correct if we get a major correction, stocks that are ridiculously overvalued will absolutely tank. Several stocks in this category -- according to my investment logic, as talked about in previous posts -- are Tesla (NASDAQ:TSLA), LinkedIn (NYSE:LNKD), Angie's List (NASDAQ:ANGI), 3D Systems (NYSE:DDD), Salesforce (NYSE:CRM) and even Facebook (NASDAQ:FB) among many.
Disclosure: I have no positions in any stocks mentioned, and no plans to initiate any positions within the next 72 hours. I wrote this article myself, and it expresses my own opinions. I am not receiving compensation for it (other than from Seeking Alpha). I have no business relationship with any company whose stock is mentioned in this article.