We have highlighted the choke points of the world's shipping lanes due to the fears out of Egypt, as well as what the Suez Canal means for oil exports/imports. Today we want to shift our attention to the Panama Canal. It was reported yesterday (see story here) that ballistic missile materials were intercepted by Panamanian officials after receiving a tip about a possible drug shipment. Instead, they found missiles headed from Cuba to North Korea, further highlighting North Korea's intent to obtain a delivery system for its nuclear capabilities. The country is at the center of the global illicit arms trade, and one has to wonder what has already gone undetected by the rest of the world and found its way to the communist regime.
All attention will be on Ben Bernanke today, and already it appears that the markets are fearful of what he may say. Or is it what he won't say? Either way, markets are trading right now as if he will discuss ending QE and allow a stronger dollar and higher rates. Look for some volatility in the housing names and commodities.
Chart of the Day
If Bernanke does not provide bullish talking points during his testimony, look for a movement down in the homebuilders' index toward recent support. We expect it to be a volatile day in industries that are affected by rates.
Click to enlarge images.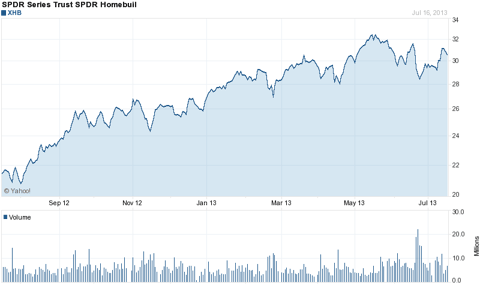 Source: Yahoo Finance.
We have economic news due out today and it is as follows:
MBA Mortgage Index (7:00 a.m. ET): N/A
Housing Starts (8:30 a.m. ET): 958k
Building Permits (8:30 a.m. ET): 1000k
Crude Inventories (10:30 a.m. ET): N/A
Fed's Beige Book (2:00 p.m. ET): N/A
Asian markets finished mixed today:
All Ordinaries -- down 0.04%
Shanghai Composite -- down 1.01%
Nikkei 225 -- up 0.11%
NZSE 50 -- up 0.05%
Seoul Composite -- up 1.13%
In Europe, markets were trading mostly lower this morning:
CAC 40 -- up 0.33%
DAX -- down 0.40%
FTSE 100 -- down 0.33%
OSE -- down 0.11%
Retail
Rite Aid (NYSE:RAD) showed strength yesterday as shares rose over 8% to finish the session at $3.06/share on volume of 43.4 million shares, which was nearly double the three-month average daily volume. The rest of the drugstores have seen their shares recovering recently and the follow-through here was quite strong. With the move back above the $3/share level on such strong volume, one would believe that investors are positioning the stock to test its 52-week highs set not too long ago at $3.21/share. We would not use retirement funds to play this name, but it is a candidate for one's risk capital.
A base has been established and shares are now trending higher. Watch for the company to take out the 52-week high and, if that is accomplished, then we could be off to the races once again.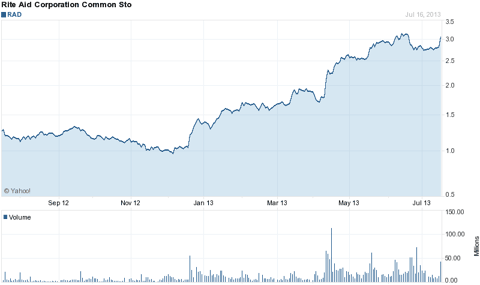 Source: Yahoo Finance.
Manufacturing
Tesla (NASDAQ:TSLA) shares came under significant pressure during yesterday's session after a Goldman Sachs analyst placed an $85/share price target on the company's shares. The analyst believes that the shares are most likely overvalued as his research indicates $113/share being the level at which shares are priced for perfection, with a worst-case scenario leading to a valuation of $58/share for the stock. The move threw cold water onto the recent rally and shares finished the session at $109.05/share after declining 14.31%. As we have stated before, this is a speculative stock and should be dealt with cautiously, using only capital that can be lost and stops to minimize losses.
Yesterday's move was strong, swift and popular (in regard to volume), but the $100/share level held and that is a level we shall be watching while waiting to see if other analysts decide to pile on behind Goldman Sachs.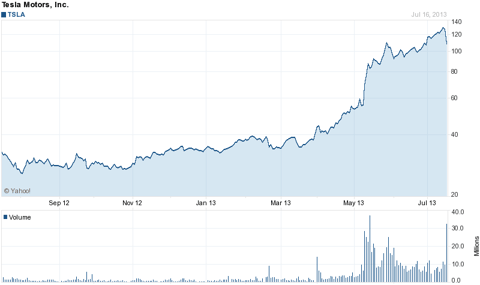 Source: Yahoo Finance.
Transportation
Higher volumes of chemicals, oil and other products helped offset a decline of 6% for coal volumes at CSX (NYSE:CSX), which enabled the company to increase volumes by 1% while also raising pricing. The company, the first major railroad to report this earnings season, reported a solid beat last night with EPS of $0.52 vs. the $0.47/share figure that analysts had expected. Michael Ward, the company's chairman, CEO and president, stated that CSX was looking to continue to deliver solid results to investors as the economy appears to be slowly gaining momentum.
This we view as bullish, especially as it contradicts what we have been hearing from FedEx (NYSE:FDX) and United Parcel Service (NYSE:UPS). Although we have known that the industry expects this year's earnings to relatively flat, the guidance has been for double-digit growth following 2013 as shipments both domestically and for export increase. The all important coal segment saw strong volumes as it pertained to domestic shipping, but volumes to export facilities declined. With the results we have gotten thus far, it appears as if the way to play the transports is the rails right now. Then, later into the economic cycle when business has picked up and speed becomes more important, one will need to rotate into the mail/courier names like FedEx and UPS.
Disclosure: I have no positions in any stocks mentioned, and no plans to initiate any positions within the next 72 hours. I wrote this article myself, and it expresses my own opinions. I am not receiving compensation for it (other than from Seeking Alpha). I have no business relationship with any company whose stock is mentioned in this article.