One of this week's main events will be the Congressional testimony from US Federal Reserve Chairman Ben Bernanke, which will conclude into the latter half of the week and give investors important clues with respect to the underlying policy bias that is shared by a majority of the voting members at the central bank. The outcome will likely generate volatility in Gold, stock benchmarks and the U.S. Dollar well into next week, as there are diverging opinions about what policy bias will be signaled by Bernanke. And there is good reason for this: If we look at Bernanke's public statements over the past few months, some conflicting ideas have been expressed. Is the Federal Reserve prepared to begin tapering its quantitative easing program? Or will they adopt a more accommodative stance, and extend the length of its monthly purchases of Treasuries and mortgage-backed securities?
Unfortunately for some investors, both sentiments have been expressed at different times and at this time it has become increasingly difficult to find the pulse of the Fed and determine its true underlying policy bias. This uncertainty has helped generate some extreme volatility in commodities markets, with gold and oil hitting critical price levels in the first half of this year. For those considering long positions in the SPDR Gold Trust ETF (NYSEARCA:GLD), the bounce off of the yearly lows indicates that markets have been encouraged by the recent dovish comments from Bernanke. The fact that prices are holding near the upper end of recent ranges (albeit below $1300) essentially suggests that most of the market is positioned for additional comments that support the idea of extended stimulus injections. For these reasons, this week's events will be critical for the fate of gold prices throughout the month of July.
Gold Bulls Need Bernanke's Help
In order for gold and the SPDR Gold Trust ETF to continue with its short-term rallies, bullish investors will need Ben Bernanke's help. Monetary stimulus (supportive monetary policy) is bullish for Gold prices because quantitative easing programs alter the outlook for Treasuries (lower rates), higher inflation forecasts, and declines in the US Dollar. Given the most recent statements by Bernanke, this is the most likely scenario and if this turns out to be true, we will see Gold rally above $1300 and new highs posted in the SPDR S&P 500 ETF Trust (NYSEARCA:SPY). At the same time, traders would have to expect declines in the PowerShares DB US Dollar Index Bullish (NYSEARCA:UUP).
But if we were to see an alternative scenario (Bernanke suggests stimulus will be phased-out starting September), the downside risks in gold would likely be much larger. This is because markets would be positioned in the wrong direction and most of this year's price momentum is focused on the downside direction. If Bernanke suggests a more hawkish bias, traders will use the latest rallies as an opportunity to sell on strength, and we will see new lows for the year below $1180. In either case, traders in Gold, the US Dollar, and the S&P 500 should expect volatility into the end of the week, as markets re-position themselves for the latest revelation into the mind of the Federal Reserve.
Chart Perspective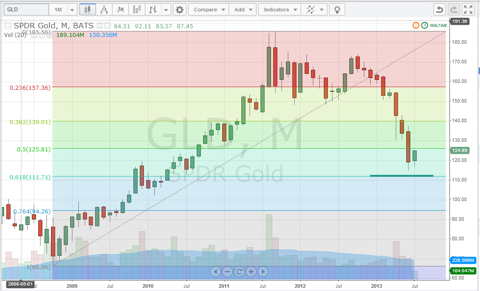 Gold prices have seen a short term rally but as yet prices have been unable to overcome psychological resistance at 1300. This is a clear line in the sand to the topside, and there are surely some stop losses in this area, so any upside break will accelerate gains. Failures here suggest new lows for the year, with no Fib resistance in site until 1110.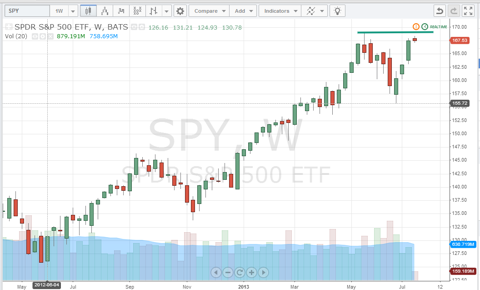 In the SPY, prices are holding near their all-time highs at 169.20. Here, risk to reward favors positions to the downside, but stops should be kept tight because an upside break should create another bull leg higher.
Disclosure: I have no positions in any stocks mentioned, and no plans to initiate any positions within the next 72 hours. I wrote this article myself, and it expresses my own opinions. I am not receiving compensation for it (other than from Seeking Alpha). I have no business relationship with any company whose stock is mentioned in this article.