Commodities are all red ahead of Fed Chairman Bernanke's testimony today. Foreign markets also indicate that markets are worried about what he may or may not say, and caution is the action of the day. Whatever information does or does not come out, we will know more after his testimony and that will allow us to adjust our economic estimates either way. Yes, in the short term that may cause some losses, but longer term it will provide a much clearer picture as to the situation and hopefully allow for some gains by positioning our portfolios correctly once again.
Barclays was fined by U.S. regulators and has vowed to fight the fine, which amounts to nearly $35 million. That story can be found here.
Chart of the Day
Although a bit dated, this is the latest aggregated data we could find with all of the export ports' volumes listed. One could use the railroad data being released this week and next to back into some of these figures and get a better idea of exactly where the coal market stands.
Click to enlarge images.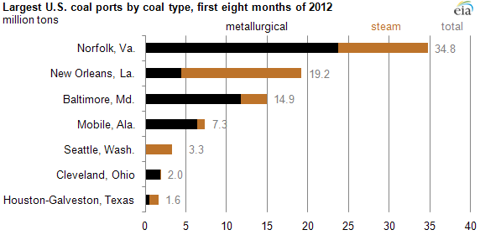 Source: EIA.
Commodity prices this morning are as follows:
Gold: $1285.20/ounce, down by $5.20/ounce
Silver: $19.785/ounce, down by $0.15/ounce
Oil: $105.59/barrel, down by $0.41/barrel
RBOB Gas: $3.0887/gallon, down by $0.0456/gallon
Natural Gas: $3.646/MMbtu, down by $0.031/MMbtu
Copper: $3.144/pound, down by $0.042/pound
Platinum: $1422.10/ounce, down by $3.00/ounce
Refiners
Last night we received a few emails from readers regarding Valero (NYSE:VLO) and the rest of the refiners we have been negative on recently, which was in contrast to how a number of readers had positioned themselves. The interest was caused by CNBC's Jim Cramer highlighting Valero on his show "Mad Money" after teasing the show all day. We saw Cramer on CNBC yesterday discussing the fact he would discuss an oil stock he had been bearish on lately, but did not watch the show. After receiving a few emails, we decided to see what was going on and found this article from CNBC (via Yahoo Finance) this morning.
As oil (in WTI terms) has gained strength, VLO has lost strength. Part of this is due to the compression of the spread between WTI and Brent.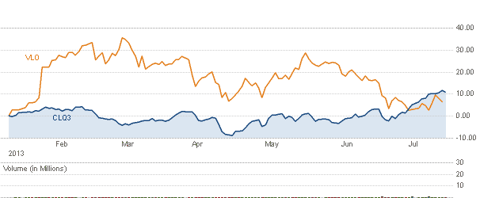 Source: CNBC.
Many of the points he makes are issues highlighted by our readers, which as a side note highlights how intelligent readers of this site are. Although we do understand the significance of this strength during a time of weakness for operations, we are still in the camp that believes there still could be another shoe to drop -- and the probability of that event is a bit higher than a sudden correction. If a correction does take place, it is our opinion that it will be slow and will give you plenty of time to adjust your position in Valero and the other refiners.
Gold
The charts seem to indicate that gold has bottomed but the "chatter" has not been bullish, and the contrarians one usually expects to hear placing bets have not been vocal and/or active on the buying front. It is strange, but does it mean there is another leg lower?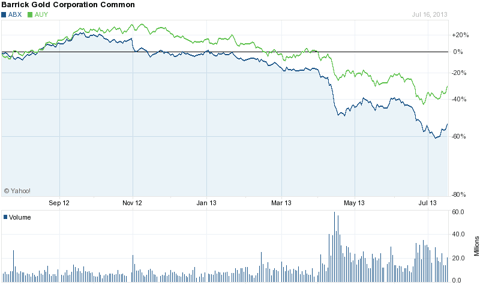 Source: Yahoo Finance.
We have been reading some very interesting articles and newsletters from paid providers that have made some interesting points about gold recently. The argument among many market participants is focused on how low gold can go, not when it will go higher or even how high it could go. Everyone is simply in the state of mind where the thought is that the asset is done and overvalued. The interesting point we have picked up from some of the more gold-focused writers is that the contrarian trade is missing. Their argument is that if there was ever a time to place a contrarian bet, the current situation in gold certainly justifies it.
The argument is not simply specific to the physical metal, but also to the miners such as Barrick Gold (NYSE:ABX) and Yamana Gold (NYSE:AUY) -- both of which traded significantly lower and hardly seen a solid bid emerge for the shares. Yesterday's move higher saw high volume and interest, but it does seem to be more of a momentum trade rather than those contrarian investors many of the "gold bugs" are looking for.
Coal
Of course, the same could be said of the coal industry where every time the contrarian trade begins to gain traction, further downside is realized. Regardless, we did find the earnings from CSX last night (see article here) to be somewhat bullish for coal names such as Peabody Energy (BTU), which focus domestically but also on Asia. The news may have been less bullish for a name such as Alpha Natural Resources (ANR), as it appears the strength in coal was domestic and not foreign.
Furthermore, the foreign weakness was highlighted by Europe, which would affect shipments from the Eastern seaboard far more than anything from the West Coast or from Australia (see chart above). So looking forward, we think that Peabody leads any rally higher and it should turn bullish before the other names. This has been our thinking all along, but now we are getting hard, real data to back up previous assumptions, and this would seem to be actionable.
Disclosure: I have no positions in any stocks mentioned, and no plans to initiate any positions within the next 72 hours. I wrote this article myself, and it expresses my own opinions. I am not receiving compensation for it (other than from Seeking Alpha). I have no business relationship with any company whose stock is mentioned in this article.