After years of mismanagement, Citigroup (NYSE:C) finally got it right with the hiring of Michael O'Neill and Mike Corbat as chairman and CEO, respectively. Through their leadership, the company has created a fortress-like balance sheet that is one of the strongest in the industry. The bank has taken the painful but necessary steps to slowly unwind its troublesome Citi Holdings division, instead of making a rash decision to sell at uneconomic prices, which would destroy intrinsic value. Citigroup has invested heavily in IT, upgrading systems that were assembled hastily and fused through acquisitions, and over the long term, these investments should pay off with improved execution and cost savings. The divestiture of the Morgan Stanley Smith Barney venture was something that had to be done, and ultimately should pave the way for Citigroup to focus on its global consumer and investment banking operations -- where it has more of a competitive advantage.
Five years after the worst of the financial crisis, we live in global economy where the central banks are taking unprecedented chances to bolster growth through monetary easing, yet politicians and regulators are seemingly bending over backwards to stifle growth with constantly changing capital and regulatory requirements, which limit the lending that is required to reinvigorate growth after a pronounced credit contraction. While there is uncertainty in the large banks, I believe there is less risk than has existed in a very long time due to the robust capital and liquidity positions. At some point, economic growth initiatives will hold the day over the exhaustive and never-ending rhetoric of morale hazards, and when this occurs, the banks and the global economy should see much faster growth. The big banks have certainly appreciated a great deal, but I still believe that we are in the early stages of a multi-year recovery, in which stocks like Citigroup could rally another 50%.
On July 15th, Citigroup posted very strong earnings excluding CVA and DVA net income of $3.9 billion or $1.25 per share. The numbers were slightly higher including the non-economic data points but it is much more important to focus on the numbers that matter. Revenues of $20 billion grew 8% YoY, led by very strong performance in securities and banking, while operating expenses of $12.1 billion were up 1%, largely due to the roughly $700MM in legal costs that Citi Holdings had in the quarter in the special asset pool. The loan loss reserve release in the quarter was $784MM, including approximately $525MM related to the North America mortgage portfolio in Citi Holdings. Citigroup still has some of the higher reserves in the large bank group and should be one of the biggest beneficiaries of the improving housing market, although the slowdown occurring in emerging markets will also have a negative impact for the company's growth in those regions.
Click to enlarge images.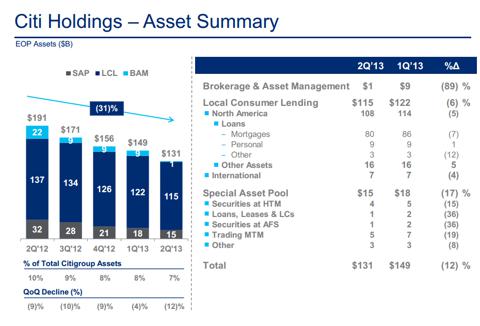 Click to enlarge
Source: Citigroup second-quarter earnings presentation.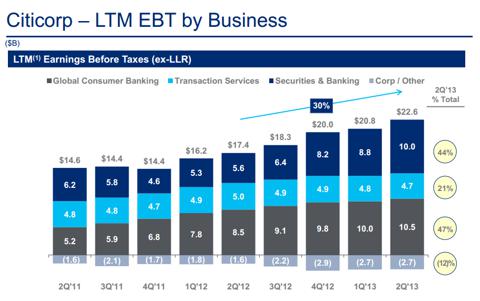 Click to enlarge
Citigroup increased its estimated tier one common ratio to an estimated 10% on a Basel III basis, positioning the company to be one of the strongest positioned banks in the world in what is an extremely complex and fluid regulatory environment. The bank has reduced its assets in Citi Holdings by another $18 billion in the second quarter, so at a total of $131 billion, these assets represent just 7% of Citigroup's GAAP total. To accomplish the asset reduction, Citigroup took advantage of a buoyant mortgage market to sell $3 billion of U.S. mortgages, and then the sale of the remaining 35% stake of the MSSB joint venture also helped materially.
Citi Holdings lost less than $600MM in the quarter, but it actually would have made a slight profit if you excluded the impact of legal, rep, and warranty costs. It is really amazing to envision what Citigroup's earnings power will be once this albatross of losses is expunged from the future financial results. The company utilized $600MM of DTA, which brought the total to $1.3 billion for the year. As losses from Citi Holdings continue to decline, the core Citicorp earnings should reduce the DTA at an accelerated rate, which is one of the biggest issues of why the stock trades at a material discount to some of its peers. Citigroup has $6.4 billion of loan loss reserves allocated to North America mortgage loans in Citi Holdings, which equates to 35 months of coverage, and assuming the U.S. economic environment remains favorable, the company expects to utilize reserves to offset nearly all of the mortgage net credit losses.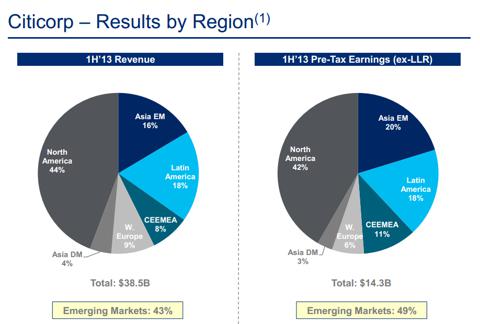 Click to enlarge
Source: Citigroup second-quarter earnings presentation.
Citigroup's end of period loans actually declined by 1% YoY to $644 billion, as the reduction in Citi Holdings' assets more than offset the 4% YoY core loan growth in Citicorp. Deposits increased by 3% sequentially, to $938 billion, which will obviously give the company additional earnings leverage as net interest margins improve over time. Impressively, Citigroup had over $1 billion of pretax earnings across each region in which it operates, and it is this unique footprint that could position Citigroup as one of the fastest-growing large banks for decades to come.
For the first half of 2013, 43% of Citicorp's revenues, and nearly half of pretax earnings, were generated in emerging markets. In the last 12 months, Citicorp was able to generate $32 billion of revenues in emerging markets, half of which were generated from the consumer business, while the remainder was institutional, assisting the bank's large multinational clients in funding their local operations. Latin America continues to perform reasonably well, while Asia actually returned to growth after having a lot of issues in Korea the last several quarters. EMEA is treading water, which isn't too bad given the difficult macroeconomic environment. With the migration to cities occurring at rapid rates across the globe, no bank is better positioned to garner a larger share of the new business.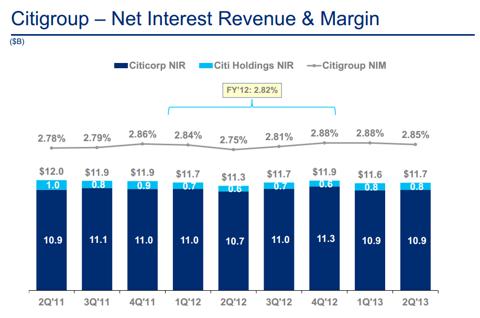 Click to enlarge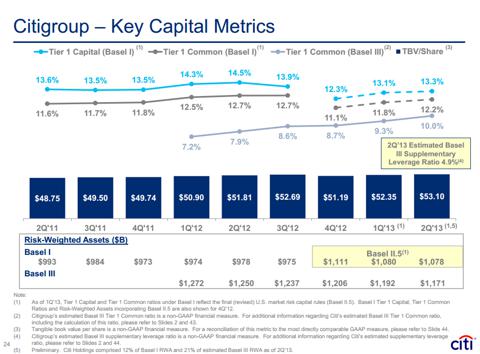 Click to enlarge
Citigroup closed the quarter with a tangible book value that stood at $53.10, up from $52.35 in the first quarter despite the negative currency headwinds. Citicorp's earnings power per quarter is easily around $4.5-$5 billion per quarter without the potential benefit of increasing net interest margins. Citi Holdings has seen its worse days already and as capital shifts from the troublesome division and the DTA, Citigroup's overall earnings power will grow considerably. Citigroup ended the quarter with 3.041 billion diluted shares outstanding, so at a recent price of $51.73, the market capitalization is about $157.31 billion. Book value per share stood at $63.02 in the quarter and I believe that the company can conservatively increase book value per share, adjusted for dividends, by approximately 10% per annum. This should position the investor for 10%-15% per annum returns; with potential upside beyond that if Citigroup gets back to its historical price-to-book multiples.
Currently, Citigroup's ROE is suppressed because of Citi Holdings, but these issues won't last forever and investing is about looking forward, as opposed to backwards. The biggest risk to an investment in Citigroup is if the company is unable to monetize a significant portion of the DTA, or if an emerging market crash were to occur, but even then I believe your downside is not that significant at current valuations. It is important to understand that ongoing large banks like Citigroup have incredible earnings power, which allows them to offset significant events like the "London Whale" was for JPMorgan. Investors worried about chasing the stock might look to sell long-term put options at the money to manufacture a cheaper entry price.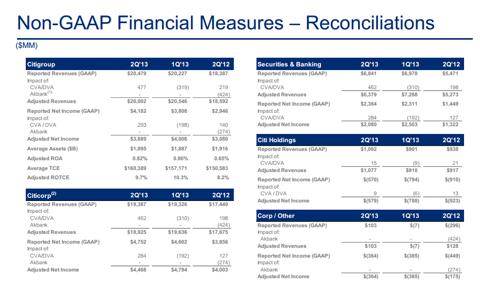 Click to enlarge
Disclosure: I am long C. I wrote this article myself, and it expresses my own opinions. I am not receiving compensation for it (other than from Seeking Alpha). I have no business relationship with any company whose stock is mentioned in this article.