MLMs are not the most loved of companies. Some are even seen as little more than pyramid schemes fully dependent on filling up its members with product. That's a good part of Bill Ackman's short thesis on Herbalife (NYSE:HLF), though Ackman is being somewhat squeezed lately.
It is against this backdrop that I'm going to take a look into Nature's Sunshine Products (NASDAQ:NATR). Nature's Sunshine Products is a seller of medicinal herbs, vitamins and dietary supplements. NATR does its business through a MLM scheme including members, which act as distributors and earn money from selling products and commissions from their downlines.
Sales per geography and product line were as follows in the most recent quarter (Source: NATR 10-Q):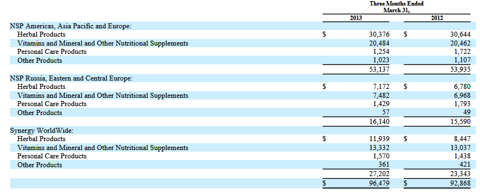 Click to enlarge
Valuation
Looking just at NATR's valuation, the company seems attractive. After all, it carries:
A forward 2013 P/E of 13.2 times;
A TTM EV/EBITDA of just 5.4 times;
A very attractive ROE of 21.4% on a price/book of 2.4 times;
And it even pays a dividend, with the stock yielding 2.3% on a quarterly dividend of $0.10.
In short, it seems just like any other stodgy stock that's being wildly favored by today's Fed-infused market. On valuation alone, the stock can clearly head higher.
Main Problem - product pricing
There is, however, a problem. The problem is similar to what Bill Ackman identifies in Herbalife. The business seems slanted towards selling into its members' pyramid. This is especially evident in the way product pricing seems to be inflated even if we take into account the members' prices.
Any given NATR product always carries a list price and a significantly lower member price, as we can see below: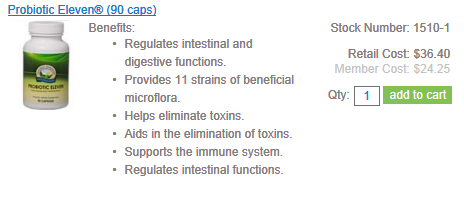 This serves as a way to entice consumers to get memberships, and then there are further commissions and rebates tied to the volume a member generates.
The problem, however, is that even the member price seems inflated versus other similar products, which can be gotten in the market.
I went through the top NATR sellers, and while the first one [Silver Shield w/Aqua Sol (18 ppm) (4 fl. oz.)] seemed to be priced near what I could find in Amazon.com, most others were priced much higher. For instance,
Co-Q10 (50 MG) (30 Softgel Caps)
Costs $23.85 for members. This is $0.795 per cap or $0.477 per mg.
In Amazon.com, we can find other Co-Q10 supplements for $0.11-$0.29 per cap or $0.116-$0.136 per mg. That's more than 75% cheaper.
Costs $24.25 for members. This is $0.269 per cap.
In Amazon.com, we can find other probiotic supplements for $0.09-$0.18 per cap. That's up to more than 66% cheaper.
The same thing happens for several other products including Omega-3 supplements. This might constitute a sign that the sales of these products are secondary to filling up the pyramid with them to earn commissions and rebates, as the products, while conceptually attractive, are not competitively priced.
At the very least, this pricing means that consumers can easily get a better deal elsewhere and that will over time erode sales. This might also explain why revenues in the U.S. have stagnated, while they're still growing internationally. It might be easier to get alternative suppliers in the U.S.
Conclusion
While I like the market into which NATR sells (dietary supplements), and I also like the valuation NATR sells at, I continue to struggle with the MLM nature of the business. In the present Fed-fed market the shares can easily go higher, but the non-competitive product pricing makes it seem that NATR is exposed to the same problems as Herbalife, as explained by Bill Ackman.
Given this, and the market's overbought nature, I'd tend to avoid the shares right now, but could use them after the market dips to get long exposure. Anyway, it's not a clear cut situation.
Finally, NATR is somewhat cheaper than Herbalife, but Herbalife is still growing faster.
Disclosure: I have no positions in any stocks mentioned, and no plans to initiate any positions within the next 72 hours. I wrote this article myself, and it expresses my own opinions. I am not receiving compensation for it (other than from Seeking Alpha). I have no business relationship with any company whose stock is mentioned in this article.