Last August, I wrote a bearish article on Family Dollar Stores (NYSE:FDO) and not much has changed in the stock price (up $2) since the article was written. Although, my bearish sentiments started to materialize as FDO missed EPS estimates and started revising forecasts downward. Luckily for the invested, the stock has not been punished but has appreciated very little.
Read last year's detailed research here.

This follow up is intended to help investors decide on an entry point or sale of their positions. I will discuss two major points I find material to warn potential investors.
EPS Growth Stalling & Negative FCF
At the moment, FDO does not seem to have many levers to pull to expand profitability and grow EPS at previous levels. Additional store openings (7% more stores in 2013) and Tobacco sales will be the leading growth engine, hardly enough to grow EPS at 15%+ clip per year.
The investor must decide if a company with stalling EPS growth and negative FCF deserves a high growth P/E ratio of 18+.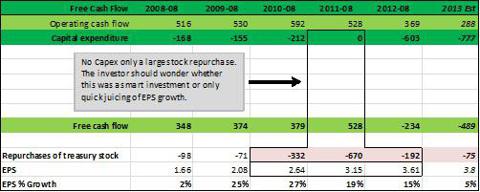 I am very skeptical of upper management that buys back large amounts of stock right before large amounts of capital expenditures is set to be spent. I find it to be a very aggressive use of capital in uncertain economic times. It is now short on funding this growth and needs to sell assets (see below: sales-lease backs).
Hidden debt makes FDO less solvent than it appears
After FY 2011, Family Dollar has relied heavily on Operating Leases, which do NOT show up on the balance sheet. This off-balance sheet financing makes companies look less risky/levered than in reality. The use of Operating Leases has doubled over the last 2 years due to the Sales-Leaseback capital raising program, which is used to fund new stores. A sales-leaseback is where the owner sells the building/real estate to a buyer and then leases it back for an agreed term (10-15 years).
Debt/Equity has doubled since 2011 when Operating Leases are included. Operating Leases have almost doubled as well.
Does a company doubling its risk profile deserve to be valued such a high P/E ratio?
Conclusion
Family Dollar has a long solid profitable history with highly capable management. Though its company history may be enviable, based on FDO's:
Shrinking EPS growth
Negative Free-Cash-Flow
Doubling of Leverage
FDO is still overpriced and I do not recommend the stock now. I would entertain an entry point of $45.00 or below or ~12x trailing EPS.
Disclosure: I am short FDO. I wrote this article myself, and it expresses my own opinions. I am not receiving compensation for it (other than from Seeking Alpha). I have no business relationship with any company whose stock is mentioned in this article.