Industrial bellwether Alcoa (NYSE:AA) announced solid second-quarter results. Revenue was down 2% year-over-year to $5.8 billion, a tad shy of consensus estimates. Excluding the impact of special items, earnings per share were up one cent year-over-year to $0.07, exceeding consensus estimates. Free cash flow declined slightly year-over-year to $228 million, or 4% of revenue.
Engineered Products and Solutions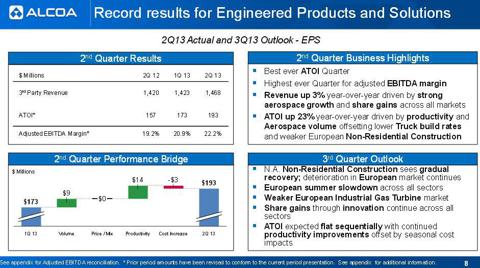 Image Source: AA Analyst Presentation Q2 2013
Yet again, Alcoa's Engineered Products and Solutions business, its largest profit driver, was the standout performer for the quarter. After-tax operating income (ATOI) hit a record level of $193 million, up 23% year-over-year, on revenue that only increased 3% year-over-year. The segment registered an all-time high in profitability with an adjusted EBITDA margin of 22.2%. Alcoa's Engineered Products and Solutions segment creates value-added parts across a variety of segments but aerospace in particular is driving the strength. CEO Klaus Kleinfeld made several optimistic comments regarding the aerospace industry, saying on the conference call:
The good news is that we will be able to grow our aerospace business in every one of the segments that caters to aerospace, and the segments that you have to think of are on the GRP [global rolled products] side, it's basically plate and rolled material, right. So that falls into - it's a big category in the Global Rolled Products side. On the EPS [engineered products and solutions] side, if you go through the EPS you look at forged parts, where it falls into, you look at our engine parts, our investment casting parts, the small and the big ones.
The company anticipates full-year aerospace industry end-market growth of 9%-10%, while Boeing (NYSE:BA) and Airbus enjoy massive respective backlogs of unfulfilled commercial orders. These data points reinforce our positive outlook on Best Ideas Newsletter portfolio holding Precision Castparts (NYSE:PCP), which continues to generate significant outperformance. We're also keeping a close eye on a few other constituents in the aerospace supply chain.
Global Rolled Products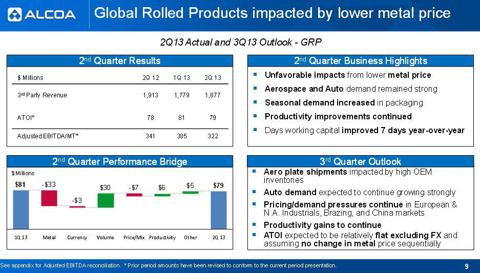 Image Source: AA Analyst Presentation Q2 2013
Alcoa's Global Rolled Products segment posted flat ATOI of $79 million on a slight decline in revenue caused by lower metal prices. Not surprisingly, the firm singled out its Aerospace and Automotive segments as the drivers of strength. The outlook for the segment remains flat going forward.
Alumina and Primary Metals
Alumina and Primary Metals, though significant revenue drivers, are less meaningful to the earnings mix than either its GRP or EPS segments. Nevertheless, we were pleased to see a large profitability jump in the Alumina segment, which was mostly the result of superior productivity and higher shipment volumes. The segment earned ATOI of $64 million compared to $23 million in the year-ago period. Weak alumina prices crushed Primary Metals' earnings potential, as the segment swung to a loss of $32 million.
Global End Market Demand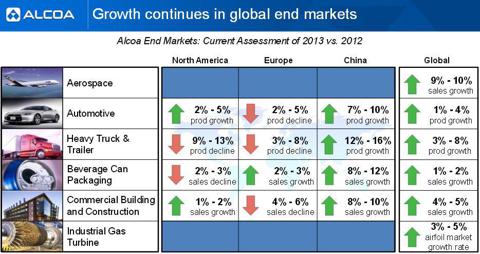 Image Source: AA Analyst Presentation Q2 2013
Historically, Alcoa's earnings report signals the start to earnings season, though the company may not be the same gauge of the broader economy it once was. Nevertheless, Alcoa provides interesting insight into several segments-aerospace, automotive, heavy truck and trailer, beverage can packaging, commercial building/construction, and industrial gas turbines (shown above).
Interestingly, Alcoa sees strong end-market demand in China (the second column from the right in the image above), which runs counter to what we've heard from several other companies. We're particularly intrigued by the heavy truck and trailer growth in China, which may signal the need to transport a rapidly-increasing number of goods across the country (signaling perhaps better GDP performance than some may expect). Though we see numerous fundamental problems in China (and we're watching the country closely), it was positive to see this data point from Alcoa.
Valuentum's Take
Alcoa largely remains a tale of two companies - a highly profitable custom design business offset by a price-taking commodity business. Kleinfeld and company have done a solid job reducing the cost structure of the business, but the industrial firm is unable to buck broader economic headwinds. If the global economic outlook were brighter, we think Alcoa would be able to demonstrate the earnings potential of its leaner cost structure; however, a leaner cost structure is secondary to weak alumina prices and lackluster demand. Without better pricing, Alcoa's free cash flow will likely be stuck in neutral. At this time, we believe shares of Alcoa look fairly valued, and we'd need a wide margin of safety before considering the company in the portfolio of our Best Ideas Newsletter.
Disclosure: I have no positions in any stocks mentioned, and no plans to initiate any positions within the next 72 hours. I wrote this article myself, and it expresses my own opinions. I am not receiving compensation for it (other than from Seeking Alpha). I have no business relationship with any company whose stock is mentioned in this article.
Additional disclosure: PCP is included in the portfolio of our Best Ideas Newsletter.