For investors seeking safety and yield, here is one asset class to consider: conglomerates.
In particular, conglomerates headquartered outside of the United States. Sometimes what discerning investors find are very compelling and diversified businesses with high yields and terrific capital allocators at the management level to boot.
Everyone is familiar with Berkshire Hathaway (NYSE:BRK.A) (NYSE:BRK.B): it runs an incredibly diversified conglomerate, owning a set of easy-to-understand businesses. Meanwhile, investors get the benefit entrusting hard earned capital to the best investor of our time, Warren Buffett. His elephant gun is loaded, and he is hunting for value accretive transactions.
However, with a market capitalization of over $290 billion, will Berkshire provide the same returns it did since inception? Warren Buffett indicated it is unlikely because managing a bigger pool of money makes it harder to push underlying value higher.
So what is an investor to do? One way might be to search for another Warren Buffett-esque allocator of capital, but with more potential for future growth.
Power Corporation (OTCPK:PWCDF) is about as comparable an investment I can find to Berkshire Hathaway [1]. It is headquartered in Canada, has more of a global focus and is run by Paul Desmarais, who some have dubbed "the Warren Buffett of Canada."
The structure of the business is fairly confusing: Power Corporation holds a 66% interest in Power Financial Corporation (OTCPK:POFNF), which then holds interests in a number of businesses.
As such, Power Financial Corporation will be the focus of this analysis because that is where most of the value resides in my opinion. Currently valued at $22 billion (about one twelfth the size of Berkshire) and yielding 4.4% [2], Power Financial Corporation is an interesting investment to consider.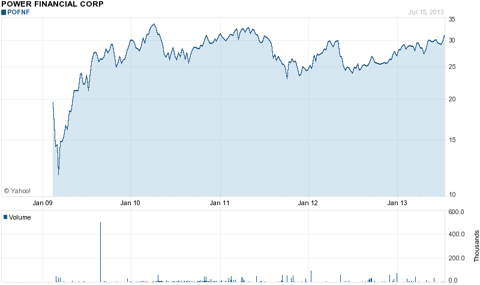 Click to enlarge
The Business:
The Power Financial Corporation empire is extensive, but very much under the radar. The Desmarais' family keeps a low profile, which I like as an investor.
Here is a set of the assets owned by Power Financial Corporation: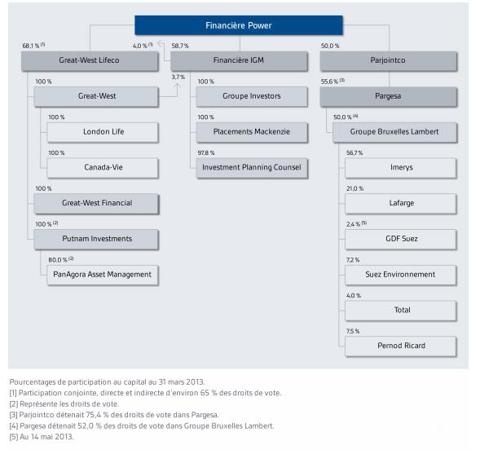 Click to enlarge
Pargesa:
The first pillar of value at Power Financial Corporation is Pargesa (OTCPK:PRGAF). Pargesa owns a 50% interest in investment holding company Groupe Bruxelle Lambert (OTCPK:GBLBF), which I covered here. Interestingly, GBL is run jointly by the Desmarais' and CNP, a company controlled by Albert Frere, who is considered "the Warren Buffett of Belgium." Investors in GBL, then, effectively have two terrific allocators of capital running their investments.
The market currently values GBL at $12 billion, which is a discount to to the NAV of its listed assets. Investors should note, however, that the organization chart above is a bit out of date, as GBL is effectively out of GDF Suez, and recently bought a 15% stake in SGS, a Swiss compliance firm. Other stakes include Pernod-Ricard (wine/spirits), Imerys (industrial minerals), Lafarge (concrete/building materials), Total (oil/gas) and Suez Environnement (waste management).
Power Financial Corporation's 28% share (50% of GBL and 56% share of Pargesa) of GBL then is valued at close to $3.5 billion.
Great West-Lifeco:
The second pillar of value is Great-West Lifeco (OTCPK:GWLIF), the portion of Power Corporation that most resembles Berkshire's insurance holdings and the benefit of the insurance "float" that Mr. Buffett frequently extols.
Great-West Lifeco Inc is an international financial services holding company with interests in life insurance, health insurance, retirement and investment services, asset management, and reinsurance businesses. [3]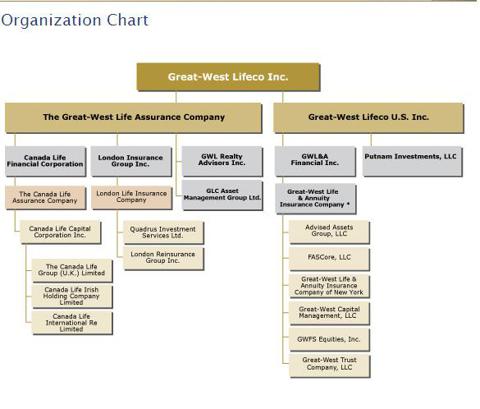 Click to enlarge
Great-West Lifeco is currently valued at $32 billion by the market, of which Power Corporation's 72% share is worth around $23 billion; however, there is a bit of double counting here as IGM Financial (discussed below), holds a 4% stake in Great-West Lifeco.
Potential investors are encouraged to evaluate these holdings in more detail, but Great-West Lifeco business appears attractively valued at 15 times earnings. It is also expanding its reach, and recently acquired Irish Life in February 2013. The deal is expected to be accretive to Great-West Lifeco's earnings in 2014 (10%). The deal was consummated by the Irish government, who took control of the business as part of the bailouts.
IGM:
The third pillar of value is IGM Financial (OTCPK:IGIFF). IGM Financial Inc is one of Canada's premier personal financial services companies, and one of the country's largest managers and distributors of mutual funds and other managed asset products [4].
As of June 30, 2013, IGM has over $125 billion assets under management.
The businesses underlying IGM include:
Click to enlarge
IGM is a listed company and is valued at $11 billion, making Power Financial Corporation's 58% share currently worth $6 billion. IGM appears attractively valued, at 15 x earnings and close to a 5% dividend yield.
Dividends:
For income-oriented investors, Power Financial Corporation owns and operates highly cash generative businesses which they allocate to shareholders. Currently, the company pays out a $0.35 quarterly dividend ($1.40 annually), equating to a yield of 4.4% at current prices.
Conclusion:
One article can't possibly cover all the details of the Power Financial Corporation investment thesis. Readers interested in performing more due diligence are encouraged to do so.
I think what investors will find is a Berkshire Hathaway-type investment holding company/conglomerate, with an incredible set of assets and terrific allocators of capital running the enterprise. Potential investors are also levered to the insurance and asset management businesses that Mr. Buffett prefers, and has indicated would have made Berkshire even more valuable today if he had focused his investments in that sector.
At a $22 billion market capitalization, Power Financial Corporation has plenty of room to grow while providing investors safety and yield. It also trades at a discount to its net asset value.
With all the Desmarais' connections and influence across the globe, I expect that Power Financial Corporation will continue to compound returns for investors long into the future.
Notes:
[1] Another Canadian holding company, Fairfax Financial Holdings, is another Berkshire Hathaway type company. I will author an article about Fairfax Financial and its leader Prem Watsa soon.
[2] For many of the American Depositary Receipts ("ADRs"), traditional financial media sources do not report the correct dividend information. For example, Yahoo Finance does not report a yield on Power Financial Corporation. Investors are advised to go to the source documents, or sign up at Indievestr where a web application for user curated investment content is being developed.
[3] Corporate overview, Great-West Lifeco website.
[4] Corporate overview, IGM Financial website.
Disclosure: I have no positions in any stocks mentioned, but may initiate a long position in OTCPK:POFNF over the next 72 hours. I wrote this article myself, and it expresses my own opinions. I am not receiving compensation for it (other than from Seeking Alpha). I have no business relationship with any company whose stock is mentioned in this article.