With all the uncertainty in the financial markets between the recent volatility of interest rates, unclear monetary policy, and questionable strength of the global economy, it is a pleasure at times to review an earnings report of a stable blue chip company such as Coca-Cola (NYSE:KO).
Yesterday, Coke reported 2nd quarter earnings that were neutral-to-modestly positive in my opinion. Coke isn't a growth stock and one shouldn't expect it to be. On an as-reported basis both revenue and earnings slipped modestly from a year ago. Headwinds in foreign exchange offset the modest growth in global unit volume and year-over-year improvement in profitability.
Don't forget that the company returned $2.2 billion of cash to investors through net share repurchases and dividends paid in the quarter. And while our valuation slipped modestly to $42.50 (in part to the cash returned to shareholders), Coke's share price still remains reasonable given the closing share price of $40.23 ( on 7/16/2013).
Just the Numbers
The company reported 1% growth in volume worldwide during the quarter. However, revenue declined 3% to $12.7B from $13.1B a year ago. Management attributes approximately 2% of the decline to currency impact. An additional 2% of revenue decline is reflected in changes in the company's capital structure rather than operating results.
Profitability improved year-over-year as gross margins improved to 60.9% from a year-ago margin of 60.1% and operating margin improved to 25.4% from 25.2% a year ago. Net of currency impact and structural changes - operating margins improved to 26.8% versus 26.1% a year ago.
Lastly, Coke's diluted per share earnings declined modestly to $0.59 per diluted share compared to $0.61 per diluted share a year ago. On an operational basis (non-GAAP) diluted earnings per share improved modestly to $0.63 per diluted share from $0.61 a year ago.
During the quarter, Coke returned $2.2 billion to shareholders, with $1.2 billion paid in dividends and an additional $921 million in share repurchases (net of the $534 million in share issuance). Diluted share count decreased modestly during the quarter.
We estimate that Coke's Invested Capital increased slightly to $90.9B (including an estimate of advertising as a capital investment) and the Return on Invested Capital dipped slightly to 10.9% versus the previous quarter of 11.0% and long-term average of 11.9%. (Please note that Coke's ROIC has been skewed given the acquisition of the bottling companies in 2010 which carry lower profit margins. However, the general trend has been one of improvement since bottoming at 8.3% in the second quarter of 2011.)
Valuation Update
Our estimate of fair value for Coke slipped modestly to ~$42.50 from $43 based largely on the reduction in the company's net cash position. Our fair value estimate is based on a normalized Enterprise Value-to-Invested Capital multiple. Over the past 5 years, the company has traded at approximately 2.3X its Invested Capital compared to the current multiple of 2.1X.
This multiple is slightly higher than the company's ROIC and Weighted Average Cost of Capital (WACC) would suggest at ~1.8X (which is derived from ROIC/WACC). The stability of the company and its consistent profitability is a key factor in the higher market multiple.
Our Economic Value Added (EVA) discount model suggests that our fair value requires a stable ROIC-WACC spread of 4.5% and Invested Capital Growth over the next 10 years of 5%-6% and no terminal growth. (Over the past 5 years, the Invested Capital has grown at 13.9%, largely due to the bottling acquisitions in 2010.)
Investment Thesis
Our investment thesis regarding Coke is rather straightforward. We look for high quality companies that exhibit low volatility, pay dividends, are growing its capital base, and earn profits in excess of its cost of capital.
From that perspective, Coke is currently ranked in the top 30 of our universe of eligible companies, sandwiched between General Mills (NYSE:GIS) and Becton, Dickinson and Company (NYSE:BDX). The company benefits again from strong Invested Capital growth (although we expect this to slow after consideration of the one-time nature of the bottling acquisitions in 2010), above market average dividend of 2.8%, and reasonable valuation at fair-to-modestly undervalued.
Figure 1: Coke's Enterprise Value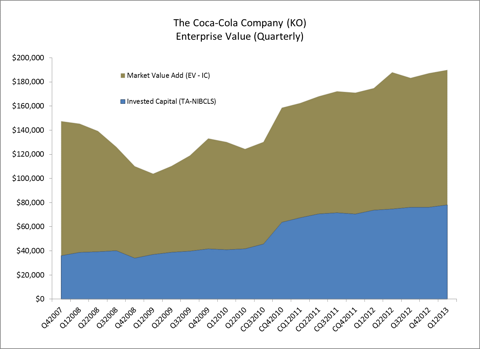 (Click to enlarge)
Figure 2: Coke's Recent ROIC Trend
Conclusion
Coke's second quarter earnings update was neutral-to-positive based on our expectations of the company as an investment. Growth was modest at best and profitability slightly improved. $2.2 billion in cash through dividends and share repurchases were returned to investors. Our valuation slipped slightly but the company remains highly ranked based on our 5 criteria of valuation, volatility, dividend, growth in invested capital (book value essentially), and profitability above cost of invested capital.
Disclosure: I am long KO, BDX, GIS. I wrote this article myself, and it expresses my own opinions. I am not receiving compensation for it (other than from Seeking Alpha). I have no business relationship with any company whose stock is mentioned in this article. Clients of Smith Patrick Financial Advisors own shares in the stocks mentioned at the time of this writing. This is article is written for informational purposes and we believe investors should do their own due diligence before making investment decisions.