JPMorgan (NYSE:JPM) has one of the most powerful and enduring groups of businesses in the financial world, capable of posting $20-$25 billion of profit year in and year out. When Jamie Dimon took over things were very different, but from his leadership this giant has emerged far stronger than it has been since the days of James Pierpont -- even after the worst financial crisis since the Great Depression. To me, it was comical that there was actually pressure to split the CEO and chairman's roles after the "London Whale" incident, considering what has transpired over Dimon's tenure, and the questionable record in splitting the roles, with Eliot Spitzer's "witch hunt" of Hank Greenberg being a fine case in point of what happens when modern corporate governance dogma infringes on the ability to navigate rough business waters successfully.
Warren Buffett seems to be handling both roles quite well, as has John Stumpf of Wells Fargo (NYSE:WFC), so to me it was much more about the media's tendency to knock down a giant than a true business issue. Earlier today, I published an article referencing my preference for the Wells Fargo management team, which is based both on execution and a more vanilla business model. But Jamie Dimon is in my top 10 list as far as CEOs go. JPMorgan's stock price has risen considerably based on its successful financial results, but I do believe that there is more upside to come and that it will still make sense for long-term investors to accumulate the stock on pullbacks.
While the London Whale is often identified as typifying everything that is bad about the "big banks," I also see the benefits in that even during that time, JPMorgan was still able to remain highly profitable. This is because the bank has a diversified and counter-cyclical mix of businesses that allowed it to still make billions of dollars -- of which it paid taxes on as well, despite losing close to $6.5 billion on those ludicrous trades. When you look at the banks that failed -- such as Lehman Brothers, Bear Stearns, and Washington Mutual -- none fit the criteria of the laws that Elizabeth Warren and John McCain are trying to champion to split investment banks from federally insured depository institutions.
Instead, I'd recommend more transparent accounting, including the elimination of off-balance sheet financing, exchanges for all derivatives and the newly implemented capital and liquidity rules, which have yet to even be fully put into place to see what the true impact will be. Going too far will further slow economic growth in the U.S. and across the globe, which has certainly been a result of the blame game that has been part of the political arena since 2008, when in reality just about every constituency has some blame for the excesses of the era.
On July 12, JP.Morgan reported exceptionally strong net income of $6.5 billion on $26 billion of revenue, which equated to earnings per share of $1.60. Net income was up 13% YoY and flat with the stellar first quarter that the company posted. The return on equity and tangible common equity for the quarter were consistent with the first quarter at 13% and 17%, respectively. The return on assets was down slightly sequentially to 1.09 from 1.14, but was up from 0.99 YoY. JPMorgan likes to break out the return on Basel I Risk-weighted assets, which it views as more relevant due to its business mix, and this quarter's number of 1.8, compared to 1.9 and 1.5 in the first quarter of 2013 and second quarter of 2012, respectively.
Deposits were up $40 billion YoY, an increase of 10%, while the active mobile customer base grew by 32% YoY. Mortgage and auto originations were up 12% and 17% YoY, respectively. Clearly, higher interest rates will pressure the refi business, but purchase volumes were up 40% sequentially, and contributed 36% to volumes, up from 23% in the first quarter. Credit card sales volume of $105 billion was up 10% from the same time last year, and client investment assets of $172 billion were up 16% YoY. Lower severities due to home price improvements is allowing JPM and other banks to continue to release reserves, as credit quality has been outstanding.
JPMorgan boasts one of the strongest banking balance sheets in the world with Basel I Tier 1 common of $147 billion, which is a ratio of 10.4%. The estimated Basel III Tier 1 common was $148 billion for a ratio of 9.3%, including the impact of the capital rules issued July 2, 2013. This is very impressive because the sharp increase in interest rates during the quarter had a 20 bps negative impact to the ratio, due to impairments on the AOCI portfolio, and the company believes it is well on track to reaching a 9.5% Basel III Tier 1 ratio by the end of the year.
Tangible book value grew from $39.54 at the end of the first quarter to $40.04 at the end of the second, and despite paying dividends and buying back stock; tangible book value has grown from $35.71 from the same time last year. JPM repurchased $1.2 billion of common stock in the second quarter and has another $4.8 billion authorized, and the company also increased the quarterly dividend to $.38 per share. Total credit reserves at the end of the quarter were $20.1 billion, which equates to a loan loss coverage ratio of 2.06%.
JPMorgan ended the quarter with 3.8143 billion diluted shares outstanding, so at a recent price of $55.01, the company has a market capitalization of roughly $209.82 billion. Book value stood at $52.54 and I believe peak earnings power is likely to be around $7-$8 per share, with the ability to grow over time. I don't believe the stock is extremely expensive but I prefer some of the other large banks that trade at large discounts to book value. I still believe that JPM represents compelling value on any significant pullbacks below $50 and it might not be a bad idea to sell put options to manufacture a cheaper entry price.
I'd take JPM's investment banking franchise over any in the world. I believe the company's diverse array of businesses is the primary reason why it has built such a formidable investment banking franchise. The current dividend yield of 2.76% is not bad and we've held on to our JPM shares at current prices, but I'd allocate new money to other financials unless JPM sold off to offer better relative value.
Click to enlarge images.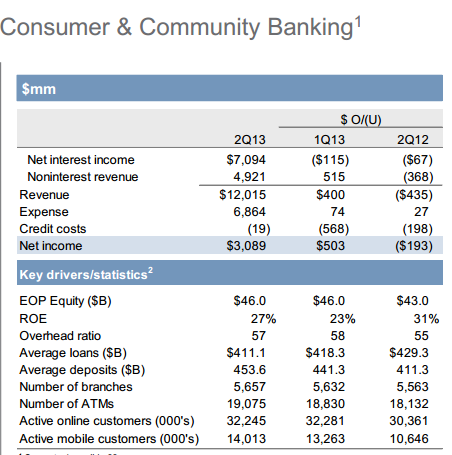 Source: JPM second-quarter 2013 investor presentation.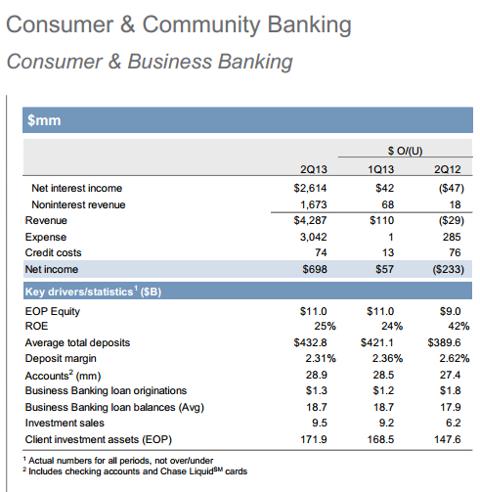 Click to enlarge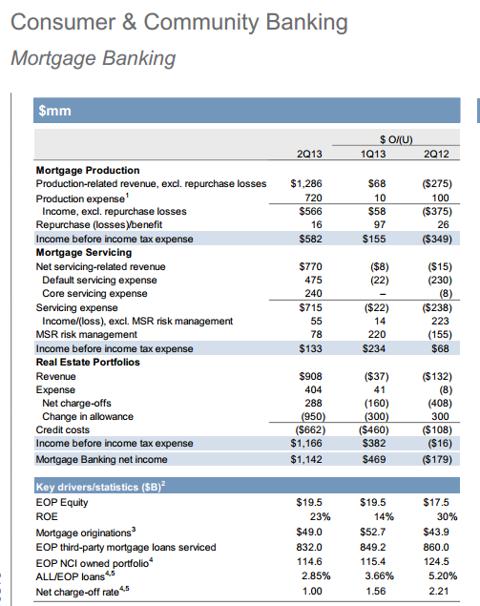 Click to enlarge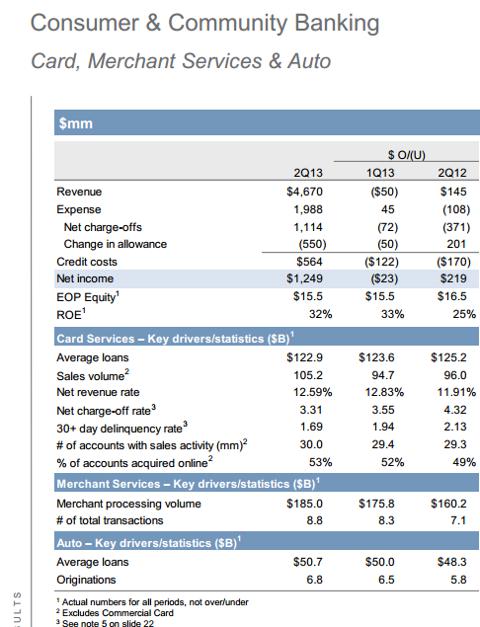 Click to enlarge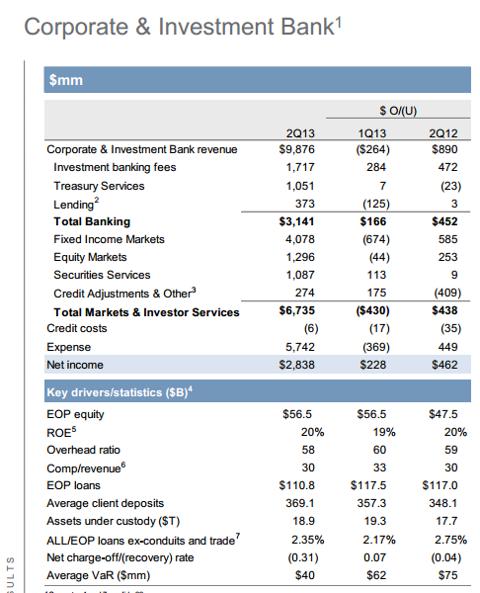 Click to enlarge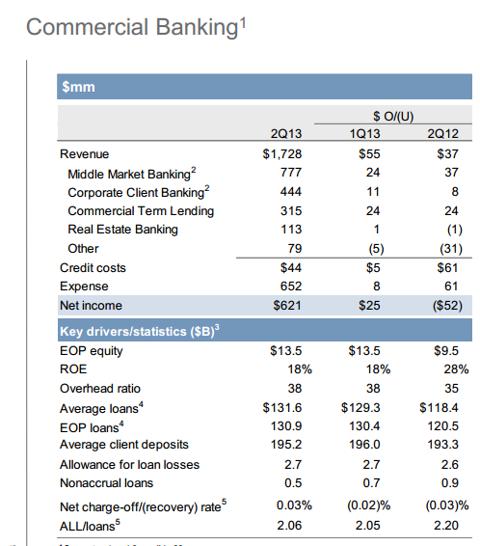 Click to enlarge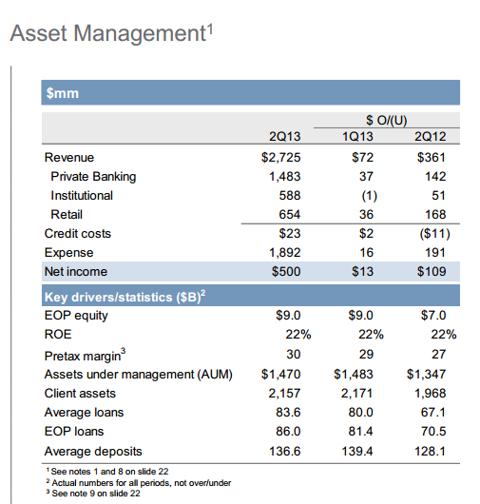 Click to enlarge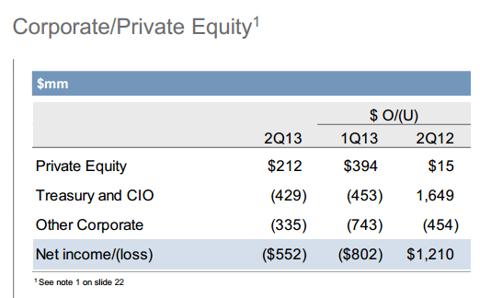 Click to enlarge
Disclosure: I am long JPM, WFC. I wrote this article myself, and it expresses my own opinions. I am not receiving compensation for it (other than from Seeking Alpha). I have no business relationship with any company whose stock is mentioned in this article.