Whirlpool Corporation (NYSE:WHR) has one of the strongest brand portfolios in consumer appliances in the world.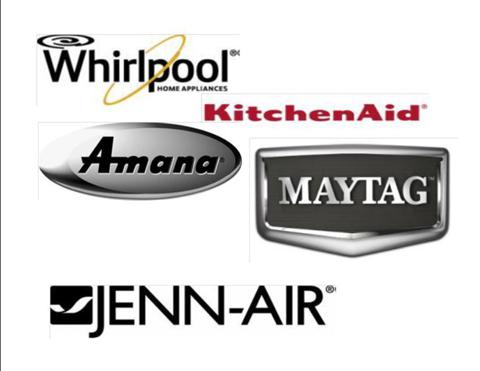 The company has been on an improving trend since 2008 following the financial crisis, and entered 2013 with a strong momentum in sales and profits with its share price more than doubling in just two years.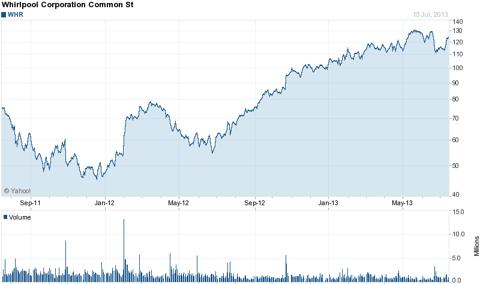 With a market capitalization of $10 billion and a target to earn $9.25 per share in 2013, the stock does not look expensive at $120 a share. But it is expensive, and I think it is a good short.
The major appliance industry is one most competitive in existence. It is volatile, with demand driven by new home construction and consumer sentiment. It is sensitive to rising interest rates since replacing a refrigerator or range can be deferred readily in an economic slowdown. Today, many tailwinds exist for Whirlpool. Housing starts are rising, but remain below the rate of family formation, suggesting they will continue to rise. Consumer confidence is slowly increasing as is employment. Interest rates are low, and while most observers think they will eventually rise, they also see no imminent risk of any drastic rise when the central bank has been clear that the low interest rate environment will persist for a while yet. Commodity prices for inputs like copper, aluminum, steel, plastic and electronic components are relatively low and benefit the company's margins.
So why do I think this stock is a good short? The answer is simple. None of the foregoing is news and it is all in the stock today. Despite the fact that its markets are very mature, the lack of any prospect for rapid growth in North America and a slowing pace of growth in China, the stock trades at a multiple of 17 times trailing twelve month earnings and just over 13 times projected 2013 earnings.
In the past 3 years, Whirlpool has earned a cumulative $1.4 billion in net income. Despite those robust earnings, Whirlpool's long term debt has grown from $2.2 billion in 2010 to $2.4 billion today, and its cash resources have shrunk from $1.4 billion December 31, 2010 to $750 million today. These are not small numbers for a company with a tangible net worth of $3 billion. If debt grows and cash shrinks during periods of growing profit, the downside risks in a soft environment can only be brutally severe.
In my view, a market capitalization of more than three times tangible net worth in a mature industry requires high confidence that the underlying cash generation will exceed cash needs by enough to support the higher value. In Whirlpool's case, I don't see it. Operating cash flow of $1.1 billion in 2010 dropped to $530 million in 2011 and was $630 million in 2012. Capital expenditures in the same periods were $593 million, $608 million and $476 million respectively. The company has in fact not generated free cash flow since 2010. It has nonetheless paid out $345 million in dividends during the 3 years, but those dividends were matched by an increase in net debt that exceeded the payments.
For Whirlpool, these are the good days. There will be more good days as the economy continues to expand, I am sure, and as long as the Federal Reserve keeps interest rates low and stimulates house prices to rise. Unfortunately, the end of that ride is in sight. And when it comes, there will be a correction, and among the first stocks to react will be those dependent on consumer durables - like Whirlpool and the automobile assemblers.
I am short the stock.
Note: Financial data in this article were sourced from Yahoo Finance.
Disclosure: I am short WHR. I wrote this article myself, and it expresses my own opinions. I am not receiving compensation for it (other than from Seeking Alpha). I have no business relationship with any company whose stock is mentioned in this article.