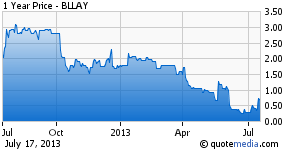 I wrote an article in late June 2013, where I discussed the dire situation of Billabong (OTCPK:BLLAY), the Australian surf wear company owning a significant number of brands.
The stock price suffered heavy losses in early June when two consortia of potential buyers indicated that it was no longer interested in buying Billabong in its entirety, but rather was discussing with management the possibility of debt refinancing and asset sales.
In the ensuing weeks, it was reported that private equity groups Oaktree Capital and Centerbridge Partners had purchased all of Billabong's bank debt at an estimated 10 to 20 percent discount to par. The worry for equity investors at that point was the potential for a significant debt to equity swap, whereby investors would be severely diluted.
My contention at the time was that Billabong was only in a net debt position of $152 million, hardly an insurmountable level of debt to get out from underneath with either asset sales, a bond issuance or another equity recapitalization.
Today, the fear of a takeover by Oaktree Capital and Centerbridge Partners has been assuaged with the announcement of a refinancing and asset sale deal with Altamont Partners. However, it wasn't a bad day of work for Oaktree or Centerbridge; the bank debt they hold will be paid back at par value only weeks after buying it at a substantial discount, yielding a low risk/high reward investment for a quick 25% return, or 300% annualized (based on 20% discount and one-month holding period).
The details of the Altamont transaction are complex, but based on my read of announcement, the maximum, fully diluted share count will increase to 804.8 million shares based on the convertible nature of the refinancings, which carry interest between 10 and 12% and come equipped with one financial covenant to be tested on December 31, 2014.
The strike prices on the bridge and term loans will have strike prices at $0.50 AUD, while the convertible note and redeemable preference shares have a strike price of $0.235 AUD per share. As a result, the Altamont consortium will have between 36 and 40% control of the Billabong.
While shares were halted on the Australian exchange, OTC investors in the ADRs cheered the deal, with shares rallying 85% on high volume. Remember, each ADR represents two ordinary shares trading in Australia. The ADRs closed at $0.75/share, which is still well below the strike prices set for the bridge and term loans.
Also, as a result of the deal, Scott Olivet will step in as Billabong's new CEO. Mr. Olivet has considerable retail experience from his time at Oakley and Nike (NYSE:NKE). In addition, Billabong sold to Altamont Partners its Dakine brand for $70 million.
Conclusion:
In my opinion, fair value for Billabong shares should be close to 0.75 times sales, which is a discounted multiple relative to other, better retail brands such as Nike and VF Corp (NYSEMKT:VCF).
At 0.75 times sales (estimated at $1.2 billion ex-Dakine for FY 2013), Billabong is worth closer to $900 million, or $1.10/ordinary share and $2.20/ADR. There is still upside yet for contrarian investors.
Disclosure: I am long OTCPK:BLLAY. I wrote this article myself, and it expresses my own opinions. I am not receiving compensation for it (other than from Seeking Alpha). I have no business relationship with any company whose stock is mentioned in this article. I am developing an investment research web application to allow investors to create private or shared dashboards of investment research, of which Billabong is part of the beta portfolio. To sign up as a beta user, go to indievestr.com.