Recently, Sunoco Inc. (NYSE:SUN) reported weaker-than-expected second-quarter results, as rising crude oil prices and weak demand for gasoline and diesel pulled down its refining margins (conference call transcript here).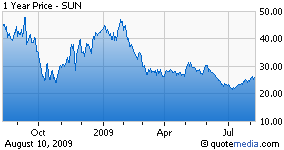 Loss per share, excluding special items, came in at 27 cents, significantly below the Zacks Consensus Estimate of a penny per share in profits.
In the year-ago period, the Pennsylvania-based marketer of petroleum products earned 52 cents per share. Revenue was down 51% year-over-year to $7.5 billion.
Refining & Supply
The Refining & Supply segment lost $77 million during the quarter, as against a profit of $27 million in the year-earlier period, mainly on account of lower realized margins and lower production volumes. Realized margin averaged $3.65 per barrel, down 48% from the second quarter of 2008, reflecting a very weak East Coast refining margin environment. Total production was down approximately 6% year-over-year to 720.2 thousand barrels per day (MBbl/d), as market-driven rate reductions lowered volumes throughout the refining system.
Retail Marketing
The Retail Marketing segment earned $10 million versus break-even results in the year-ago quarter, reflecting lower expenses, partially offset by reduced gasoline due to rising wholesale prices and a weak demand environment.
Chemicals
The Chemicals segment had break-even results during the quarter, down from a profit of $3 million in the year-ago period. The year-over-year decline reflects lower margins and sales volumes, partially offset by lower expenses.
Logistics
The Logistics segment earned $26 million, up from $21 million in the second quarter of 2008 due to higher lease acquisition results, increased crude oil pipeline and storage revenues, as well as earnings from a refined products pipeline and terminal system acquired in November 2008.
Coke
Sunoco's Coke segment achieved $42 million in profits during the quarter, up 83% from the previous year quarter. The higher income was on the back of increased price realizations from coke production and the receipt of dividend from the Brazilian coke business.
Capital Expenditure and Balance Sheet
Capital expenditure incurred by Sunoco during the quarter was $230 million (42% spent on the refining business). Management expects capital expenditure to be around $1 billion this year. At the end of the quarter, Sunoco had cash and cash equivalents of $67 million and long-term debt of approximately $2.2 billion. Debt-to-capitalization ratio stood at approximately 40%.
We currently rate Sunoco shares as Underperform.