Biodel (BIOD) is a clinical stage developmental company specializing in insulin products for the diabetes market.
The company has had a rough past beginning with a complete response letter they received from the FDA in 2010 due to injection site and other trial issues with their former product Linjeta. This year investor interest has been renewed by the company's lead diabetic product, an ultra-rapid fast acting insulin product Biod-123 which is only one of several promising pipeline products under development. The stock price has soared 80% mostly due to investor enthusiasm for the company's fast-approaching Phase 2 study results.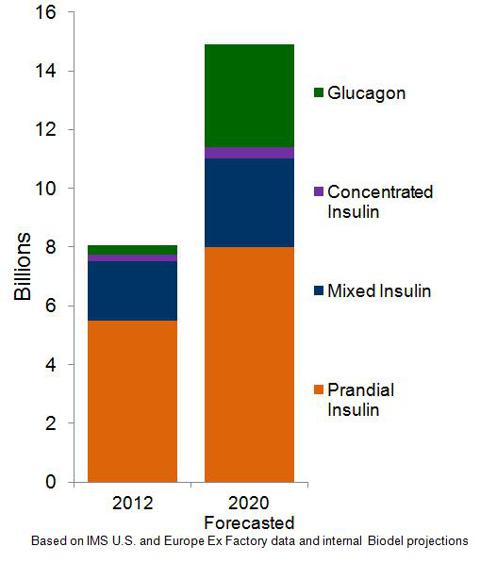 Biodel recently announced that the last patients have completed treatment and all follow-up visits in the Phase 2 Clinical trial of the company's lead product Biod-123 and they expect to report topline results as previously forecasted by the end of September 2013.
The Phase 2 clinical trial is a randomized open label, parallel group study conducted at 33 investigative centers in the United States. In the trial, 132 patients with type 1 diabetes were randomized to receive either Biod-123 or Humalog to use as their mealtime insulin during week treatment period. Both arms of the study used insulin glargine, sold as Lantus as the basal insulin. The clinical trial is designed to evaluate HBA1c control as the primary endpoint and secondary endpoints include excursions, glycemic variability, hypoglycemic event rates and weight changes.
Biodel has several pipeline candidates for different sectors of the diabetic market, which helps add some diversity and compete in different segments of the market.
PIPELINE
Biod-123
This is a RHI based ultra-rapid acting insulin designed to be faster acting than the existing 'rapid-acting' mealtime insulin analogs used to treat type 1 and 2 diabetic patients. It is targeted at the prandial (mealtime) Insulin market represented in the orange portion of the above graph with the market size estimated at a little over $5 billion expected to increase to $8 billion by the year 2020. In a previous Phase 1 trial, BIOD-123 was absorbed significantly faster than Humalog and local injection tolerance was not significantly different
Biod-250
The company's analog based ultra-rapid fast-acting insulin product reported positive studies in January where it met all primary and secondary objectives during Phase 1 study. Patients treated with Biod-250 absorbed twice as much insulin in the first 30 minutes as those treated with Humalog. Biod-250's decline from peak concentration as indicated by time to half-maximal concentration after the peak was significantly shorter compared to Humalog. The differences were highly statistically significant.
Biod-531
This is the lead insulin candidate for the concentrated insulin space. Humulin from Eli Lilly (NYSE:LLY) is currently the only concentrated insulin marketed in the united states. Because it's duration of action is long enough to provide basal coverage. However, humulin has a delayed onset of action compared to standard concentration 'rapid-acting' insulins so it is not well-suited for mealtime coverage.
In pre-clinical studies, Biod-531 demonstrated a more rapid rate of absorption than humulin and the duration of action was as long as that of humulin so the company believes they potentially have a superior product that would provide superior mealtime glucose control relative to humulin. The company plans to file for investigational new drug application amendment with the FDA and initiate a randomized, blinded, crossover Phase 1 trial in which the pharmacokinetic, pharmacodynamic and toleration profiles of Biod-531 will be defined and compared to humulin.
The current market for concentrated insulin as well as premix (those who do not have severe insulin resistance) is currently around $2 billion in the US and Europe per the company estimates.
Glucagon Rescue Kit
The company recently updated investors on the development of the glucagon rescue kit that is stable at room temperature for treating diabetic patients who suffer very low blood glucose commonly known as hypoglycemia. Mild cases of hypoglycemia are treated with sugars or orange juice and carbohydrates but severe cases can result is seizures or loss of consciousness and drugs have to be injected subcutaneously. The kit has been customized for convenient portability and ease of use to enable rapid-treatment during emergencies with little or no training. The device features an automatic retraction of the needle upon full-dose drug delivery virtually eliminating dosing errors and risk of needle sticks. It is estimated that only 10% to 20% of current high-risk patients currently have an unexpired glucagon kit. Given this low market penetration, the current $125 million could expand significantly upon the introduction of an easy to use presentation. The device with syringe requires 3 simple intuitive steps as compared to seven or more steps for the current kits in the market.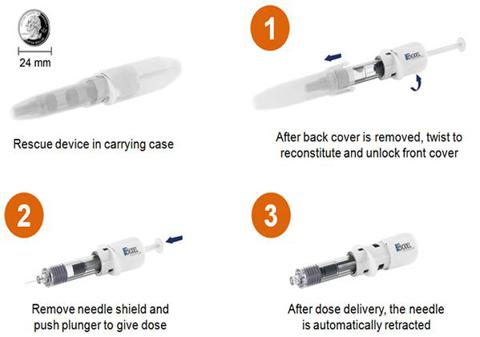 Biodel is currently trading with a market cap of just $76 million with $40 million in cash from a recent secondary offering. Shares reached a high of $5.11 before retreating to trade at support levels below the recent offering price of $4.35, which is low for a company with these types of products for a market as enormous as diabetes. There remains the possibility of partnerships for the company's products as the CEO has mentioned on a number of occasions, describing players in the insulin space as very interested.
Small biotech stocks offer above average risk but we like the risk/reward opportunity here as it is now well capitalized to last into 2015 and management has a reputation for wisely spending cash, so investors do not have to worry about significant dilutions in the near future.
Clinical trials are also inherently risky but we are encouraged by pharmacokinetic profile of Biod-123 as displayed in the Phase 1 study and the market remains quite bullish. Management has corrected the injection site issues seen before with Linjeta and the trials are only in the US to eliminate the problems seen previously with foreign trial sites.
Biodel is a low-float stock with 48% of those shares in the hands of institutional investors and any high demand for shares can cause a significant price movement. We don't encourage investing in a company solely on the number of institutional investors but it is an important metric and most experienced astute investors generally shy away from biotechs with low institutional ownership.
Investors should do their own due diligence and consider the risks as small cap biotech stocks are volatile and also carry the risk of significant loss of invested capital in the eventuality of trial study failures and other unforeseen adverse situations.
Disclosure: I am long BIOD. I wrote this article myself, and it expresses my own opinions. I am not receiving compensation for it. I have no business relationship with any company whose stock is mentioned in this article.