As investors who focus on identifying deeply undervalued securities, we are often attracted to what others might deem to be un-investable. Bank of America (NYSE:BAC) has been a perfect example of this due to its disastrous Countrywide Financial acquisition, which mired the company in trench warfare with litigation and mortgage losses for several years. Fortunately in investing, price is what you pay and value is what you get, so the market's anxieties over the company's uncertainty allowed us at T&T Capital Management to buy the stock at prices just above $5 per share, which represented less than 50% of tangible book value and 25% of book value.
As other investments have appreciated, we have continued to add to our position over time due to the relative discount to intrinsic value versus the majority of securities in our universe. While short-term volatility is to be expected, we believe that Bank of America's earnings power will look drastically better over the next several years. The stock should continue to appreciate in excess of its book value, which we believe to be an ascending target.
While analysts and market participants focused on what was going wrong for Bank of America since the financial crisis, there was far too little interest in what could go right. Imagine a scenario where housing prices improved far in excess of expectations, or consider if CEO Brian Moynihan proved to be a highly capable leader, with an aptitude at delivering on targets of building capital and reducing expenses. At some point the seemingly endless exposure to litigation would being to wind down and the billions of dollars in quarterly expenses on servicing money-losing legacy assets would eventually be reduced.
These days have finally arrived for Bank of America, but the market is still pricing too high of a probability that the bank will not deliver, or that the renaissance in housing will prove to be a false rally. Even after today's results, there is talk about concerns over revenue growth, which is really more of a function of macroeconomic factors, as opposed to being a Bank of America issue. Bank of America is more leveraged towards margin improvement than any other U.S. bank, so this issue seems particularly silly to bring up in relation to this institution, which still trades at the deepest discount to book value.
Money is the ultimate commodity, so while certain banks have durable competitive advantages that allow them to generate above-average returns on equity, the majority of banks will revert to the mean. It boggles my mind that short-term market timers and analysts who cater to the crowd focus on minutia that will ultimately have no real impact on the long-term intrinsic value of a franchise. It is that short-term focus the caused many to think Bank of America was a sell below $10 per share, and is a buy as we get closer to $15.
Understanding that many of the issues were large but would ultimately be resolved, it becomes possible to project the potential of Bank of America through looking at the balance sheet. The company has long had one of the elite low-cost deposit bases in the United States, and with a book value in excess of $20 after the worst financial crisis since the Great Depression caused huge writedowns and dilution, it didn't take a genius to figure out that $2 per share of normalized earnings power seemed to be a possibility. Still, Mr. Market was willing to price the company just in below $6 at one point, when much of the momentum that has caused business to progress was actually already in motion.
On July 17, Bank of America reported very strong financial results, highlighting its vastly improving operations. Second-quarter net income of $4.0 billion was up 63% from $2.5 billion at the same time last year, while earnings per diluted share increased to $0.32 from $0.19. Revenue, net of interest expense, on a fully taxable-equivalent basis rose 3% to $22.9 billion from $22.2 billion a year ago. Pre-tax pre-provision earnings were $6.9 billion and the provision for credit losses was $1.2 billion. Net interest income on a fully taxable-equivalent basis rose to $10.771 billion from $9.782 billion a year ago, but was down from $10.875 billion in the first quarter. The company has made material headway in reducing its liability costs but of course is being negatively impacted by reduced asset yields. Ultimately, increased long-term interest rates will add considerably to net interest margins, and the consolidation in the industry, which has caused deposits to increase, will enhance the leverage as seen through net interest income.
Like other banks, increased interest rates reduced mortgage banking income in the quarter. Noninterest income decreased by $242MM from the year-ago quarter, as increases in investment banking fees, equity investment income and investment and brokerage income were more than offset by a decline in other income, which was bolstered last year by liability management activities. Evidence of Moynihan's efforts to cuts costs can be seen through the $1.0 billion decline in non-interest expenses from one year ago, which was driven largely by lower litigation expense, reduced expenses in Legacy Assets and Servicing (LAS) and lower personnel expenses.
$1.0 billion is a huge quarterly number that still has room to decline further, which should flow immediately to the bottom line. Management also announced that it believes by the fourth quarter of 2013, noninterest expense in LAS, excluding litigation expenses is now expected to decline below $2.0 billion per quarter, from the previous estimate of below $2.1 billion by the end of the year. Also, the number of 60 day-plus delinquent mortgage loans is now expected to decline to 375,000 by the fourth quarter of 2013, instead of 400,000 by the end of the year.
Banks have made tremendous inroads in lowering costs through efforts such as paperless ATM receipts and mobile banking. For Bank of America, the number of mobile banking customers increased 28% YoY to $13.2MM, and 11.7MM checks were deposited this quarter via Mobile Check Deposits. Merrill Edge brokerage assets increased 17% from the same period a year ago to $84.2 billion thanks to market growth and positive business flows. Despite the aggressive cost-cutting, Bank of America has actually been adding to its sales force of financial advisors, mortgage loan officers and small business bankers, which are up 21% from last year at the same time. This should bode well for future revenue growth and is emblematic that the company will be able to redeploy assets dedicated to LAS in more productive pursuits moving forward.
The Commercial Real Estate Services (CRES) division still continues to lose money at a prodigious rate, but the before mentioned reductions in LAS expenses will help resolve those issues. Global Wealth and Investment Management (GWIM) is performing exceptionally well with a 30.57% return on average allocated capital. I'll always argue that BAC paid way too much for Merrill because it could have been had for a song, days later, but the value of the business is still quite high. And Merrill has been an important contributor to profitability during these last few difficult years.
During the second quarter, BAC redeemed $5.5 billion of preferred stock and repurchased $1.0 billion of common stock, or 80MM shares. Loans and leases were up $10 billion for the first quarter, reflecting improvement in commercial loan originations. With 11.524510 billion diluted shares outstanding and at a recent price of $13.92, Bank of America has a market capitalization of roughly $160 billion. The stock trades a hair above its tangible book value of $13.31 and at only 68% of its book value of $20.18. Tangible book value was negatively impacted by a $4.2 billion after-tax decline in accumulated other comprehensive income (AOCI) caused by the increase in interest rates.
Even in a solid second quarter, Bank of America's return on tangible common equity was only 9.88%, and I believe this number can get to 15% in the next year or two. The company's second-quarter efficiency ratio of 69.8 should ultimately head to 60 or below in a more normalized environment. I believe that adjusted for dividends, Bank of America will grow book value at a minimum of 10% per annum over the next five years. This is relatively conservative any puts no emphasis on what accretive stock buybacks done below book value could do to the equation. Because stocks are forward looking mechanisms, I really don't believe the company should trade at such a material discount to book value. I believe Bank of America offers the most compelling value of the large U.S. banks, and should be accumulated at current prices and, of course, on any material weakness in the shares.
Click to enlarge images.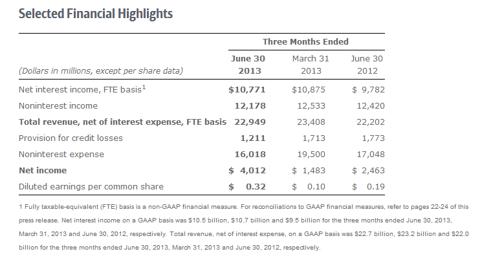 Click to enlarge
Source: BAC second-quarter 2013 press release.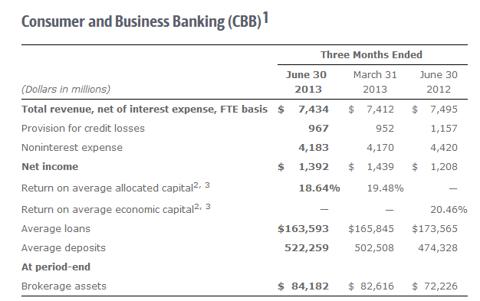 Click to enlarge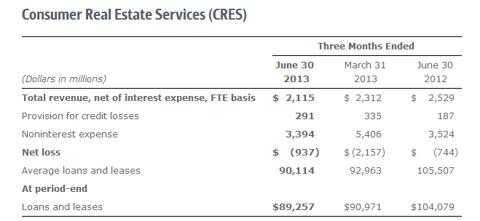 Click to enlarge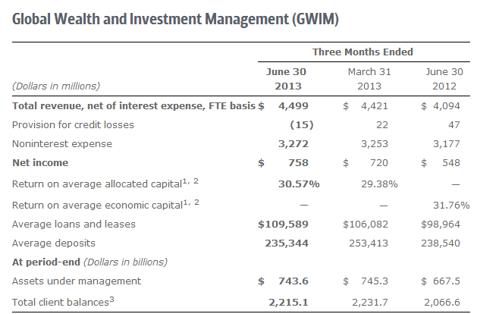 Click to enlarge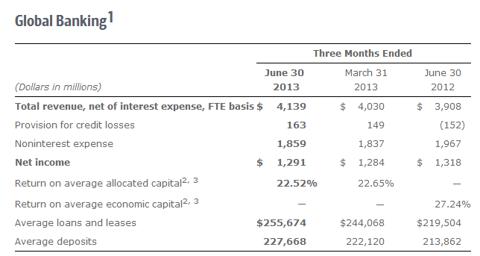 Click to enlarge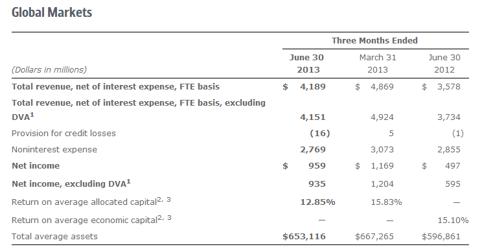 Click to enlarge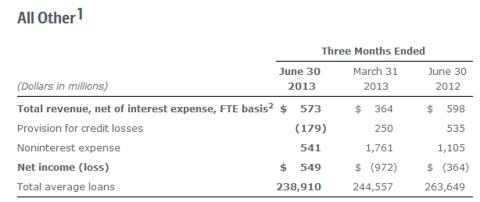 Click to enlarge
Disclosure: I am long BAC. I wrote this article myself, and it expresses my own opinions. I am not receiving compensation for it (other than from Seeking Alpha). I have no business relationship with any company whose stock is mentioned in this article.