Ambac Financial Group's (ABK) second quarter results missed the Zacks Consensus Estimate of a loss of $1.0 per share (conference call transcript here).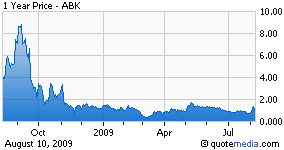 Losses came in at $2.80, driven by higher loss and loss expenses in its residential mortgage-backed securities (RMBS) insured portfolio.
Net premiums earned were $177.7 million, down 45% from last year's $325.5 million.
Net investment income excluding variable interest entities for the quarter stood at $120.4 million, representing a decrease of 5% from $127.3 million in the comparable period of 2008. The decrease was primarily due to lower invested assets.
During July 2009, Ambac reduced a significant portion of its exposure under a Collaretallized debt obligation (CDO) of Asset backed Securities (ABS) transaction via a settlement, and commuted all of its exposure under another CDO of ABS transaction. The two transactions, with an aggregate of approximately $2.8 billion net notional outstanding at June 30, 2009, were settled with counterparties for cash payments totaling approximately $746 million.
Subsidiary Ambac Assurance Corp. (AAC) recorded a loss of $675.4 million. Ambac's investment agreement business recorded a loss of $186.7 million as a result of the sale of certain investment portfolio securities.
The irrational housing market continues to experience digestion and losses are expected to remain during first half of 2009. Ambac paid $400.8 million for the settlement of claims, mainly related to second-lien RMBS transactions.
As previously announced, in order to preserve cash and statutory surplus at Ambac Assurance, it has discontinued the payment of monthly dividends on its outstanding auction market preferred shares.
Following second quarter results Standard & Poor's revised its outlook on Ambac Assurance's ratings to negative on Friday, citing deterioration of the firm's insurance portfolio.
S&P also cited further losses due to exposure to collateralized debt obligations resulting from distressed debt exchanges. Losses and reserve additions are expected to eat into the company's capital levels.