TALF and PPIP asset-buying programs, I noted Aug. 2, have pushed up asset banks and made bank equity look frothy. Even the dicier parts of Commercial Mortgage Backed Securities (CMBS) are showing exceptional performance recently. Roughly two-thirds of a typical CMBS pool is rated AAA, which means that losses in excess of 35% have to occur for the AAA holders to lose money. The next tranche down, the AA, is something of a swing segment, usually a small portion of the deal. It's bellwether for credit quality. AA prices have been soaring lately.
Markit 2007 Vintage AA CMBS Index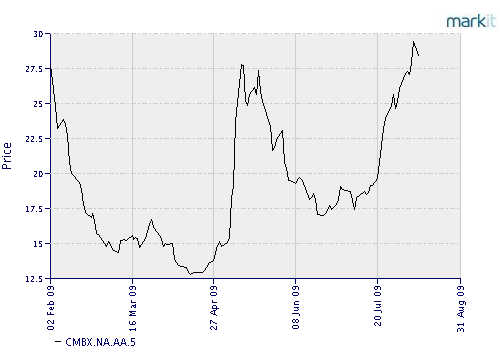 From mid-April to the present, prices of the AA tranches have more than doubled.
Given predictions of doom in CMBS default rates, that is a strange result. As a matter of fact, the Congressional Oversight Panel for the TALF program is deeply concerned about such toxic assets (from AP):
Watchdog says bad assets still threaten banks

WASHINGTON (NYSE:AP) — Despite signs that the financial system has stabilized, banks remain threatened by billions of dollars of bad loans on their balance sheets, and more could fail if the economy worsens, a congressional watchdog reports.

In its latest assessment of the $700 billion financial system bailout, the Congressional Oversight Panel warns that banks still hold many risky loans of uncertain value. If unemployment rises sharply or the commercial real estate market collapses — as many economists fear — the banking system could again lose its footing, the panel says in a report to be released Tuesday.

"The financial system (remains) vulnerable to the crisis conditions that (the bailout) was meant to fix," the panel wrote in a draft copy of Tuesday's report.

The Congressional Oversight Panel was created as part of the Troubled Asset Relief Program, or TARP. It is designed to provide an additional layer of oversight, beyond the Special Inspector General for the TARP and regular audits by the Government Accountability Office.

The report says many of the Obama administration's financial stability efforts are working — including infusions of new capital for banks, heightened scrutiny of capital ratios, "stress-testing" of large financial firms. It also pointed to a public-private investment plan designed to buy up bad assets that has yet to get off the ground.

But with banks still holding the assets at the heart of the crisis, they remain vulnerable, the panel says.
The price increase for toxic assets is driven by government-financed buying programs under PPIP. It may have created a mini-bubble in asset prices already.
Disclosure: after the Citigroup preferred-for-common exchange, I sold the great majority of my Citigroup position, and bank common stock now comprises less than 1% of my portfolio. I have a small position in Bank of America preferred.