Gas prices are up 14 cents per gallon in the last 10 days across the country but crude oil has remained steady around $70 a barrel since the beginning of July. The American Petroleum Institute's spokesman John Felmy would like you to reason that when the price of crude oil fluctuates up or down, it will have the same effect on the pump price for gasoline. However, that has not been the case so far in 2009.


The benchmark price for WTI crude oil decreased $1.00 on Friday, August 7th, to
$70.93 a barrel
after reaching an intra day
high of $72
.
84 a barrel
. T
here was no like response downward in the price for gasoline at U.S. and Canadian gas stations. In fact, gasoline prices
have been going steadily upward and crude oil has followed instead of the other way around.


While U.S. gasoline demand usually reaches its ultimate level from June through August, refiners have on the other hand cut production in the three weeks ending July 31. Gasoline stockpiles on that date were 2.9 percent higher than a year earlier, while diesel stocks were 24 percent higher.


The US Energy Information Agency (NYSEMKT:EIA) reported that total daily fuel use averaged 18.9 million barrels in the four weeks ended July 31, which was 3.1 percent less than a year earlier. However, that is a deceptive number since it includes diesel and jet fuel demand, which has been as much as 20% below last year's level.


Summer gasoline use is actually on the upswing and will reach its peak demand by Labor Day. This year the holiday weekend falls on September 7th well into the month in which refiners will be switching from producing summer to winter gasoline grade gasoline. That alone has in immediate affect on supply and brings about additional 10 percent of gasoline into the market. Refiners can produce an average of 22 gallons during the winter from a 42 gallon barrel of crude oil versus just 20 gallons out of that same barrel during the summer.


That is good for the consumers but bad for the oil refiners. They will be stuck in the same cycle that occurred last year with gasoline prices and crude oil prices going to a virtual free fall with profits turning into losses. The EIA chart below shows the history of US gasoline prices for the last two years. We started last year out at about $3 then increased to $4.15 per gallon by August. This year we began at $1.55 and went to $2.70 in that same time span.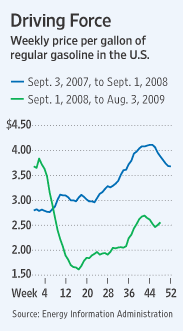 The Organization of Petroleum Exporting Countries (OPEC) is scheduled to have its next meeting on September 9th with crude oil prices currently hovering around $70 a barrel. That price was quoted as "not bad" and necessary to maintain investment according to OPEC President Botelho de Vasconcelos in Angola over the weekend. OPEC is responsible for 40 percent of global supplies of crude oil and will be reviewing production targets for member countries at their next meeting.


Their big bug-a-boo will be how to handle the massive cheating by some of their members who are exceeding their assigned quotas. July estimates leave the OPEC-11 about one million barrels in excess of the total assigned quota of 25 million barrels of output per day in order to be in compliance with the about 4 million barrels per day crude output agreed upon last year.


You can join the crowd if you are totally confused by all the facts and figures you are reading and hearing on exactly what drives gasoline prices. Yesterday morning I joined a couple of elderly ladies for a cup of coffee at a snack bar table during the Ranch Rodeo being held at the Prairie County Fairgrounds in my hometown of Terry, Montana.

Inevitably, the subject of gasoline prices came up and they wanted to know how they ended up paying almost $1.25 per gallon more at the Four Corners gas station in town since earlier this year. After trying to explain it to them they just rolled their eyes and one of them said that it was just the greedy oil companies making money.
Disclosure: The writer holds no positions in any commodities or stocks.