Since bottoming near the end of 2008, ISIS Pharmaceuticals (ISIS) has been one of the hottest stocks in the first half of 2009.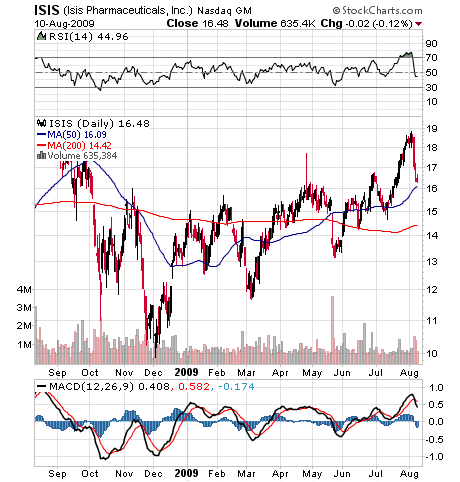 In fact, in just a few short months, the stock has exhibited all the tell tale signs of a powerful, interim trend reversal. More importantly, a look at ISIS's 3-year weekly chart shows that despite a dramatic correction in 2008, the stock maintained its long term, continuum with a swift reversal off of its 200-week moving average (shown below).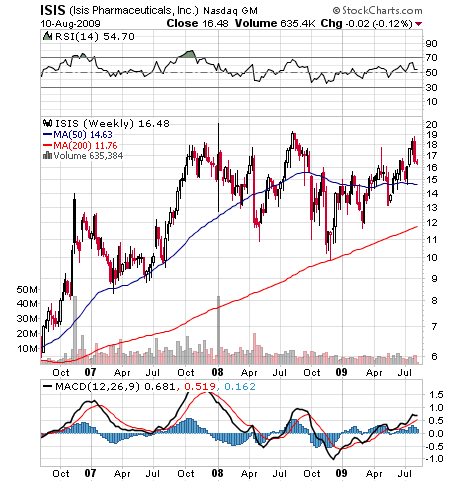 Profound bullish action in the first half of 2009 culminated in the stock's recent acceleration from $15/share to nearly $19/share in advance of earnings last week. Unfortunately, exuberance seems to have over shot a bit and, despite a relatively strong earnings report, the stock has sold off in recent sessions. Could that spell an opportunity for bargain hunting investors to jump aboard?
What is Isis Pharmaceuticals?
Isis Pharmaceuticals is a drug discovery and development company which is the leading researcher in the field of antisense therapies. Antisense is a treatment for genetic disorders which focuses on the use of specially coded nucleic strands to bind to mRNA within a patient's cells. For those of you who remember high school biology class, mRNA is the nucleic acid which carries coding information from the nucleus to the ribosomes for protein synthesis. A sense is a single sequence which codes for a particular protein. Antisense therapies focus on suppressing expression of a particular sense which effectively "turns off" particular genes.
Antisense drugs are a new class of pharmaceuticals and have the potential to change the way diseases are treated. Since these drugs are highly specific, targeting individual proteins being coded by RNA, they represent a large step towards more personalized medicine and theoretically should reduce unwanted side-effects in comparison to traditional protein or small-molecule pharmaceuticals. Moreover, since all antisense treatments utilize the same basic functionality – the delivery of an antisense molecule to target a specific RNA sequence – development times for new drugs can be shortened as early stage responses are more predictable.
Isis was the first biotech firm to bring an antisense therapy to market (Vitravene in 1998) and is a market leader in the manipulation and research of RNA.
Liquidity and Profitability
Isis reported $638 million in cash in its last filing and expects to burn roughly $90 million in cash over the course of the year. At current cash burn rates, the Company should be more than able to finance the development of its more promising drugs without needing to access capital markets over the next few years. A good thing given the current environment for both debt and equity capital.
Consensus estimates have the Company losing roughly 30 cents per share in 2010. The Company's drug pipeline includes 19 drugs in development either by Isis or in partnership with another pharmaceutical, but its most promising drug, Mipomersen (a drug for the treatment of high cholesterol in development with Genzyme), is not likely to be filed with the FDA until late 2010.
Investment Thesis
As with many smaller biotech firms, Isis does not have a large portfolio of on patent, in-the-market drugs and the stock today trades on the expectation of profitability as opposed to real earnings power. Isis benefits, however, from consistent research and development revenues as a result of partnerships with larger pharmaceuticals. Antisense and gene therapies in general represent the next generation of pharmaceuticals and are of particular interest to big pharma which faces dwindling patent protections and uninspired drug pipelines.
Isis' track record as the only biotech to bring an antisense drug to market as well as the current co-developer of a phase III cholesterol drug which could receive FDA approval by 2010 makes it a particularly coveted partner (and potential acquisition candidate). With the Company's long term stock trend in tact and intermediate stock action showing resilience near its 50-day moving average, I'm ready to jump in on this stock as a speculative buy with a target in the low-$20s.
Full Disclosure: Long shares of ISIS at the time of writing.