Last week, the EU issued its monthly economic report [pdf], which showed (unsurprisingly) that growth is still weak. Let's start with GDP: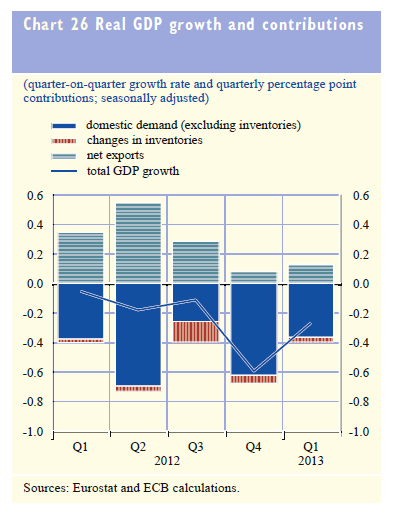 The blue line represents total Q/Q GDP growth, which has been negative for the last five quarters. If is wasn't for exports, growth would be much less.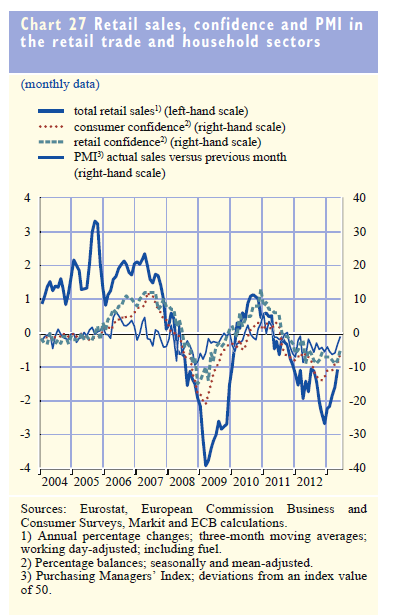 Retail sales (the solid blue line) are still printing negative month over month, although the rate of decline is decreasing. Consumer confidence (the dotted red line) is still weak. But there is good news on the PMI front, which is almost in expansionary territory.
From other reports we also see major problems. Industrial production is still below pre-recession levels and continues dropping: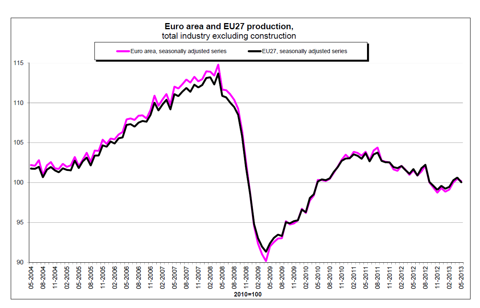 Click to enlarge
And unemployment is still at high levels and increasing: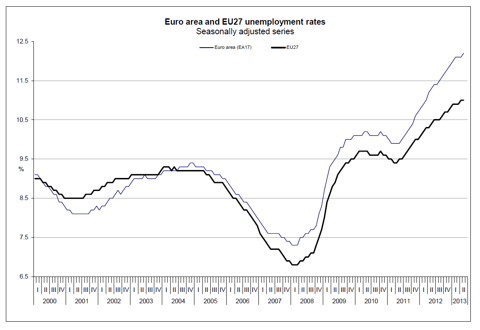 Click to enlarge
Recent EU PMI data has been mixed: while the numbers are good on a relative basis, they indicate the region is still in a recession:
At 48.7 in June, up from 47.7 in May, the final Markit Eurozone PMI® Composite Output Index indicated a further easing in the rate of contraction in economic output to a 15-month low. The reading was below its earlier flash estimate (48.9), however, and signals that overall activity has now fallen in
each of the past 17 months.
June PMI data signaled that the downturns in the manufacturing and service sectors both eased further. Manufacturing output fell only slightly, and at the weakest pace during the 16-month sequence of decline. Meanwhile, service sector business activity contracted at the slowest rate since January.
Here's a chart of the data: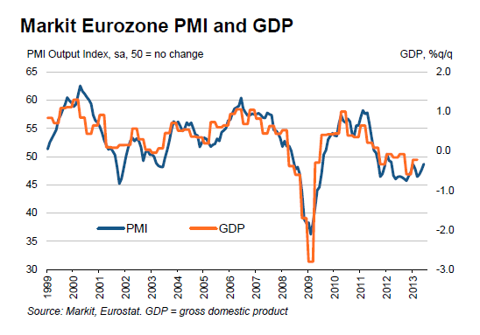 Click to enlarge
The short version of the above data is we're still in the middle of a depression with little to no indicating from the powers that be that they have any idea or desire to initiate policies to get out of it.
The latest news from the region is certainly not encouraging. From Bloomberg:
European car sales slumped to a two-decade low, German investor confidence unexpectedly dropped and euro-area exports fell for a second month, adding to signs that the region is struggling to emerge from recession.
Auto registrations decreased 6.3 percent in June from a year earlier to 1.18 million vehicles, the European Automobile Manufacturers' Association said today. The ZEW index of German investor and analyst expectations fell to 36.3 in July from 38.5, while economists forecast a gain to 40, according to the median of 37 estimates. Euro-region exports dropped 2.3 percent in May from the previous month.
.....
The data are "still consistent with the picture that the ECB has, that it will take quite a while until the economy will stabilize," Jens Kramer, an economist at NordLB in Hanover, said in a telephone interview. "In those countries that are still in deep recession, which is not the case in Germany, the challenges are huge."