For the past few years, ConocoPhillips (NYSE:COP) has been engaged in the transformation of its profile and is now the world's largest independent exploration and production [E&P] company. Following a decade of growing mainly through acquisitions, the company began to optimize its assets focusing on its core strengths over the past few years. A major step came during 2012 with the spin-off of its downstream operations to Phillips 66 (NYSE:PSX), which now operates as a stand-alone company. One of ConocoPhillips main positive factors is its very attractive dividend yield above 4%, which is among the highest in the E&P sector in the US. In this article, I analyze ConocoPhillips' dividend to see if it's indeed a good opportunity for income investors.
Company Background
ConocoPhillips has operations in 30 countries around the world, with more than 17,000 employees. The company is listed on the New York Stock Exchange and has a market capitalization of $79 billion. Its main competitors are other global upstream oil and gas majors, like Exxon Mobil (NYSE:XOM), Chevron (NYSE:CVX), or Royal Dutch Shell (NYSE:RDS.A). Each of the company's segments is highly competitive, with no single competitor or small group of competitors, dominating.
ConocoPhillips' production reached about 1.5 million barrels of oil equivalent [boe] per day during 2012, and the company had at the end of the year about 8.6 billion boe of proven reserves. Its production is spread around the world, with international operations accounting for about 58% and the US for the remaining 42%. Natural gas accounted for 45% of ConocoPhillips' production, followed by oil with a weight of 39%. ConocoPhillips had $58 billion in revenues during 2012, declining from previous years due to the Phillips 66 spin-off. Its operating profit was $16.6 billion in 2012, representing an operating margin of 29%. It reached adjusted earnings of $6.7 billion, or $5.37 per share. The company expects to improve its overall margins by 3%-5% per year with flat commodity prices, over the next few years. To reach this goal, it will continue to overhaul its assets divesting some lower-margin assets and shift its production mix to higher-value products.
ConocoPhillips has large, mature conventional assets, such as Alaska or the North Sea wells, which support the company's free cash flow generation capacity. But the company has also conventional and unconventional assets overseas, which can deliver production volume and cash flow growth over the long-term. The company is also part of a larger transformation, as North America enters a new phase of potential energy resource abundance. This has been made possible by the shale revolution, which is now spreading worldwide. Therefore, over the intermediate to long-term ConocoPhillips expects to deliver 3% to 5% compound annual production growth, focused on organic growth.
Dividend
Regarding its dividend, the company recently announced that it boosted the quarterly dividend by 4.5% to $0.69 per share. This is the first dividend increase since the beginning of 2011, given that its quarterly dividend was unchanged at $0.66 per share for the past few quarters. If the company maintains this dividend for the next three quarters, this will result on an annual dividend of $2.76 per share. This is in-line with the company's strategy, which consists to offer a compelling dividend to its shareholders. At ConocoPhillips' current share price, its forward dividend yield is about 4.25% which is indeed compelling.
Although the dividend was stable over the past couple of years, the company's dividend history is very good. From 2008 to 2012, the annual dividend increased, on average, 17% per year. However, this does not take into account Phillips 66 dividends, so shareholders received even more cash if they haven't sold their shares following the spin-off.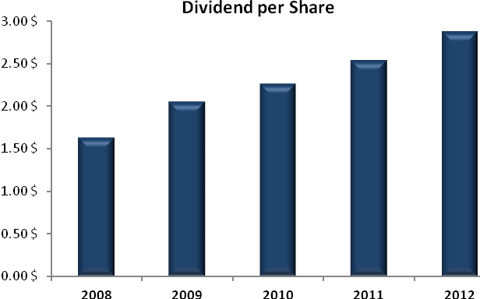 Click to enlarge
The company's dividend is supported by its low dividend payout ratio. In 2012, the dividend payout ratio was only 49%, which gives ConocoPhillips' some room to grow its dividend even if its earnings don't grow much over the next few quarters. As a mature company with a stable business over the economic cycle, it can easily increase its payout ratio to a level between 60%-70% of its earnings without jeopardizing its financial flexibility. Moreover, the company has spent a considerable amount of cash buying back its stock, further increasing shareholder returns. During the past year, ConocoPhillips' spent more than $5 billion in stock repurchases, leading its shareholder remuneration to over $8 billion.
The company's financial profile remained relatively unchanged after the spin-off of its downstream operations. Through repayment of significant debt using proceeds from the $7.8 billion special distribution from Phillips 66, the company maintained key credit ratios. Therefore, the company's dividend policy is also supported by its relatively strong balance sheet, given that its gearing ratio (net debt-to-equity) was only 37% at the end of 2012. The net-debt-to-EBITDA ratio has been increasing over the past few years but was below 1x at the end of 2012, which shows the company's good credit profile.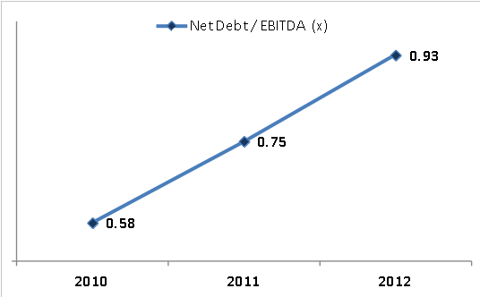 Click to enlarge
However, the company has an ambitious growth program resulting on expected $16 billion capital invested annually through 2017. In 2012, ConocoPhillips spent $15.7 billion in capital expenditures, which was above the company's cash flow generated from operating activities. This means ConocoPhillips is resorting to debt to pay dividends and buyback shares, increasing its financial risk and leading to lower dividend quality. Indeed, one of the key challenges facing the company will be its limited financial flexibility over the coming years. With significant planned capex for the next 4 years and significant dividend outflows expected, cash flow deficits are anticipated and this could pressure the balance sheet.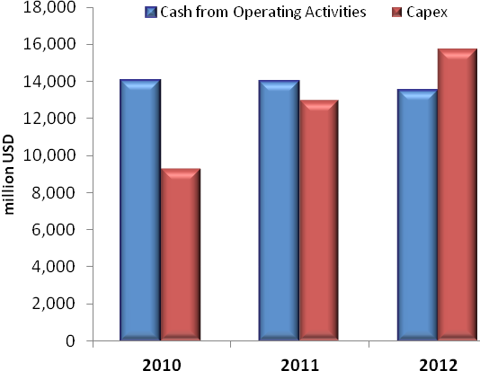 Click to enlarge
On the other hand, the company is making good progress with its asset disposition program, which helps improve its financial profile. In 2012, it generated $2.1 billion in proceeds from asset sales and agreed to sell assets that should generate additional proceeds of $9.6 billion in 2013. Historically, the company has used proceeds from asset sales to fund cash flows deficits, and this is expected to continue for the near term. Therefore, the company's dividend is supported by cash raised from asset sales and there should not be a risk of a dividend cut over the next few quarters.
Major Risks
The biggest risk related to ConocoPhillips comes from the fact that oil and gas often come from unstable regions of the world. Foreign government actions, including nationalizing and expropriating properties owned by foreign multinationals, are risk not easily managed. However, the company's political risk is lower than for most of its global peers because 81% of its reserves are located in OECD countries. Therefore, this should work to lower its political risk and its production should not be significantly disrupted by political or social instability.
Its earnings are mainly exposed to oil and natural gas price variation, following its concentration in upstream operations. This should increase the volatility of important key operating metrics, such as revenues, earnings, and cash flows. If the oil or natural gas prices suffer big drops, it may hamper the company's capacity to maintain its current shareholder remuneration policy.
Additionally, oil and gas remain finite resources, so if the company cannot replenish its reserves by finding new ones, eventually it will run out of oil and gas. However, this is a very long-term risk and the company has very good growth prospects, so this is not something to worry about over the next few years.
Conclusion
Although ConocoPhillips offers a high-dividend yield above 4%, its quality and safety is not assured over the next 4-5 years. In the short-term, I don't expect a dividend cut because its credit profile is still good and the company will receive a lot of cash from asset disposals. However, given its relatively low growth expected over the next few years, its free cash flow should be negative for several years implying the need to raise more debt. If the oil and natural gas prices fall considerably, it will have a big impact on the company's financial profile and put its strategy at a crossroad: cut capex and don't deliver on its growth targets; or, cut dividends and share buybacks, possibly imposing losses on shareholders. Most likely, the company's management will be more inclined to cut shareholder remuneration, as it is much more discretionary than capital expenditures.
Disclosure: I have no positions in any stocks mentioned, and no plans to initiate any positions within the next 72 hours. I wrote this article myself, and it expresses my own opinions. I am not receiving compensation for it (other than from Seeking Alpha). I have no business relationship with any company whose stock is mentioned in this article.