The Micron Technology (NASDAQ:MU) of yesterday is significantly different than what we should expect to see in 2014. Below is our introduction into their business model, their strengths, and what investors are missing about the new opportunity that exists for Micron in 2014. The opportunity to purchase Micron is between now and December 2013. At that point we value the new Micron at $21 by year-end of 2014; an increase of 48% from current levels.
Micron Technology engages in manufacturing and marketing of semiconductor devices worldwide. Micron is involved in both NAND and DRAM storage. NAND storage type is primarily used in main memory servers, memory cards, USB flash drives, and solid-state drives for storage or transfer of data. Dynamic random-access memory (D.R.A.M.) is a type of random access memory that stores each bit of data in a separate capacitor within a circuit, in products like mobile phones and tablets, personal computers, and video game consoles.
Profitability reaches its peak in the enterprise area of Micron's flash business. Micron is running on a revenue basis somewhere around 80 to 85 percent client, and 15 to 20 percent enterprise. As of right now, there is not enough NAND capacity to store even 20 per cent of the data people are generating, a staggering figure. The advantages of this technology will continue to drive enterprises to transition to flash memory or NAND from traditional disk drive technologies, and Micron will continue to be a key player in this space.
The acquisition of Elpida shows the strength of the finance team at Micron Technologies. An acquisition of this size is one that requires a serious cash outlay, but Micron was able to effectively discount their acquisition through hedging strategies. The price for Elpida started out at $2.5 billion. A key factor though was that the price is in yen, the price paid in dollars declines with the decline in the value of the yen. Since the deal was approved, the yen has declined which has reduced the amount to be paid by $500 million. The acquisition of Elpida also gives Micron some advantages outside of the U.S., expanding their manufacturing bases into Taiwan and Japan. Over the past few years, Micron has spent a great deal of money on research and development. This can be seen when reviewing their financials and the use of conservative accounting. The estimates going forward seem light and there is good value in this stock at this point in time.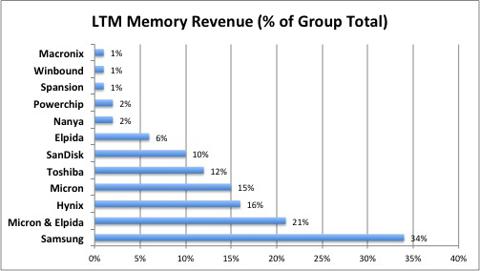 Elpida had been able to make a strong brand name in mobile DRAM, targeting mobile phones and tablets. Micron, on the other hand, provides enterprise DRAM for servers as well as providing a wide range of products in NAND. Combining these two complementary product lines will strengthen Micron's position in the memory market and will help the company in providing better and more complete services to its clients.
Micron products can be found all over the world in personal computers, servers, mobile phones and tablets. Hewlett-Packard (NYSE:HPQ) and Dell (NASDAQ:DELL) are two of Micron's largest customers from a personal computer and storage side, and its products are used in their PCs and servers. With the acquisition of Elpida, Micron positions itself to take advantage of mobile DRAM with customers like Apple (NASDAQ:AAPL). Samsung (OTC:SSNLF) and Micron will also continue to collaborate going forward in order to create faster data delivery on the mobile front as well.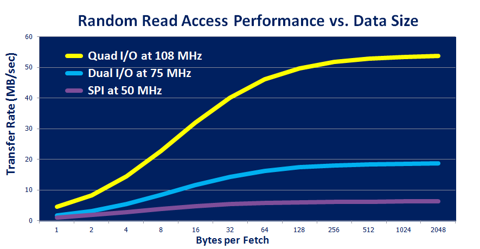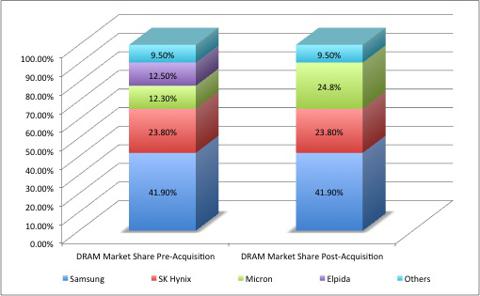 Micron Technology
Micron Enterprise Server SSDs have helped revolutionize storage and will continue to be adopted as old disk drive technology is replaced. The absence of moving parts enables more reliable operation in demanding environments. Using SSDs also significantly improves data transfer times and reduces power consumption for faster data access and lower energy costs. Micron mobile DRAM products provide many benefits and can be found in many mobile devices and tablets on the market today.
Available in multiple densities, providing flexibility for many designs
Enables the use of fewer components to support architectures
Low voltage helps reduce power consumption - a key advantage over standard DRAM
Provides performance comparable to SDR and DDR SDRAM, with the added advantage of power savings
Delivers low power dissipation in standby and active modes, plus special mobile features to reduce power consumption for a more efficient design
Adjusts refresh timing to minimize power consumption at lower, ambient temperatures
Increased operating range for optimum functionality in extreme environments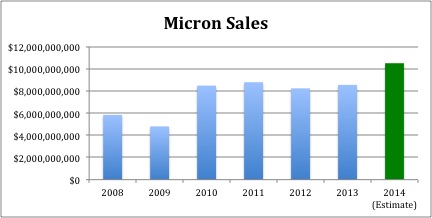 Economics of Memory
Mobile DRAM has been estimated to sell at $10.45 for 1GB. Mobile DRAM costs about 25% more to make than PC DRAM, but it sells for 100%+ premium. Back in September, a mobile 4Gb DRAM might have cost $1.50-2.00 to make. So, worst case, Mobile DRAM was generating 50-60% gross margin.
NAND prices are up about 20-30% from the bottom back in September of 2012. The market is moving toward the 128Gb chip since it only takes eight of these chips to make a 128GB solid-state drive. The 128Gb chip sells for about twice the 64Gb chip, but only costs 50% more to make. So Micron NAND is about a 40% gross margin business, up from a 20% gross margin business back in September. NAND could be making $250 million per quarter for Micron. As prices continue to rise in both the DRAM and NAND space, Micron is in a great position and poised to go higher.
Financial Ratios - Competitor Comparison
Valuation

There is a very important aspect to examine here with regards to cash flows and earnings. Any brief look at earnings and you can see negative results over the past few quarters. At this point many investors would turn away and stop analyzing. That is bad for them, and one of the reasons this stock is undervalued. What's far more important is the level of cash Micron is generating. Since Micron takes a very large deduction for depreciation (read conservative accounting) and R&D is expensed as an operating item the cash picture is very different than the accounting picture.
Cash is king. We didn't invent the saying, but it certainly applies here. Micron is a $14 billion company that generated $2+ billion in cash from operations last year.
Profitability

Look to gross profit margin as an area of improvement going forward. This has been a negative area for Micron in the past because of the volatility associated with semiconductor prices. As prices continue to improve and Micron becomes more involved in higher margin areas such as mobile DRAM, this will be a metric that significantly improves in the future. In general, the company's gross profit margin should be stable. It should not fluctuate much from one period to another, unless the industry it is in has been undergoing drastic changes, which will affect the costs of goods sold or pricing policies.
Per Share Data

Financial Strength

Conclusion and Buying Opportunity:
The Micron of 2014 and beyond will look much different than the picture we see today. The accumulation of cash generated will slowly flow through to earnings, which will be positive. The acquisition of Elpida is a game changer for revenue growth and market share. We believe analysts are underestimating how large the impact will be. Having customers like Apple and Samsung who are in the midst of the smartphone battle will be great for component makers. Newer and better products come out, causing customers to switch products swifter.
Come the 3rd week in September Micron will report fiscal year 2013 results. Expect nothing new; discussion of the Elpida acquisition, development or plans for new versions of memory, etc. Between now and when Micron reports results for the first quarter 2014 in December there is a buying opportunity for Micron. Expect that conference call to be the first glimmer of what the new Micron looks like in 2014.
Our valuation on the new Micron projects a stock price of $21 in late 2014. The downside, if they completely fail to realize the full potential of their new market share is $10.50.
Disclosure: I have no positions in any stocks mentioned, and no plans to initiate any positions within the next 72 hours. I wrote this article myself, and it expresses my own opinions. I am not receiving compensation for it (other than from Seeking Alpha). I have no business relationship with any company whose stock is mentioned in this article.