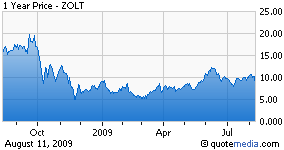 Zoltek (NASDAQ:ZOLT) shares are down sharply Tuesday morning after the carbon fiber manufacturer reported much weaker than expected results for its fiscal third quarter ended June 30.
For the quarter, Zoltek posted revenue of $30.3 million, down from $45 million a year ago, and well below the Street at $38.4 million. The company lost 4 cents a share in the quarter; the Street had expected a profit of 7 cents a share.
In a statement, CEO Zsolt Rumy said the company's results have been hit by "a sudden combination of unfavorable events - truly, a perfect storm." He says the company has seen a "sudden, if only temporary slowdown in the growth of the wind turbine business," combined with "a dramatic decrease in the aerospace market." Rumy says expansion of the wind market has paradoxically been slowed by anticipation of alternative energy stimulus programs from the federal government, at a time when financing for wind farms has "disappeared." He adds that about half of the revenue decline reflected price decreases and currency fluctuations.
Rumy also noted that the fall off in demand follows a recent doubling of capacity, with new production lines in Mexico and Hungary added late in FY 2008. "Available unused capacity will continue to be a significant drag on gross margins and operations income," he reports.
Rumy adds that the company still thinks it can reach $500 million in sales, but that it might not hit that level by its previous target of 2012.
ZOLT today is down $2.04, or 19.8%, to $8.27.