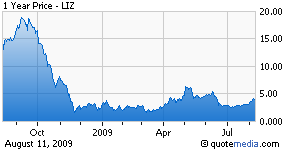 Liz Claiborne (LIZ) is expected to report Q2 earnings before the market open on Wednesday, August 12 with a conference call scheduled for 10 am ET.
Guidance
Analysts are looking for a loss of (40c) on revenue of $691.29M. The consensus range is (46c)-(31c) for EPS, and revenue of $685.7M-$697M, according to First Call. In June the company forecast the Q2 adjusted operating loss to be flat compared to Q109. The forecast came a day after the company said it planned to launch an offer for $75M in convertible debt. Despite the company's poor performance, Liz Claiborne recently renewed the employment contract of CEO William L. McComb. Separately, a company spokesperson said the company is "not necessarily closing" its Madison Avenue Juicy Couture store. The company, which posted a Q1 loss of $91.4M, said it will assess the productivity of the store "as it relates to the cost of operations."
Analyst Views
Citigroup analyst Kate McShane said she expects fundamentals for the company's retail and wholesale brands to remain "highly challenging" for the rest of the year and expects significant same-store sales declines, as well as continued balance sheet uncertainty.