On July 18 just before the market opens, Nokia (NYSE:NOK) is expected to announce Q2 results. Overall, the market does not expect a profit but a lower loss. The current consensus estimate is that Nokia will produce a loss of about $0.03 a share, with sales coming in at $8.6 billion vs. $9.67 billion last year. So even if the company does surprise to the upside, revenue is still deteriorating.
Any surprise as far as the loss - meaning a lower loss than what the market anticipates -- will be considered a positive and more than likely will (should) put upside pressure on Nokia's stock.
However, what I would like to see is an improvement as far as the balance sheet is concerned. While I do not think Nokia has any liquidity problems (or will in the next several years), the fact that the high-end smartphone market seems to be saturated, which makes me worry about the ability of the company to withstand problems in the sector that might result in balance sheet deterioration.
As such, I would prefer to see the balance sheet in a better position (the sooner the better) because judging from BlackBerry's (NASDAQ:BBRY) and Apple's (NASDAQ:AAPL) stock performance, there is a chance that things might get worse before they get better for the sector and for Nokia.
So what is it in the balance sheet I want to see improve? Basically I would like to see Nokia's cash position increase. However not on a consolidated basis. Since Siemens (SI) owns 50% of NSN, only about 50% of the assets of NSN belong to Nokia, even if for accounting purposes they are consolidated.
So what I would like to see is a cash increase in Nokia's non-consolidated balance sheet. Unfortunately Nokia does not provide a non-consolidated balance sheet of Nokia itself, so we will have to do some guesswork.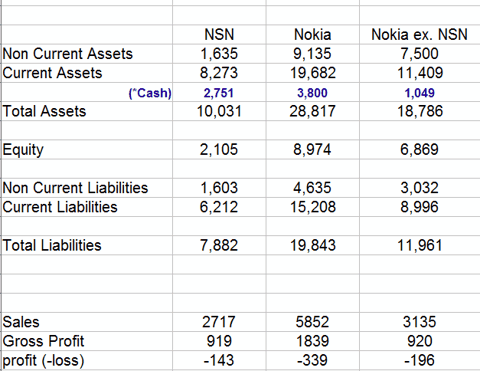 Click to enlarge
As per Nokia's latest balance sheet, Nokia ex-NSN had current assets of 11.4 billion euros ($14.95 billion U.S.), and 9 billion euros ($11.8 billion U.S.) of current liabilities. So Nokia's working capital is about 2.4 billion euros ($3.15 billion U.S.). That's not a whole lot of breathing space if push comes to shove in the sector.
What I would like to see is Nokia's cash position, or current assets vs. current liabilities, increase by at least 500 million euros ($655.6 million U.S.). If this is confirmed, I think this will be the best possible news for Nokia, because it will solidify the turnaround situation of the company and will provide investors with the confidence that the company is finally on the right track and its long-term financial picture is improving.
So while any positive surprise - meaning a lower loss - will be a positive for Nokia, an improvement in the balance sheet will be an even bigger positive, and if confirmed, will probably put good upside pressure on the stock.
Disclosure: I have no positions in any stocks mentioned, and no plans to initiate any positions within the next 72 hours. I wrote this article myself, and it expresses my own opinions. I am not receiving compensation for it (other than from Seeking Alpha). I have no business relationship with any company whose stock is mentioned in this article.