We believe one of the most reliable forward looking economic indicators is the stock market rather than predictions from economists, leading or otherwise. On average the stock market leads the economy by some four months. Therefore it should not surprise investors to see economic activity still declining, while the market bottoms and climbs its "Wall of Worry" as it progresses through the recovery phase of Bear Market low to Recession End.
Despite what bearish economists have been writing about over the lack of visible evidence of an economic recovery, the market rally since the 2009 lows has been "text book" and not out of sync with previous recoveries. The mean gain following a stock market low during a recession is 24 percent at six months and 32 percent at 12 months. To date the S&P 500 is up nearly 48 percent over five months and confirms our central "Monster Rally" theme from the March lows
We believe, as stated before, that the U.S. economy bottomed in June, and our stance is supported by the Index of U.S. Leading Economic Indicators that have now risen for three straight months, and by the broadest composite of OECD leading indicators experiencing its biggest monthly gain in July since 1975. So, what should investors expect as we enter the next investment phase of a market recovery, the Post Recession Phase?
In overall stock market terms, we should see further gains from the current rally. After a recession end the equity market has risen in nine out of ten times, with mean returns in the following six months of 9 percent and 14 percent after 12 months. These gains, although very attractive historically, are more modest over similar time periods after a bear market low: 24 percent after six months 33 percent after 12 months (please see chart below from Ned Davis Research: Dow Jones Index Post-War Recession End Dates).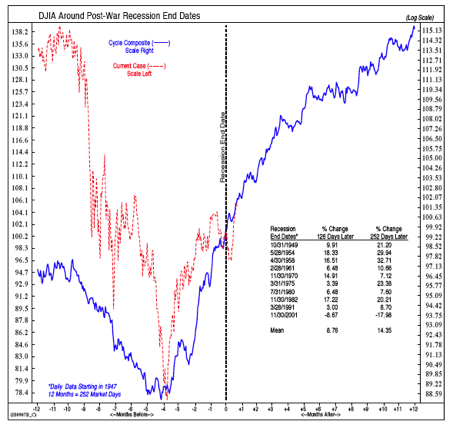 We continue to see further small-cap outperformance, but expect to see the pace of this outperformance moderate. The small to large cap ratio has risen by a mean of 10 percent following a bear low during recessions to recession end and by only 7 percent in the six months following a recession end.
During the last phase, Bear Market Low (9th March 2009) to Recession End (30th June 2009), sector leadership showed only a few differences from the historical script. The mean return for the S&P 500 during this stage is 26.1 percent, with outperformance coming from Consumer Discretionary (39.5%), Technology (38.9%), Financials (32.2%), Industrials (31.2%) and Materials (29.6%). The recent phases' gains were S&P 500 (35.9%), Financials (91.9%), Consumer Discretionary (44.9%), Technology (44.1%), Industrials (44.0%) and Materials (42.0%). This "Monster Rally," or stronger than norm market return, is consistent with recoveries following severe bear markets and the better than expected returns from the Financial sector is also a reaction to their being priced for extinction back in March.
We expect sector performance during its new phase: Recession End to Earnings Trough to continue on balance to follow previous historical patterns of a market recovery. Historically, the six month period following the recession's end has favored the commodity sectors (Energy and Materials) and the traditional cyclicals (Industrials and Consumer Discretionary). The non-cyclicals (Utilities, Telecoms, Health Care and Consumer Staples) have underperformed during this period. Over the 12-month period the only change is that the Financial sector replaces Energy of the outperforming sectors.
It may surprise readers that the investors' "favorite," Technology, is missing from our summary. This sector has tended to underperform post recession end: six months (-1.6%) and 12 months (3.5%). This may be due to the very strong recovery it shows during the first phase and the product cycles tend to be different in many of the economic recoveries. We believe the technology sector will outperform the market during the next phase with the current product cycle being dominated by Apple (NASDAQ:AAPL) in particular, and by the growing demand for smartphone technology. The visible drag on the sector is Microsoft (NASDAQ:MSFT), or should we say "Microstuck," and we feel that their expected failure to pleasantly surprise in the next product cycle will bring the company closer to its logical end of being broken up. However, we admit that the launch of Windows 7 this October may give it a short term boost.
Emerging markets historically outperform in the early part of global economic recoveries given their sensitivity to commodity markets, and tend to trend higher for at least six months after the end of a recession. In the table below compare the sector weightings between the S&P Global 100 ETF versus the MSCI Emerging Markets ETF. The S&P Global 100 Index has a higher weighting (26.3% versus 6.3%) than those sectors–Consumer Staples and Health Care–that traditionally underperform in a market recovery.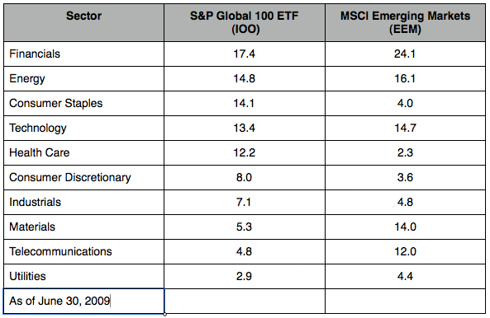 Click to enlarge

We are strong believers of the outperformance of certain emerging markets in the coming decade, but believe that many of the current favorites, particularly China, in the latest investment binge will surprise on the downside. This current nervousness of emerging markets stems from their current over popularity and their over reliance on the current "China-driven commodity demand bubble." Jason Zweig pointed out July 25 in his highly recommended weekly column, The Intelligent Investor, that investors have poured $10.6 billion into emerging-markets mutual funds so far this year, or more than 34 times the total they added to U.S. stock funds. The iShares MSCI Emerging Markets Index Fund is now the fourth-biggest of all exchange-traded funds, with $30.8 billion in assets.
In fact, as Jason Zweig points out, high economic growth doesn't ensure high stock returns, according to a new study by Elroy Dimson of the London Business School. "Based on decades of data from 53 countries, Prof. Dimson has found that the economies with the highest growth produce the lowest stock returns, often by an immense margin. Stocks in countries with the highest economic growth have earned an annual average return of 6 percent, while those in the slowest-growing nations have gained an average of 12 percent annually.
That isn't a typo. Over the long run, stocks in the world's hottest economies have performed half as well as those in the coldest.
These findings should not surprise us, as investors have a habit of placing too high a price on a country's or company's growth prospects. Remember everything was "Turning Japanese" in 1989. Investors forgot that the problem with highly rated investments is when the actual or expected earnings collapse, so does the price, as Japanese investors found out in the early 1990's. Many investors also fell into the same trap ten years later in 1999 with Internet stocks, as Jay Ritter, finance professor of the University of Florida, points out in Jason Zweig's article, "The logical fallacy is the same one investors fell into with Internet stocks a decade ago. Rapid technological change doesn't necessarily mean that the owners of capital will get the benefits. Neither does rapid economic growth."
In recent weeks, we have reduced our weighting towards emerging markets from nearly 17 percent of our model Beacon Master Portfolio to 12 percent, with Turkey being the largest holding at 3.3 percent. In absence of any further negative changes in our models we will give the benefit of the doubt to emerging market relative outperformance versus developed markets. However, our foot remains nervously near the exit.
We agree with many investors that if there is a theme to compete with "Chinese coming dominance over the United States" for the most misused phrase in the media, it is: "Worst since the Great Depression." It makes wonderful sensational journalism, but little else. One key factor that many, if not all, miss when making comparisons with the 1930s was the weather's impact on the economy. The weather during the Dust Bowl, or the "Dirty Thirties," period was far beyond the natural cycle of seasons. This was a period of severe dust storms causing major ecological and agricultural damage to American and Canadian prairie lands from 1930 to 1936 (in some areas until 1940). This was caused by severe drought coupled with decades of extensive farming without crop rotation, fallow fields, crop cover and other techniques to prevent soil erosion.
So if the Dirty Thirties is not a comparable equity market road map, what is? We believe that the best parallel today for comparison sake is the recession of 1973 to 1975, and the 2009 market recovery is tracking the stock market recovery from the 1974 low (See NDR Dow Jones Index Around 1975 and 2009 Recession End Dates below). This would indicate an extended market uptrend lasting nearly two years. The market rallied nearly 60 percent from its lows to just over 1,000 by September 1976, and then declined by about 24 percent, finally bottoming in February 1978.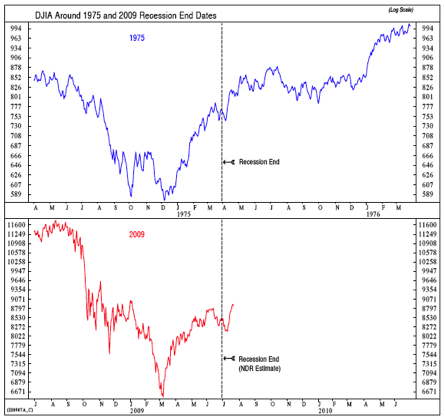 While historical road maps and market cycles can be very useful for investors, and can open one's mind to different investment possibilities, they need to be confirmed by actual evidence and not blindly followed. However, for the moment we remain on track.
Currently the evidence suggests to us that the "Monster Rally" will continue to climb the "Wall of Worry" for the next 12 months and our model Beacon Master Portfolio is currently fully invested. There will of course be bumps along the way, and the first one may occur during late August to first weeks of September (please see our Aug. 7 Beacon Blog), just as perhaps the green shoots are turning into recognized flowers. We will also be keeping a close eye on the Ned Davis Research Crowd Sentiment Poll (please see chart below), for a reading above 68 percent that would give us a bearish signal based on extreme optimism that would suggest the market is overbought. The current reading is 62.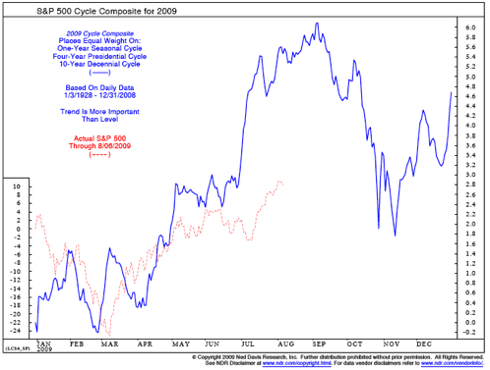 Click to enlarge