Excuse my writing, as I am trying to squeeze out a market view for everyone while concurrently building my own position.
Another exciting quarter for Nokia (NYSE:NOK) saw a 5% draw with an immediate retracement on a top-line miss (rev EUR5,700 vs. consensus EUR6,350 and a bottom line beat with a flat EPS (non-IFRS) vs. expectations of -2%. I was expecting for a solid performance on the day but so far my buy pre-announcement call has proven incorrect, though at the time of writing, the share price is roughly at the same level as my call.
As stated in my previous article, Nokia is all about picking the right numbers to look at, the numbers that the big players conceive as important.
Lumia Sales
I hoped for 7.2m units sold and was pleasantly surprised by the 7.4m unit beat although the ASP drop from EUR191 to EUR157 shows that consumers have favoured the mid range 510, 610 and 7xx over the top of the line 925. There was also further good news that AT&T have already run out of their initial run of the 1020.
I am a little worried by the guidance as the company have simply said they expect high net sales in the D&S division compared to last quarter's +27% increase in Lumia volume. I am also a little confused (shared with JPM) as to why the Street had penciled in 7.8m Lumias as no data point had indicated such a heavy ramp up. JPM put this down to the Street making sure Nokia didn't beat.
Asha Sales
A further drop in Asha sales to 4.3m meant that my heady 7m estimation was missed and the product line (despite rave reviews) continued to lose traction. On the plus side, the Asha 501 has only begun shipping and so an increase in volumes is now a priority.
On a side note, mobile phone sales have seen only a 4% drop in units QoQ. Hopefully, the $20 105 should turn this trend positive for the first time in years starting Q3.
Nokia Siemens Networks
Once again the star of the show with non-IFRS EBIT of 11.8% vs. expectations around 7.2%. Even more interestingly, sales by geography showed an 18% drop in North America and a 17% increase in Greater China (Huawei's domain).
More good news came in the fact that the company expect to cut yet another EUR500m from annual operating costs by the end of this financial year.
HERE
The dog of the group with not one decent quarter since Nokia purchased Navteq. No surprises with another loss, but let me point out that external sales increased from 195 to 164m
Cash Burn
Net Cash came in at EUR4.1bn (slightly above the mid point of guidance) which indicates a EUR 400m net cash burn.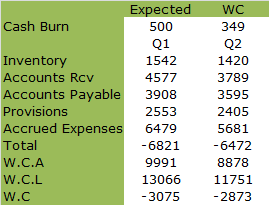 As it looks, 200m was invested into working capital and the company also managed to pay off a good chunk of their accrued expenses. The other 200m was operating cash burn with NSN showing much weaker cash generation than the prior quarter.
To put it bluntly, the quarter didn't exactly go as I'd hoped and although the company showed improvements in all the places I'd wanted to see (apart from D&S sales miss), there was enough misses to keep the bears salivating.
Nokia is a funny company as the un-modelable nature of the company means the estimates don't link well to value. Most of the bears were hoping for 7.8m -8m Lumias, but the biggest bull on the Street (NYSE:JPM) were looking for 7.2m units. The company (as we know) guided for +27%, but the bears decided to expect +40% growth. On first read, the big players are therefore unlikely to see the potential in this stock.
The quarter has shown top-line misses and bottom-line hits, with volumes going in the right direction. I believe that the conference call in 45 minutes will shed more light on where everyone is positioned but until then, I am still satisfied with my Nokia holdings and have added a significant amount on this downtrend.
On a side note, I issued a StockTalk stating that the Ericsson results may lead to a negative X-Read to NSN. As a result, I reduced my long position. Even though it looks like the right call, it was correct for the wrong reasons! NSN was the star of the show.
Bring on Q3 and the 1020.
Disclosure: I am long NOK. I wrote this article myself, and it expresses my own opinions. I am not receiving compensation for it (other than from Seeking Alpha). I have no business relationship with any company whose stock is mentioned in this article.