A little over a year ago, I wrote an article on Pennsylvania REIT (NYSE:PEI) in which I concluded:
Bottom line: While the equity appears undervalued relative to its peers, its metrics relative to peers (sales/sqft, rent/sqft) are weak. The stock has shown strong performance this year, outperforming others in the mall space without a significant increase in core metrics. As a result, I would hold off on the equity until it trades lower or there is more evidence of a meaningful increase in operating metrics.
This is not to say that the REIT isn't performing well, just that it may have gotten ahead of itself. The preferred, however, is attractive relative to other preferred stock in the mall/retail sector. As a result of the valuation on the preferred stock and the fundamentally sound nature of the company, I believe the preferred stock would make a sensible addition to a preferred stock or income portfolio.
Around the same time, a commenter told me that the BoomBustBlog had essentially called this REIT a "dead REIT walking" (I don't subscribe, but saw multiple references to said blog call). At the time, PREIT was trading at $14.40. It currently trades at $20.23, a 44% increase.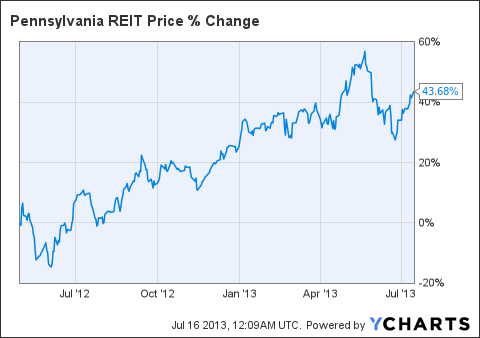 Hardly seems dead. After the article, the stock headed south almost 20% before heading back up. So is this an article saying I was right? No, not my style. As the famous Lou Holtz said:
If what you did yesterday seems big, you haven't done anything today.
The purpose of this article is to do an update on the company and see if there is still an investment opportunity. Let's get to it.
Pennsylvania Real Estate Investment Trust ("PREIT"), founded in 1960 and one of the first equity REITs in the U.S., has a primary investment focus on retail shopping malls. Currently, the Company's portfolio of 46 properties comprises 36 shopping malls, seven community and power centers, and three development properties. The Company's properties are located in 13 states in the eastern half of the United States, primarily in the Mid-Atlantic region. The operating retail properties have approximately 31.0 million total square feet of space.
PREIT's footprint is centered in the Philadelphia area, the sixth largest MSA in the United States (in fact, they are the dominant landlord in the area):

A good MSA is not enough for success however, REITs need a diverse tenant base with strong tenants. PREIT has a diverse tenant base comprised of stronger tenants, where the top ten tenants total less than 22%. Should any of these tenants experience financial difficulties (think Sears or JC Penney), the REIT can withstand it.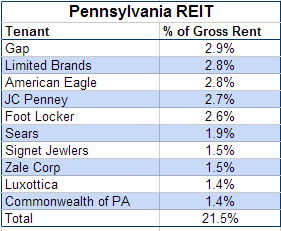 Now let's see how they compare to their peers in the mall/shopping center space. For our purposes, we will compare them to Simon Property Group (NYSE:SPG), General Growth Properties (NYSE:GGP), Taubman Centers (NYSE:TCO), Glimcher Realty Trust (GRT) and Tanger Factory Outlet Centers (NYSE:SKT):

The first thing that is glaringly obvious is that PREIT is a fraction of the size of the two 800 pound gorillas in the space, namely General Growth Properties and Simon Property Group (arguably the REIT gold standard). Next, the relative discount to their peers stands out as PREIT trades at 12.5x FFO and 1.7x book value - well below all in their peer group.
As the following chart shows, however, is that the company has been trading at a discount to their peers: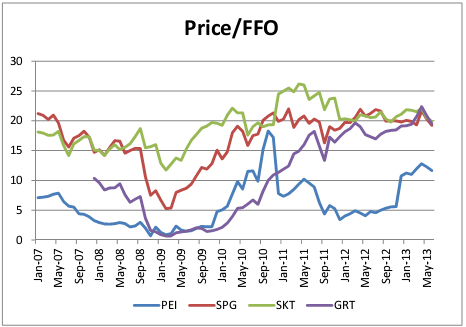 As the chart shows, PREIT has historically traded as a discount to its peers, but it looks as if the discount is narrowing. PREIT has new management, a renewed focus on their portfolio and has been delevering their balance sheet. As they continue to make progress, the discount should continue to narrow. As a result of their progress and their discount, I believe that PREIT equity is undervalued relative to peers and should outperform the mall sector.
Pennsylvania REIT also has two series of preferred stock outstanding which warrant consideration. Below is a summary of the PREIT series A and B relative to their mall peers:

As the table shows, the PEIPrAs are attractive relative to peers. While they trade above par, the downside is a 7% yield-to-call.
Bottom Line: I believe the equity continues to be undervalued relative to peers and should outperform going forward. As well, the series A preferred stock is attractive relative to the sector and REIT preferred generally.
Disclosure: I have no positions in any stocks mentioned, and no plans to initiate any positions within the next 72 hours. I wrote this article myself, and it expresses my own opinions. I am not receiving compensation for it (other than from Seeking Alpha). I have no business relationship with any company whose stock is mentioned in this article.
Additional disclosure: This article is for informational purposes only, it is not a recommendation to buy or sell any security and is strictly the opinion of Rubicon Associates LLC. Every investor is strongly encouraged to do their own research prior to investing.