For a moment I wondered if gold would turn to copper. Or rust.
In early June, gold was trading around $1415 an ounce. Then, the newly released U.S. employment report beat analyst expectations. And, the Federal Reserve announced its policy to buy $85 billion each month in bonds to hold down interest rates. In response, gold fell as low as $1192 an ounce, the lowest since August 2010.
But, there is a silver lining to gold's price movement.
Price declines are nothing new
In a previous post, I described how gold maintains its purchasing power against the dollar. I expect the trend to continue. Here's why.
According to the government census page on historical house prices [pdf], the median house price in 1975 was roughly $40,000. Using gold's historical values, gold was valued at $200 per ounce in 1975. About 200 ounces of gold would be necessary to purchase the house. Right before the 2008 downturn, the median housing price was $240,000-a six-fold increase in price for what is presumably the same house. At only $1000 an ounce, almost the same amount of gold would buy the same house.
Note the two major peaks since since the gold standard was plucked away in 1975.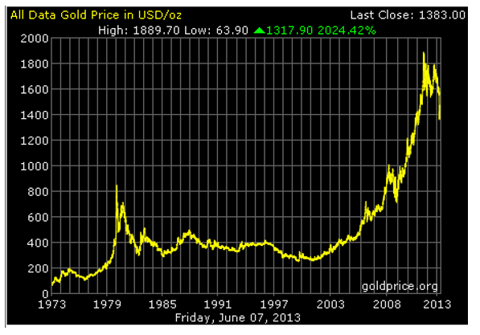 The 1979 price hike
In this post, Dennis Gartman describes how Consumer Price Indices (CPI), fear of inflation, and government policy are major components of gold's fluctuating price.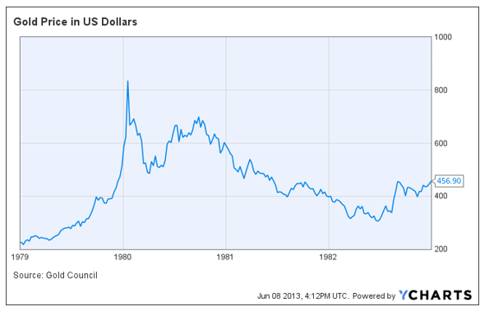 For example, in 1979 the Soviet invasion of Afghanistan and the Iran hostage crisis occurred, leading to wars. As a result, commodity supplies tightened and inflation fueled military spending as domestic fears of war grew. The ensuing recession recorded the highest unemployment numbers since the Great Depression. In response to economic uncertainty, the dollar plummeted in value while gold soared to new heights.
2011 - strong correlation with 1980s
In 2011, gold reached $1900 an ounce prior to dropping almost $600 within two years.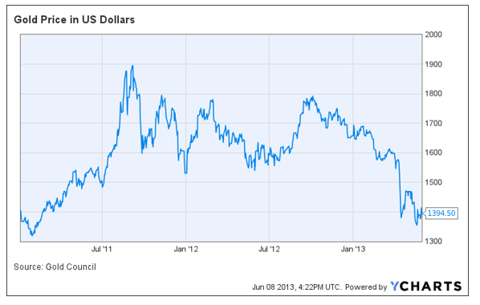 However, notice the similarities with the 1980s chart. In both cases, the country was enduring a recession and engaging in global warfare while real interest rates (nominal interest rates minus inflation) were low (2% before the recession then and 2% today).
Also, with the Fed's new bond policy, $85 billion is printed each month to pay the Fed's continued quantitative easing. With a debt-to-GDP ratio at 110%, the U.S. owes more than it produces. As a result, inflationary policies will likely be adopted to pay down the debt, and gold will rebound once again.
Keep calm and hold gold
I agree with Jim Rogers, when he says gold could go as low as $900/oz. after adjustments occur. He explains that 50% corrections are normal. In fact, the correction after the 1979 bubble was 50%.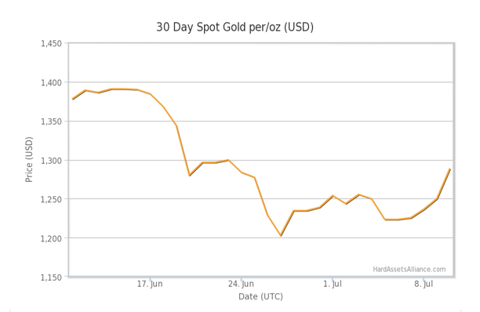 Remember, though, that gold fluctuates with monetary policy and that buyer speculations follow, not the other way around. Continued quantitative easing will keep gold up as inflation fears linger. Also, with increases in demand for gold, the price will increase outside of being a hedge against inflation.
Three companies you should buy
With the development of emerging markets, mining companies AngloGold Ashanti (NYSE:AU), Barrick Gold (NYSE:ABX), and Goldcorp (NYSE:GG) are strong additions to investor portfolios. As shown below, all three companies trend in lockstep with the price of gold.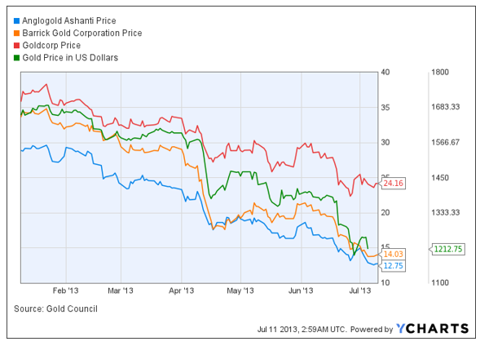 Cost-cutting measures fuel the capital intensive projects gold mining firms require. And, because production in emerging market countries is often more cost-efficient [pdf] than in more industrial nations, mining companies are increasing operational capacity in emerging markets.
AngloGold is moving full speed ahead into Africa. It is commencing operations in the Congo, while maintaining its operations in South Africa. It expects the new mine in Congo to begin by 2014 and last 10-18 years depending on the mine's output. Annual projections are upwards of 700,000 ounces at an operating cost below the median output of firms in the industry. AngloGold anticipates a 25% production increase due to the expansion.
As for AngloGold's South African operations, strikes at mines led to output figures lower than projected. But, negotiations are near completion, and the stock will rebound as output increases. AngloGold has a strong outlook moving forward. At its 52-week low, AngloGold is a great buy.
Barrick primarily mines in the U.S. and Australia but is expanding into Argentina, Peru, and Papua New Guinea. To understand the significance, consider Barrick's output by geographic location:
| | | | |
| --- | --- | --- | --- |
| Location | Number of Mines Operating | Ounces of Gold Produced in 2012 | Ounces of proven and probable gold reserves |
| North America | 12 | 3,493,000 | 59,478,000 |
| South America | 3 | 1,631,000 | 51,689,000 |
| Australia Pacific | 9 | 1,822,000 | 16,609,000 |
Although 40% of Barrick's exploration budget is allocated to Nevada, where Barrick has a large land holding, its greatest output per mine is in South America. As it expands operations in South America, it will continue to grow.
Pascua-Lama is one of Barrick's mines in South America and is still under construction. Upon completion in 2016, it will be one of the world's cheapest sources of gold. The capital overlay required to fund the expenditure is up to $8.5 billion, $5.5 billion more than initial projections. This is why Barrick holds such a large debt on its balance sheet. But, the investment will prove its worth.
With an astounding 5.40% dividend and an estimated $21.6 billion in gold available through Pascua-Lama's projected lifespan, investors should go long Barrick.
| | |
| --- | --- |
| Company | Dividend |
| Barrick | 5.40% |
| AngloGold | 1.70% |
| Goldcorp | 2.30% |
Goldcorp's four active mines in South & Central America produce over 750,000 ounces of its total output of 2.39 million ounces. Each of the three new projects promise 10 years of low cost mining and will produce an additional 1 million ounces of gold annually.
Due to strategic production sites that maintain low costs, GoldCorp boasts high profitability margins among competitors. With a 30.14% profit margin and 38.46% operating margin, GoldCorp is almost four-times more profitable than the next most profitable firm, AngloGold. Because of its large output projections and high profitability, AngloGold is a company that will boom as gold rebounds.
Conclusion
Some analysts say the gold bubble popped and the price will tank. In part, they are correct. There was a gold bubble, and gold's price is now adjusting. But, gold will rebound as it has before, and it will generate large profits to those who are patient.
So, go long gold.
Disclosure: I have no positions in any stocks mentioned, and no plans to initiate any positions within the next 72 hours. I wrote this article myself, and it expresses my own opinions. I am not receiving compensation for it (other than from Seeking Alpha). I have no business relationship with any company whose stock is mentioned in this article.