There was a lot of volatility created in the commodity and commodity peripheral names yesterday, as CNBC hosted its annual "Delivering Alpha" conference. Some of the smartest names in the business seem to have gravitated toward contrarian picks, and the mention of these names pushed many higher. It was not all bullish, however, because short sellers were also invited and they made some very compelling arguments for their picks.
Looking forward, we have earnings coming up, which should affect many names. But what's even more important to focus on, in our opinion, is the announcements from the two large railroads that will report results over the next five business days. That will be quite telling as to the current health of the economy, as well as to their take on the next couple of years going forward. Our guess is that they will deliver comments with a bullish tone.
Chart of the Day
Yes, this is a chart we have highlighted many times, but with gasoline prices rising sharply across the nation there is still the possibility that we see prices hit yearly highs. That has not happened yet as we still have a focus on gasoline production, but that could change. There is an interesting article on this topic from CNNMoney via Yahoo Finance located here. Although we remain skeptical that oil prices will continue higher, if they do that would be good news for refiners such as Tesoro Corporation (NYSE:TSO). That is a name we have expressed skepticism about recently.
Click to enlarge images.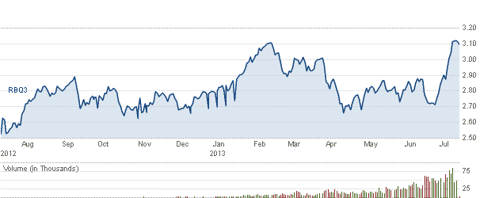 Source: CNBC.
Commodity prices this morning are as follows:
Gold: $1281.80/ounce, up by $4.30/ounce
Silver: $19.445/ounce, up by $0.025/ounce
Oil: $106.27/barrel, down by $0.21/barrel
RBOB Gas: $3.0948/gallon, down by $0.0153/gallon
Natural Gas: $3.638/MMbtu, up by $0.009/MMbtu
Copper: $3.126/pound, down by $0.002/pound
Platinum: $1415.20/ounce, up by $4.20/ounce
Mining Equipment
Yesterday we were watching a bit of CNBC's "Delivering Alpha" and caught Jim Chanos delivering his best idea. His presentation focused on Caterpillar (NYSE:CAT) and his belief that the firm is overvalued based on recent performance, which has benefited from the commodities super-cycle and thus deviated from historical performance. His main talking points were that operating margin has remained positive in downturns, and this was historically not the case.
Also of concern is the fact that the company has written off a good bit of the assets carried on the balance sheets of recent acquisitions, as well as the rising threat of competition from Asian equipment manufacturers. Caterpillar fell by $2/share as he delivered his initial comments, but recovered to finish the session lower by $1.50 (1.70%) and close at $86.67/share on volume of 15.1 million shares. That's roughly two times normal volume.
These names fell sharply during the presentation, although the larger Caterpillar saw shares recover from the lows, whereas Joy Global (NYSE:JOY) continued to trend lower.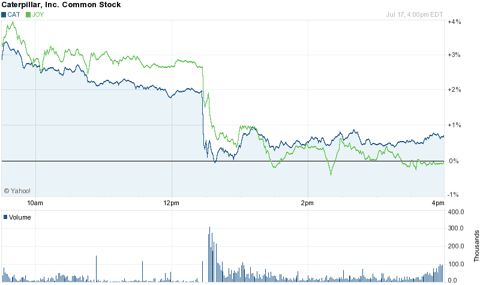 Source: Yahoo Finance.
Also coming under pressure from those comments was Joy Global, which saw shares finish at $50.90 after retreating $1.28 (2.45%) on the news. As one looks for a pullback in mining companies' capex plans, it is logical that all equipment manufacturers will feel the cuts. The fact that Chanos pointed out that the names with the more expensive equipment would be impacted to a larger degree in this downturn -- due to the quality improvements in Asian competitors' products and product lines -- made this an easy trade for the bears to apply to all the North American names.
Oil and Natural Gas
Leon Cooperman highlighted SandRidge Energy (NYSE:SD), a company he built up a stake in this past year as he rotated out of Apple (NASDAQ:AAPL) and reallocated his portfolio, at the CNBC event. His comments thus far have been relatively limited, but yesterday he went as far as to say that SandRidge shares could double from their current $5/share level to $10/share. That was one of our old talking points that we abandoned after the Permian sale and continued Miss Lime results, which pointed to higher natural gas reserves and production vs. oil and liquids.
We are not on a level as to argue with Cooperman's prediction, but we would be surprised if SandRidge shares saw that much upside in this market without selling more assets or higher inflation rates to drive natural resources prices higher. His comments did push the shares higher by nearly 5% yesterday with volume jumping to 20.7 million shares. For more on Cooperman's picks and predictions at the conference, see this article.
It is not that SandRidge has never traded at double-digits before, but to get back to that level knowing what we now know seems a rather long shot -- especially over the course of the next 12 months.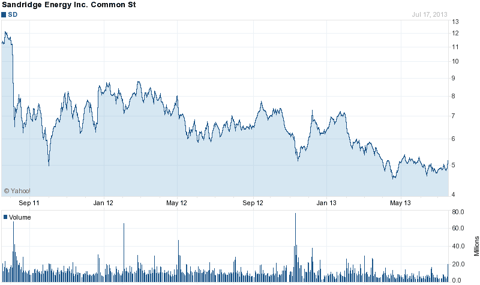 Source: Yahoo Finance.
Coming off the revelation that the company was unsuccessful in its bid to attract buyers after engaging an advisor, Kodiak Oil & Gas (NYSE:KOG) shares have been under pressure lately. On that weakness SunTrust saw an attractive valuation and liked the potential from downspacing in the Bakken that the company continues to work on. SunTrust thus decided to raise its price target to $11/share from $9/share, and moved its opinion on the shares from Neutral to Buy. Trading was heavy with 18.4 million shares exchanging hands, but this research note further indicates the improvements of the economics in the Bakken and the hidden value in the drilling inventory that the company has. These acquisitions they have been doing are also looking a heck of a lot more attractive as well. We continue to like the idea of buying on the dips here.
Disclosure: I have no positions in any stocks mentioned, and no plans to initiate any positions within the next 72 hours. I wrote this article myself, and it expresses my own opinions. I am not receiving compensation for it (other than from Seeking Alpha). I have no business relationship with any company whose stock is mentioned in this article.