For traders with a short-term time horizon who are looking for big moves over a short period, we have updated our list of the S&P 1500 stocks trading above $10 that have the largest intraday high-low ranges (based on the average percent spread between the intraday high and low over the last 50 days). The stocks are grouped based on whether they have a rising or falling 50-day moving average (DMA). Stocks highlighted in gray are new to the list this month.
In this month's list of stocks there are nineteen new names, while stocks in uptrends and downtrends are almost evenly split, with 27 stocks in uptrends and 23 in downtrends. Of the fifty stocks highlighted, there are still only five companies that have an average daily range of 5% or more. Regeneron (NASDAQ:REGN) is the highest priced stock on the list, and with a price of $269.42, it narrowly beats out Netflix (NASDAQ:NFLX) as the highest priced stock. The only other triple digit stock on the list is Alexion Pharma (NASDAQ:ALXN).
In terms of sector representation, 19 of this month's 50 names are from the Consumer Discretionary sector, which is more than twice the total of the next highest sector (Technology), which has eight. Financials and Utilities are the only two sectors that have no representation on this month's list. The fact that no stocks in the Financial sector made the list this month says a lot about how things have finally begun to normalize for the sector.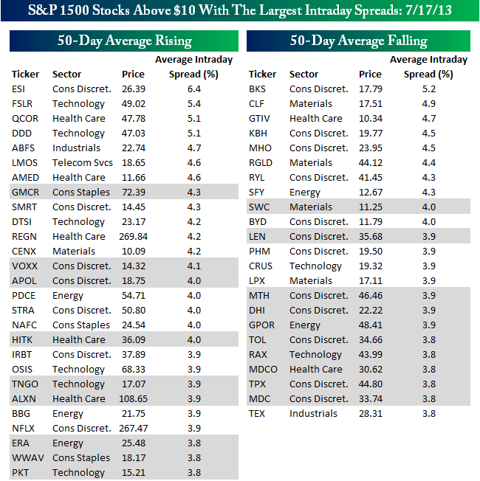 Click to enlarge