Markets tend to be focused on short-term results and often fail to see the overall picture. As an individual investor, the main advantage I have over large institutional traders is time. The luxury of time allows me to enter into companies that may have temporarily disappointed the Street with their results. Philip Morris International (NYSE:PM) is an excellent example of this phenomenon. This article will detail the three main reasons why I am initiating a position in PM today.
Market current courtesy of Seeking Alpha:
Q2 EPS of $1.30 misses by $0.11. Revenue of $7.9B misses by $0.32B. More on Philip Morris Q2 earnings: The strong dollar hurt results with EPS of $1.30 off 4.4% Y/Y, but excluding currency movement, EPS would have been $1.37, up a hair from last year. Cigarette shipping volume of 228.9B units off 3.9% Y/Y. FY2013 EPS guidance is revised down to $5.43-$5.53 vs. the Street at $5.55. Unfavorable currency movement is expected to cost about $0.31/share.
| | | | | | |
| --- | --- | --- | --- | --- | --- |
| Year | 2008 | 2009 | 2010 | 2011 | 2012 |
| Revenue per share in millions | 63,640 | 62,080 | 67,713 | 76,348 | 77,393 |
| Earnings per share | 3.32 | 3.24 | 3.92 | 4.85 | 5.17 |
| Dividends per share | 1.00 | 2.24 | 2.44 | 2.82 | 3.24 |
| Shares outstanding | 2003.9 | 1887.2 | 1801.8 | 1725.9 | 1653.6 |
PM revenue is predictable and stable in an industry with high barriers to entry. It would be extremely difficult for an upstart to come in and try to duplicate its core business. PM's flagship brand Marlboro is the premier brand in the industry and, in my opinion, impossible to duplicate. As we can see from the table above, PM revenue has grown quite nicely over the last five years.
The current revenue miss can be attributed to currency fluctuations. PM, like many other international companies, hedges their currency risk. It seems as if the hedges were inadequate. I am sure the hedges will be readjusted, preventing a similar episode in the near future. The consistent growing revenue allows the company to reward shareholders, which delves into my second reason for initiating a position.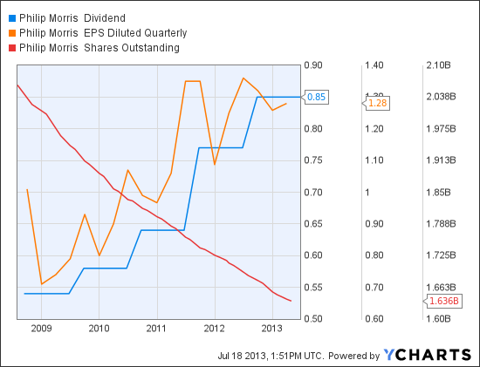 The strong revenue growth exhibited by PM allows for consistent dividend increases. As we can see from the table above, PM has more than doubled the dividend since 2008. The rapid increase is welcomed by income seekers, especially in the current low interest rate environment we all live in today.
Share buybacks are the secondary method employed by management to reward shareholders. As we can see from the chart above, PM has retired more than 20% of all outstanding shares since 2008. I am a big fan of buybacks, especially in companies that are cash flow producing machines such as PM. By using the excess cash flow to repurchase shares, management achieves a twofold effect. First, it allows for higher earnings per share. The math here is very simple: Earnings per share are calculated as net profit divided by shares outstanding. As the denominator shrinks, the earnings per share rise. Second, the buybacks support the share price.
There have been some comments made concerning PM's debt level. One of the complaints was that the company should stop selling bonds and using the proceeds to buy back shares. Management is 100% correct in following this course of action. In the current low interest rate environment, for a high free cash flow generating company such as PM, buybacks are the most prudent use of capital. I believe management will continue to follow this pattern and the share count will shrink further. The formula of continued buybacks coupled with ever-increasing revenue and higher dividends is a winner. I anticipate shares of PM will be far higher in the next three to five years while paying me well over 5% yield over cost.
In summary, PM's perceived negative earnings report gives investors an excellent entry point into PM shares. Similar to my reasoning for initiating a position in Coca-Cola (NYSE:KO) on Tuesday, I view today's lower opening a gift and will be opening a new long position in PM. Both PM and KO will become core long-term positions for me and I couldn't be happier.
Disclosure: I am long PM, KO. I wrote this article myself, and it expresses my own opinions. I am not receiving compensation for it (other than from Seeking Alpha). I have no business relationship with any company whose stock is mentioned in this article.
Additional disclosure: Thank you for reading the article. Investors are always reminded that before making any investment, you should do your own proper due diligence on any name directly or indirectly mentioned in this article. Investors should also consider seeking advice from a broker or financial adviser before making any investment decisions. Any material in this article should be considered general information, and not relied on as a formal investment recommendation.