Altera Corporation (NASDAQ:ALTR) is a maker of large-scale programmable logic devices (PLDs) including FPGAs and CPLDs. I covered Altera from late 2006 until mid 2008, but never bought the stock for myself. As part of my expanding public coverage of technology and biotechnology companies, this article marks my resumption of coverage of Altera.
If I had bought Altera during the market dip in 2008 I would be happy with where the price is today. In 2008 Altera ended the year at $16.71. It closed on July 16, 2013, at $34.90, up 109% from the end of 2008. Not bad, and a couple of the stocks in my portfolio did worse, but most did better. Note the current 52-week high was $38.80, against a 52-week low of $29.59. Note also that on April 18, 2011, closed at $45.99.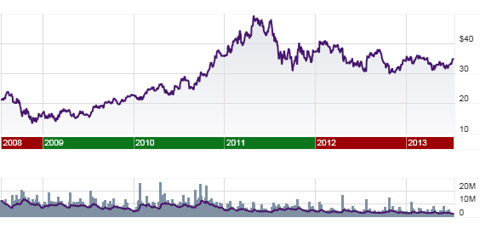 ALTR Stock Price and volume, 5-year
What about investing in Altera today? I would need to know the current financials, but for me the important thing is the technological drivers of long-term value. Are PLDs becoming more popular, or are they possibly a legacy technology with no great future? Within the PLD market, what is the competitive outlook for Altera versus rival Xilinx (XLNX) (which I also used to cover, and will be resuming coverage of) and other competitors?
PLDs can best be understood by contrasting them with standard microprocessors (CPUs). When a microprocessor is programmed, it means software instructions are sent to it that initiate operations that are available in the hardware. A PLD consists of an array of relatively simple logic blocks (gates). The presence or absence of connections between the gates can be determined by a programmer. The PLD is usually programmed to do one specific task very quickly and efficiently. In use a regular processor is more flexible (it can run a database or a photo-editing program, for instance) but less optimized for any specific task. The flexibility of a PLD is in the hardware before it is programmed. A particular PLD design might be programmed to act as a router, or as a smartphone signal processor, or for crunching a particular numeric algorithm at high speeds. You can even program PLDs to emulate general-purpose processors so that they respond to a variety of software commands, but that is not a typical use.
Also, while a single PLD can be programmed for a specific use, in practice for a particular application (say a transceiver) an identical program is burned into thousands to hundreds of thousands of chips.
PLDs can also be components of an SoC (System on Chip). Just as, say, Microchip (NASDAQ:MCHP) adds analog components to its microcontroller chips and AMD adds graphics engines to its APU chips, a PLD can be part of an SoC with analog components (for networking, for instance) or even with a standard processor. When an engineer is looking for a solution where a standard processor or microcontroller is inefficient, and when the number of units needed makes it costly to manufacture a ASIC (application specific IC) to order, choosing an appropriate PLD and programming saves time and money.
How big is the PLD market? Altera's Q1 2013 revenue was $410.5 million; Xilinx's was $532 million. While significant, these revenue levels are well below CPU makers Intel and even AMD, but in the ballpark with microcontroller maker MCHP ($430 million).
In Q1 cost of sales was $126.1 million, leaving gross profit of $284.4 million. Operating expenses were $166.5 million, leaving $177. 9 million in operating profit. Interest, other expense and an income tax benefit brought net income to $120.2 million, or a very healthy 29.3% of revenue. That is a healthy margin for semiconductor manufacturing.
Earnings per share, however, increased only $0.02 from a year earlier, to $0.37 (diluted), or about 6%. Revenue was up 7% from the year-earlier quarter. While that is not strong growth, it is better than the semiconductor industry overall, and in particular better than the negative growth in PC CPU semiconductors during the same period.
What is the auction value of ALTR stock? Using the July 16, 2013, close at $34.90, the trailing P/E ratio is near 20. That equates to a 5% return on investment, assuming flat profits going forward. At this early stage of research I would expect profits to continue to increase, at least gradually. Even that expectation does not make me feel hungry. There is also a dividend, recently increased to $0.15 per share per quarter, but the annual yield from that is just over 1.7%, which is nice but not great for a technology stock.
Altera would appear to have some competitive advantages going forward that would leaven that equation. Earlier this year Altera demonstrated a 32 Gbps transceiver device based on 20 nm process technology. It has also made a deal to use Intel's 14 nm Tri-Gate transistor technology for future devices.
What I would be looking for from Altera, to seriously consider adding it to my portfolio, would be some indication of a future stream of profits that are not taken into account at today's price. I note that 41% of revenue comes from the Telecom and Wireless vertical, which is a rapidly changing market. Another 22% comes from industrial automation, military and automotive markets. These semiconductor markets typically have higher margins than consumer markets, so any progress there would be important.
Before making an investment at minimum I listen to at least one quarterly analyst conference call. The next one for Altera will be on July 23, less than a week away. I'll take notes and post them. I'll also read the SEC security filing and the 10-Q. I'll check out the competition, including chip-to-chip comparisons.
In an era of superfast trading, I've found it pays individual investors like myself to move slowly and invest for the long term, so as not to risk getting beat up by computer algorithms. I'll be looking at many other stocks as well, and seldom add more than two or three stocks to my portfolio any given year. At this stage I think Altera is worth watching, as is Xilinx. I watched most of my best performers for several quarters before buying in based on my projections about the future. In addition this strategy allows for buying in on dips.
Altera is part of the Nasdaq 100, where I have found some of my best investments, notably including Gilead (NASDAQ:GILD), Biogen Idec (BIIB) and Celgene (NASDAQ:CELG), as well as Microchip and Applied Materials (NASDAQ:AMAT).
Disclosure: I am long MCHP, AMAT, GILD, CELG, BIIB, AMD. I wrote this article myself, and it expresses my own opinions. I am not receiving compensation for it (other than from Seeking Alpha). I have no business relationship with any company whose stock is mentioned in this article.