Off-priced retailer Family Dollar (NYSE:FDO) reported stronger-than-anticipated third quarter results Wednesday morning, led by strong sales of consumables. Revenue at the discount chain increased 9% year-over-year to $2.6 billion, roughly in-line with consensus expectations. Earnings per share actually declined a penny to $1.05, but that figure was better than the consensus estimates which called for a steeper decline. Free cash flow stands at a negative $275 million year-to-date as the company invests heavily in expanding and renovating its store base. The company has engaged in numerous sale-leaseback transactions, so the increase in capital spending has not materially drained the firm's coffers.
Taking a closer look at the numbers, we can see that the quarter was not as strong as it appeared on the surface. Same-store sales increased 2.9% year-over-year, equal to the performance in the second quarter, but down significantly from the 6.6% rate we saw in the first quarter. Growth at Family Dollar stores is clearly slowing, but more importantly, the composition of the sales growth is moving in an unfavorable direction as it relates to the firm's profitability. Revenue at Family Dollar's "Consumables" category advanced 14.8% year-over-year during the quarter, but this category includes low-margin items such as cigarettes, beauty and food. Smaller (but higher-margin) categories such as "Home Products" and "Apparel and accessories" experienced sales declines.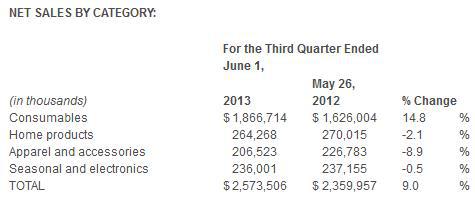 Image Source: FDO Q3 FY2013 Earnings Release
With a shift toward its "Consumables" segment, Family Dollar is experiencing gross-margin pressure, with the measure declining 110 basis points on a year-over-year basis, to 34.7%. If the product mix continues to shift in such a way, we think there could be additional gross margin downside at the firm. However, given that its "Consumables" segment accounts for a substantial amount of the company's total sales, further gross margin deterioration shouldn't be tragic. Sales expansion allowed the company to achieve some fixed-cost leveraging during the period, with SG&A falling 30 basis points as a percentage of sales to 27.4%. The company's operating margin declined 90 basis points year-over-year to 7.3%.
Looking ahead, Family Dollar's guidance wasn't too impressive. The firm anticipates fourth quarter same store sales to increase 2%, and management cited minimal SG&A leverage and gross margin pressure as profitability hurdles. Earnings are projected to be $0.83-$0.87 per share, in-line with the Street's current expectations.
Family Dollar's third quarter highlights the issue in the broader discount/off-priced industry - consumers are moving away from discretionary purchases. We aren't entirely sure this can be blamed on weak economic growth. Rather, we think it could be a consumer trade-up issue, which in turn would negatively impact peers such as Dollar General (NYSE:DG), Five Below (NASDAQ:FIVE), Big Lots (BIG) and Dollar Tree (NASDAQ:DLTR).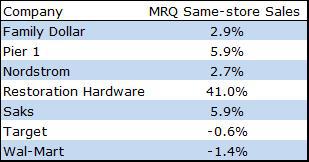 Source: Company Filings, Valuentum
The above image (of most-recent-quarter same-store sales) reveals that consumers are shopping increasingly more at Pier 1 (NYSE:PIR) and Restoration Hardware (NYSE:RH) than at Target (NYSE:TGT) and Wal-Mart (NYSE:WMT). Despite wage stagnation and the expiration of the payroll tax cuts, consumers still appear to be interested in purchasing more expensive items, leading sales of discretionary items at discounters to plunge.
Our Take
Dollar stores were an attractive play on a deleveraging consumer during the past few years. Now, we're seeing strong consumer credit growth, which may not bode so well for companies that benefit from penny-pinching. Free cash flow at Family Dollar remains elusive as the company invests heavily in new stores, and it could be even harder to generate if its gross margin suffers additional downward pressure. At the time of this writing, we believe shares of Family Dollar look fairly valued, and we aren't interested in adding the name to the portfolio of our Best Ideas Newsletter.
Disclosure: I have no positions in any stocks mentioned, and no plans to initiate any positions within the next 72 hours. I wrote this article myself, and it expresses my own opinions. I am not receiving compensation for it (other than from Seeking Alpha). I have no business relationship with any company whose stock is mentioned in this article.