Refiner Valero (NYSE:VLO) preannounced weak second quarter results. Including a $0.05 per share charge for spinoff-related expenses and other charges related to environmental and legal matters, the company plans to earn between $0.80 and $0.90 per share during the second quarter of 2013, nowhere near the consensus estimate calling for earnings of $1.27 per share and well short of last year's $1.50 per share.
The firm's interim-update release was very brief, but Valero blamed "lower discounts for heavy sour crude oil, higher natural gas costs, higher costs to comply with the Renewable Fuels Standard, and turnaround and maintenance activity at the Quebec City, McKee, Meraux and Port Arthur refineries." Discounts for heavy sour crude oil have been in abundance since the North American oil renaissance created greater supplies of oil pumping through North American pipelines and traveling on the railroads. WTI-Brent crude spreads have narrowed quite a bit recently, however, leaving refiners without the same powerful crack spread (refining margin) that they have enjoyed - the main driver of earnings expansion during the past two years. Earlier this month, for example, the WTI-Brent settled at the narrowest differential since January 2011 ($4.52 per barrel).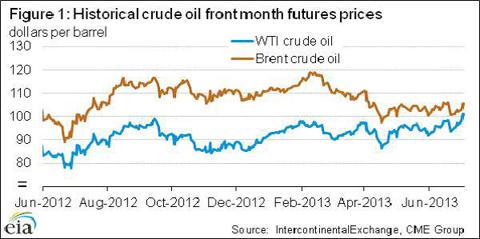 Image Source: EIA
Although the refining industry could be in for weaker-than-anticipated earnings, we're not ready to extrapolate the recent narrowing of the WTI-Brent spread into coming periods. In fact, when looking at the Brent‐WTI spread along the futures curve, the difference between the two benchmarks advances to roughly $7 per barrel by early 2014 and averages about $8 per barrel in 2015.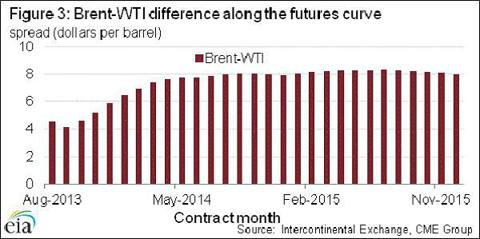 Image Source: EIA
We think Dividend Growth Newsletter portfolio holding Phillips 66 (NYSE:PSX) is better-positioned to outperform Valero and its peers on an earnings basis. The company continues to grow its exposure to advantaged crude, thus giving the firm a superior refining margin. Phillips 66 also continues to grow its midstream business via new natural gas pipelines. Management provided some interesting insight on the scope of the midstream business at the annual shareholder meeting in May, saying:
"Phillips 66 owns or leases assets that provide both strategic timely and environmental safe delivery of crude and the products that we make. We have over 18,000 miles of pipelines, 55 terminals, (and) 45 million barrels of storage throughout our system."
Phillips 66 has also decided to keep its Marketing and Specialties (M&S) segment, which was a huge profit driver in the firm's first quarter. The M&S segment includes Phillips 66's wholesale and retail fuel marketing, lubricants, power generation and flow improver businesses. Valero shifted its focus away from owning gas stations when it spun-off CST Brands (NYSE:CST) in May, so Phillips 66 will have earnings from another area where Valero no longer has exposure.
Our Take
Though earnings for refiners are inherently difficult to predict, Valero's weak results certainly don't bode well for the rest of the industry. Still, not all refiners are created equal, and we believe performance will diverge among constituents on the basis on their respective crude sources and different business lines. Phillips 66 remains our favorite refiner in the space and a holding in the portfolio of our Dividend Growth Newsletter. We note, however, our position in Phillips 66 is relatively small compared to other holdings in our Dividend Growth portfolio.
Disclosure: I have no positions in any stocks mentioned, and no plans to initiate any positions within the next 72 hours. I wrote this article myself, and it expresses my own opinions. I am not receiving compensation for it (other than from Seeking Alpha). I have no business relationship with any company whose stock is mentioned in this article.
Additional disclosure: PSX is included in our Dividend Growth portfolio.