Reported revenue for Bank of America (NYSE:BAC) rose 3.2% to $22.9 billion for the second quarter of 2013. The bank made $4.0 billion in net income, which represents an increase of 63% over the corresponding period in the previous year. Diluted earnings per share (EPS) rose to $0.32, which is higher than analysts' estimates of $0.25.
Quarterly Earnings History and Consensus Estimates

Q2 2013

Q1 2013

Q4 2012

Q3 2012

Q2 2012

EPS ($)

0.32

0.20

0.03

0.00

0.17

Consensus estimate ($)

0.25

0.22

0.02

(0.07)

0.14

Surprise

28.0 %

10.2 %

34.5 %

100 %

20.7 %
Source: Bank of America's earnings release and Thomson Reuters I/B/E/S.
CFO Bruce Thompson indicated that this earnings release reflects that the bank has made significant improvements in its three core indicators:
At the beginning of the year, we said we would focus on three things -- revenue stability, strengthening the balance sheet and managing costs...

This quarter, we delivered on all three. Revenue increased 3%, we continued to build capital ratios, despite the negative impact of higher interest rates on our bond portfolio, and we reduced expenses related to servicing delinquent mortgage loans at a faster rate than we originally expected.
Stronger revenue was the result of higher net interest income, investment banking fees, and trading revenue, as well as reducing expenses -- including lower provisions for litigation and improving credit quality. Like Citigroup (NYSE:C), Bank of America has focused on reducing operating costs in order to return the bank to profitability. Non-interest expenses fell $1.0 billion from the corresponding quarter in the prior year to $16.0 billion. The efficiency ratio improved to 69.80%, from 76.79% in the prior-year quarter. Litigation expense fell to $471 million from $963 million in the corresponding quarter in the prior year.
Net interest margin rose by one basis point to 2.44%, from 2.43% in the first quarter of 2013, and 2.21% in the second quarter for 2012. Net interest margins had been benefited from lower long-term debt balances, lower premium amortization, and higher commercial loan balances. Improving credit quality meant that net charge-offs fell to $2.1 billion from $3.6 billion in the prior-year quarter. For the first time since 2006, the total net charge-offs ratio fell below 1% to 0.94%. Furthermore, management is confident that this is expected to fall further in the near term.
Investment Banking Sustains Momentum
With JPMorgan (NYSE:JPM) and Citigroup, investment banking and fixed-income and equity trading revenue contributed much of the improvement to quarterly revenue and earnings. Investment banking fees rose 36% to $1.6 billion, from the prior-year quarter, on strong debt and equity underwriting.
Fixed-income, currency and commodities trading revenue was $296 million less than the prior-year quarter, at $2.3 billion. As with, JPMorgan and Citigroup, fixed-income trading was hit by market concerns following Federal Reserve's announcement in June that indicated that it may consider "tapering" asset purchases. Equity trading was much stronger, with revenue up 53% to $1.2 billion.
Estimated Basel III Common Ratio Stands at 9.60 %
Bank of America's balance sheet continues to improve, and the bank reported its Basel I Tier 1 Common Ratio rose to 10.83%, up from 10.49% in the first quarter. Furthermore, it estimates that its Basel III Common Ratio would stand at 9.60% at the end of the second quarter, up from 9.53% in the previous quarter.
U.S. regulators have proposed to raise the leverage ratios of the eight globally systemically important banks (G-SIBs) to 5% of assets for the holding companies, and 6% for their FDIC-insured bank subsidiaries. Bank of America estimates that its leverage ratio stands between 4.9% and 5.0% for the second quarter of 2013. Banks have until the end of 2017 to meet the minimum leverage ratios or they could face curbs on bonuses, stock buybacks, and shareholder payouts.
In March 2013, Bank of America gained the Fed's approval to begin a $5 billion stock repurchase program, after the bank showed that it carried sufficient capital to withstand a downturn in the annual stress tests, known as the 2013 Comprehensive Capital Analysis and Review. Furthermore, Bank of America also sought to redeem approximately $5.5 billion of preferred stock. As at the end of the second quarter, the bank had redeemed approximately $1.0 billion of common stock, and $5.5 billion of preferred stock.
The dividend yield is still very low, at 0.29%. Back in March 2011 Bank of America had wanted to raise the dividend, but this was rejected by the Fed. However, with Bank of America's fast-improving capital position, it's likely that the bank would seek to raise the dividend for 2014.
Tangible Book Value Declined to $13.32
Tangible book value at the end of the second quarter fell by 4 cents to $13.32, from $13.36 at the end of Q1 2013. This was the result of the bank recorded a $4.2 billion after-tax decline in accumulated other comprehensive income (AOCI). The bank's stock trades at a 5.1% premium over tangible book value. However, the stock only trades at a multiple on book value of 0.69 -- as book value was $20.18 at March 31, 2013. On forecast FY 2013 earnings, Bank of America trades at forward P/E ratio of 14.8.
At the time of writing, Bank of America stock rose 0.57% to $14.00, in pre-market trading.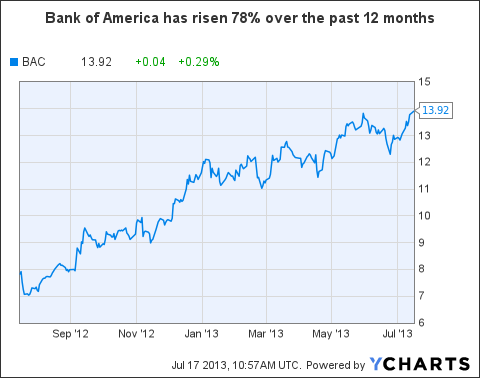 Disclosure: I am long JPM. I wrote this article myself, and it expresses my own opinions. I am not receiving compensation for it (other than from Seeking Alpha). I have no business relationship with any company whose stock is mentioned in this article.