National Beverage Corp. (NASDAQ:FIZZ) is a beverage developer, manufacturer and distributor headquartered in Fort Lauderdale, Florida and founded in 1985. National Beverage Corp. offers a very diverse range of beverage types, including: soft drinks (Shasta, Faygo, Ritz, Big Shot, St. Nicks), energy drinks and shots (Rip It, Rip It Shots, Mega Sport), juices (Everfresh, Mr. Pure, Home Juice), waters and enhanced waters (LaCroix, Clear Fruit, Crystal Bay, A sante, Mt. Shasta), as well as other miscellaneous beverages (Sundance, Ohana).
Returns since IPO: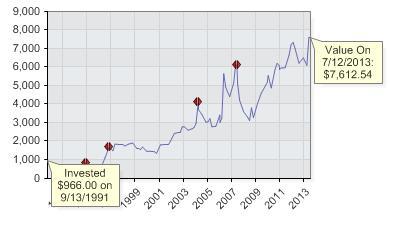 Returns since IPO with dividends reinvested: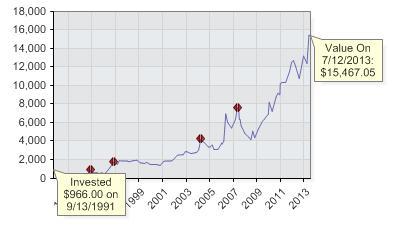 While past performance does not guarantee future returns it can still be helpful to look at. From the company's September 13, 1991 IPO to July 12, 2013 the company's share price has increased by 696.34%. Over the past 10 years the stock has gained 176.87%, over the past 5 years 146.05% and over the past year 18.10%. On top of that, if all dividends were reinvested the respective returns would be 1,501.17%, 439.61%, 273.91% and 39.97%. For the S&P500 these numbers respectively are only 331.18%, 68.33%, 35.55% and 24.03%. At first glance this looks like quite the hidden gem to me but in reality stock picking is not that easy and much more analysis is required.
Despite its smaller size, National Beverage Corp. has managed to gain several competitive advantages over many of their competitors. The company does this with a five-pronged approach consisting of a fantasy of flavors, regional share dynamics, quality-value ethic, creative agility and lifestyle focus.
While cola accounts for about half of the volume of grocery store soft drink sales in the United States, cola only accounts for 20% of National Beverage Corp.'s total sales volume. Instead National Beverage Corp. focuses on flavored soft drinks, which make up about 56% of the higher margin convenience store market, and is a segment growing much faster than colas. Rather than focusing on national marketing strategies like their two largest competitors, the company focuses on regional-oriented marketing. The company does this in order to gain better long-term loyalty as well as to benefit more from community promotions. While not a unique strategy, National Beverage Corp. strives to offer the best value for their products. Due to their smaller size the company is better able to react quickly to consumer trends. Over the past year alone National Beverage Corp. has developed 54 new flavors and package sizes, and in recent years has focused on developing healthier options and focusing on the convenience store segment. The company has heavily focused new product design on healthier products with less calories, more nutritional ingredients and offerings tailored to specific lifestyle needs.
National Beverage Corp. has a very interesting management. In 1985 National Beverage Corp. was founded by Nick A. Caporella in order to stop an acquisition of another company he owned. Left with a company without a business, National Beverage Corp. acquired Shasta Beverages and later Faygo. Nick A. Caporella has served as the company's Chairman of the Board and CEO since the company's founding. However it is uncertain how much longer he will serve as he is 77 and may be readying for retirement. Although he has not stated any plans to retire if he were. One likely replacement is be President of the company, Joseph G. Caporella. Not only is he the son of Nick Caporella but he has served as president of the company since September 2002, was the Executive secretary prior to that date, from January 1991, and has been a director since January 1987. All four officers have held their current position since at least 2003 and have been with the company since at least 1996. To me, this shows that management is truly dedicated to the company and not just in it to cash in and get out. It is also reassuring to see that after Nick Caporella the three other officers are 67, 56, and 53. This shows that they are likely to stay with the company for the foreseeable future.
National Beverage Corp. remains a small player in a declining industry. Beverage Digest ranked National Beverage Corp. as the fifth largest carbonated soft drink company in 2012 ahead of Monster Beverage Co. (NASDAQ:MNST) but behind Cott Corp. (NYSE:COT). What was interesting was that National Beverage Co. not only managed to gain 0.1% of the market for a 2.9% market share but that they also increased their volume by 2% while the industry as a whole decreased by 1.2%.
Over the past three years National Beverage Corp. has consistently succeeded in raising their net sales. In fiscal year ending April 30, 2011 the company had net sales of $600 million, in fiscal year ending April 28, 2012 net sales reached $629 million, finally reaching $662 million for fiscal year ending April 27, 2013. Unfortunately due to the cost of goods sold rising from $382 million to $445 million over the same time period, causing gross profit to decrease from $219 million to $217 million. However, due to lower selling, general and administrative expenses, and changes in taxes, the company managed to raise net income from $41 million to $47 million and earnings per share from $0.88 per share to $1.01 per share over the same time period.
Up until recently the company had no long-term debt. National Beverage Corp. has recently taken on $60 million worth of long-term debt but has already paid it down to $50 million. I would not call this new long-term debt as a cause for the alarm as the company still maintains a debt-equity ratio of 1.96 compared to 0.83 for the fiscal year ending April 28, 2012, a rise primarily attributed to the company's new long-term debt and a drop in cash from $35.626 million to $18.267 million. The company is able to maintain a healthy quick ratio of 1.44, an improvement of the quick ratio of 1.38 from the fiscal year ending April 28, 2012. Compared to a debt-equity ratio for The Coca-Cola Company (NYSE:KO) and PepsiCo, Inc (NYSE:PEP) of 1.69 and 2.35, and quick ratios of 0.9 and 0.89, National Beverage Corp. is in an excellent position to cover short-term liabilities and a decent position in terms of indebtedness.
Looking for continued returns I see three possible areas: a continued focus on shareholders, geographic expansion, and being bought-out.
The first scenario I view as being the most likely. The company has a very stable management that has consistently put shareholders first since the company's IPO. The biggest obstacle, though, would be changes in the company's fundamentals. In their July 11, 2013 filed 10-K the company lists some potential risks including: changes in consumer preference and taste (and if changes are not anticipated), competition (specifically the big players), customer relationships (the consolidation and increasing pricing of customers, and if the demands of larger customers cannot be met), raw materials and energy (changes in prices and supply), and government regulation (changes in federal, state, and local taxes, as well as proposed taxes on soft drinks).
The second scenario has yet to be proposed by the company but is one that always remains a possibility. National Beverage Corp. is a regional company and has not stated any plans to expand making significant global expansion highly unlikely. What is still likely is domestic expansion, i.e. growth in current regions and new regions within the United States. This is not unrealistic considering that the company currently has a small domestic market share and that domestic expansion is far simpler than international expansion.
The third scenario may be the least likely but is definitely not unheard of in the industry. In fact much of National Beverage Corp. was created as a result of acquisitions. The part that makes this unlikely is Nick Caporella, the man who created this company in order to fight off the takeover of another company he owned. While he is nearing retirement and a new Chairperson may be more open to the idea it would still be speculation at this point and being open to be bought-out does not mean that another company would want to purchase National Beverage Corp.
I would definitely rate National Beverage Corp. as a buy. The company has sound fundamentals, a management focused on shareholder value, and is quite competitive given its small market share. The company has consistently outperformed the overall market and does not currently have any serious indications of slowing down. National Beverage Corp. is a hidden gem that has gone under the radar of analysts while allowing investors to cash in.
Disclosure: I have no positions in any stocks mentioned, and no plans to initiate any positions within the next 72 hours. I wrote this article myself, and it expresses my own opinions. I am not receiving compensation for it (other than from Seeking Alpha). I have no business relationship with any company whose stock is mentioned in this article.