Natural gas futures are higher by 5% as of this post after the weekly inventory report showed a smaller than expected build in storage levels. The EIA showed storage levels rose by 58 billion cubic feet in the week ending July 12th. Analyst surveyed prior to the numbers release had anticipated the report to show 64 bcf. Stocks stand at 2.745 trillion cubic feet, 1.2% below the 5-year average and 13.1% below last year's levels.
The smaller build paints a picture of a tighter supply/demand balance that will likely cause a grind higher short term. As opposed to making me bullish in the medium term, it makes me less bearish... there is a difference. Don't get me wrong, this was a bullish report and the first one we've had in a while. The strength in the rest of the energy complex with oil and the products appreciating and the exceedingly hot temperatures domestically also contributed. Summer is half over, and we should not see this heat/demand several months out. I think that will limit further gains.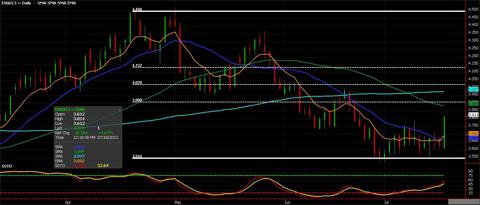 If already long, trail stops and consider instituting hedges against bullish futures trades... short calls or long puts. For fresh entries, I would prefer to allow prices to work higher and be defensive. As opposed to chasing longs after the 5% pop today, why not sell from higher levels? Just as Fibonacci levels could be used for bullish exits, I will use those pivot points to help navigate bearish entries for clients in the coming weeks.
A settlement above $3.75 in September should be followed by a minimum trade to the 38.2% Fibonacci level, in my opinion. Shorts get interesting to me the closer this contract gets to $4. A 50% retracement puts futures at $4.02, and 61.8% prices are at $4.13… trade accordingly. What this piece should illustrate aside from the obvious is that commodities can be traded both on the long and short side. I do not have an allegiance to any one commodity or any one direction… it is all about risk vs. reward.
Risk Disclaimer: This information is not to be construed as an offer to sell or a solicitation or an offer to buy the financial products herein named. Trading futures, options, and Forex involves substantial risk of loss and is not suitable for all investors. Past performance is not necessarily indicative of future results. This report contains research as defined in applicable CFTC regulations. Both RCM Asset Management and the research analyst may have positions in the financial products discussed.
Disclosure: I have no positions in any stocks mentioned, and no plans to initiate any positions within the next 72 hours. I wrote this article myself, and it expresses my own opinions. I am not receiving compensation for it. I have no business relationship with any company whose stock is mentioned in this article.