I am long Nokia (NYSE:NOK). After having reviewed Nokia's Earnings Report for 2Q13, I also think it's a near miracle that Nokia has survived what it's been through having received several successive body-blows over the past few years. 3 months ago, as I sat down to review Nokia's 1Q13 ER, I had very mixed feelings about the company's performance. Today, I am much more positive, but I also recognize that Nokia's having to fight several very difficult battles simultaneously. This also makes its reports tough to un-tangle which I believe is why it suffers unduly with the sadly recurrent share price drops post-ER every quarter before slowly rising back up to exceed previous highs. So let's take a look at these battles and why no matter the short term price reaction, ultimately today's results were positive.
The Symbian Rout
Anyone who follows Nokia will be by now aware of CEO Stephen Elop's famous "burning platform memo" of February 2011. In this internal document sent to Nokia employees, he frankly discussed how he felt the time of Symbian was drawing to a close among other matters. One particularly apt passage was:
"…..we have Symbian. It has proven to be non-competitive in leading markets like North America. Additionally, Symbian is proving to be an increasingly difficult environment in which to develop to meet the continuously expanding consumer requirements, leading to slowness in product development and also creating a disadvantage when we seek to take advantage of new hardware platforms."
The purpose of mentioning Symbian is not to engage in another tedious discussion over its merits or that of Meego which seem to have a cult-like following. Rather it is to note how this has materially affected Nokia's results ever since. After this memo, Nokia did begin to change direction announcing a partnership with Microsoft (NASDAQ:MSFT) in April 2011 to develop the Windows Phone platform.
Since that moment, Symbian entered a process of decline as the following graph shows.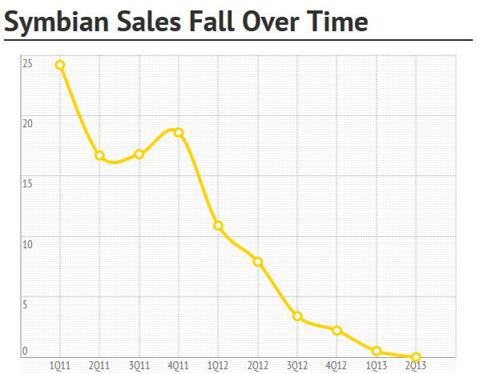 Click to enlarge
(Click to enlarge)
Source: Nokia Company Reports & Author estimates
I would love to call it a managed decline, in reality it was more of a controlled car-crash with obsolete Symbian phone sales dumped onto the market with little fanfare. A process which finally ended this quarter. Due to the length of this decline, it affects every QoQ and YoY comparison made in the latest ER. So when one reads Bloomberg's take on today's results which reports a "smartphone sales fall", it is true. It is also meaningless, Symbian has been rapidly been falling as a percentage of Nokia's revenue mix for many quarters and finally ceased sales with the latest ER. So of course YoY comparisons are tough on Nokia, I find that natural.
I also find it remarkable that despite the rapid fall in sales which trended from 20 million plus in early 2011 to 0 as of today, Nokia is still alive and kicking. There was no guarantee this would have happened when we consider some of its tech cohorts which didn't manage so well such as Palm and BlackBerry (NASDAQ:BBRY).
So for me, the take-away from seeing the YoY declines in revenue is not that Nokia is in trouble. Instead, as soon as we recognize Symbian's part and the fact that Nokia recorded an operating loss of only -$150 million, an improvement on 2Q12's operating loss of -$1,078 million, we can start seeing the positives from the latest ER.
The failed Windows Phone 7 Uprising
Unfortunately, while Nokia is still alive and kicking, the transition from Symbian to Windows Phone also had its pain points which have undoubtedly affected the company. In the beginnings of its partnership with Microsoft, Nokia launched phones such as the Lumia 800 and 900 which ran on Windows Phone 7. While this may just seem one digit below today's Windows Phone 8, it was considerably different internally. It operated using the Windows CE kernel which had formed the backbone of Microsoft's mobile efforts for the preceding decade. Nokia used WP7 and with its still at-the-time decent carrier influence started pushing its new Lumias out.
This led to the particularly inopportune campaign in USA with the tag-line "The Beta Test is over".

Click to enlarge
(Click to enlarge)
Nokia's Early 2012 WP7 US advertising campaign
This campaign actually gained some decent traction with 700,000 units sold in NA in 2Q12. This actually exceeds this quarter's results of 500,000 units.
Globally, unit sales also experienced exponential growth doubling quarter on quarter to reach 4 million by 2Q12. This was a very respectable upward trajectory which sadly was cut short, by the fact the beta test was not in fact over.
I do not know how much foreknowledge Nokia had about Microsoft's intentions. What we do know however is that in June 2012 WP8 was announced. It was revealed that this operating system would run on Windows NT kernel which broke backwards compatibility with WP7.
This news immediately halted Nokia's upward momentum resulting in 3Q12 sales of 2.9 million and only started to recover from 4Q12 with total Lumia sales of 4.4 million.
Therefore, this consideration also affects how we should view Nokia's latest ER. While the high water-mark of WP7 sales of 4 million in 2Q12 was greatly exceeded in 2Q13 with sales of 7.4 million, a yearly analysis is slightly misleading. In fact, what Nokia has really done is gone from 0 to 7.4 million with a whole new generation of devices and trended back to near-zero with WP7, all in the space of less than 9 months.
The Feature Phone's War of Attrition
The above two markets which have declined have been endlessly discussed by analysts and predicted somewhat by Nokia. One market's decline which seemed to catch everyone by surprise though was the precipitous drop in the company's feature phone sales as the following graph shows.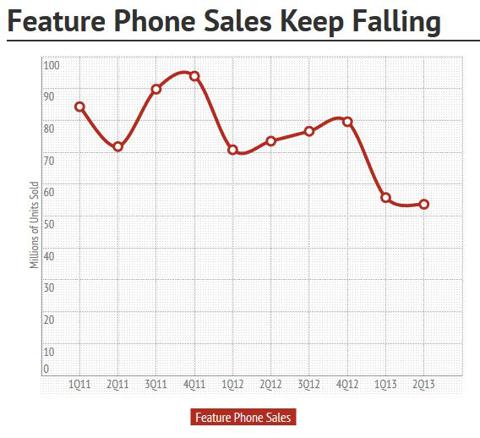 Click to enlarge
(Click to enlarge)
Source: Nokia Company Reports
This was especially acute in 1Q13 when sales fell from ~80 million units to ~55 million. This quarter, the rate of loss has been halted somewhat with Nokia recording 53.7 million sales. This came at a bloody price though with declining gross margins (from 22.9% to 19.5%), declining contribution margins (from 5.5% to 2.2%) and a declining ASP from ~$37 to ~$34.
Translated, it means that Nokia is selling its existing units for cheaper and is starting to run up against its fixed expenses. Next quarter, if the rate of lowering margins is maintained, its feature phone sales will become a net drag on the company.
I don't see how this trend will be altered any time soon. I went into it in-depth in my 1Q13 ER analysis and I won't repeat it verbatim here except for this passage:
"In any industry, the idea of a European manufacturer successfully competing in the volume sector against Asian manufacturers is risible. This is not due to some cultural difference but based on the systemic weaknesses multinationals face. Multinationals must follow the rule of law, they must obey patent regulations, pay taxes, pay their workers officially, use invoices for all goods and services procured etc. Most of all, they receive no explicit or hidden subsidies. Technological goods are now regarded as strategic industries by many emerging countries and they will do whatever it takes to develop their indigenous manufacturers.

Nokia needs to recognize this is a battle that it cannot win. It needs to stop competing on volume, move up the value chain and focus heavily on its Asha and Lumia line."
The points I made three months ago then are just as valid now. However, three months ago, it was unknown if Nokia's new Vietnamese plant was devoted to feature phone or smartphone manufacture.
With this ER, we learned from Nokia:
"Nokia started production at its new manufacturing facility in Hanoi, Vietnam. The new site has been established to produce our most affordable Asha smartphones and feature phones. "
Now, I do not have enough information as to state that this is a bad move on Nokia's part. It is quite possible that Nokia needed to move its existing locations and rationalize its manufacturing so that it can cut costs and deliver better gross margins. Again, to me that may be just a move which looks at things backwards. In my eyes, cutting costs does not matter as much as being in the right, or wrong market.
Nokia will ultimately lose its sales from its feature phones with consumers attracted to no-name brands or upgrading to smartphones instead. We already know that in just one year, global feature phone sales declined from 275 million to 215 million. Therefore, I can only hope that Nokia is being slightly disingenuous with us here and will ultimately use this factory to also build smartphones. If it doesn't, I seriously question the existence of this facility.
So why is this important to bear in mind when we consider Nokia's latest ER? To me, it means that once we recognize that Nokia is heavily suffering with its feature phone sales and will do so for the foreseeable future, the underlying positive trends revolving around NSN and its Lumia line start to reveal themselves.
The Nokia Siemens Network Beachhead
Reading through the ER, I was struck by one section in particular. It can be found on pages 16-17 and consists of the company's "Operating Highlights". NSN's highlights run for a full page and list impressive achievement after impressive achievement.
One I particularly liked was:-
"ABI Research has ranked Nokia Siemens Networks number one in its macro base station vendor competitive assessment, with high scores in implementation and innovation, and a best-in-class rank for essential IP, advanced features, multi-protocol support and LTE RAN contracts criteria."
On top of this recognition, the division also won several awards in the last three months. I think this is entirely merited with NSN having delivered blow-out earnings recording a non-IFRS gross margin of 11.8% beating its guidance of 5% (+/- 4%).
Even more pleasingly, it raised its outlook for 3Q13 to 7% (+/- 4%) indicating a firm upward trend back to profitability for the telecom infrastructure specialist bearing in mind the following graph.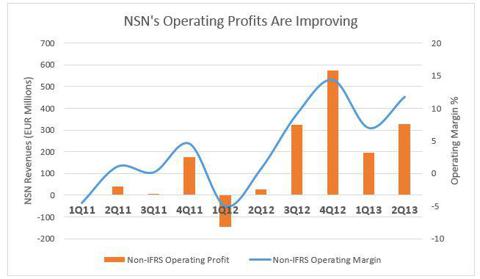 Click to enlarge
(Click to enlarge)
Source: Nokia Company Reports
There was even more good news as in this quarter, Nokia picked up the other half of NSN rather cheaply for ~$2.2 billion and managed to defer payment on ~$655 million to Siemens for another 12 months. I think the above graph gives a very good snapshot indication at why that deal was such a steal. I'd recommend interested readers check out Redrut's analysis of the deal for further information.
I think it's a very fair assessment to say then that NSN is making slow but steady progress after heavy restructuring to become a veritable cash cow for Nokia.
Of course, its success is slightly lost with some of the other more negative stories taking up more media attention. Nevertheless, once the hubbub has died down, I am sure that NSN will continue to form an important component of Nokia and contribute heavily to its increasing market capitalisation.
The Rise of Windows Phone 8
Finally, it's time to consider the headline grabber in Nokia's portfolio, its Lumia range of phones running on WP8. The big headline number to know is that sales numbers increased yet again QoQ to hit a record breaking 7.4 million units sold. As Elop put it in the CC, Nokia has now sold as many phones in 2013 as it did all year in 2012 as the following diagram shows.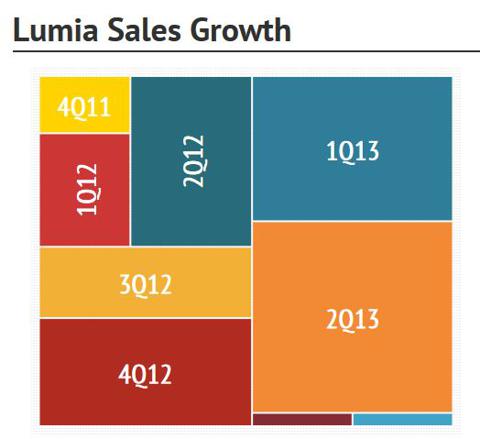 Click to enlarge
(Click to enlarge)
Source: Nokia Company Reports
Effectively, it means that nearly half of all Lumia sales have been this year.
There is also the Google trends graph which I follow regularly which shows that Lumia interest keeps on rising and is currently at a record-breaking high as of today which nicely complements the preceding diagram.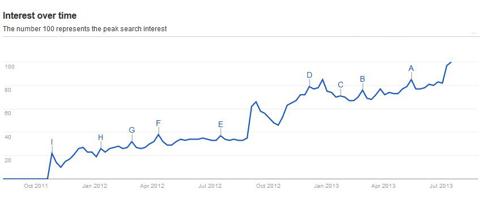 Click to enlarge
(Click to enlarge)
Source: Google Trends
Now, it is worth bearing in mind that Nokia did not forecast higher Lumia sales next quarter. They have stated they expect higher D&S net sales, but that is as far as they went. This indicates there are a lot of unknown variables. I would agree with that assessment. These variables revolve mainly around the take-up of the L925, L928 and L1020 lines which is very up in the air at the moment.
If the L1020 for example delivers a blow-out quarter and sells 1 million units, this could conceivably cause a positive earnings warning by Nokia. On the other hand, if Nokia cannot afford to produce that many units and has stock outs, which it may just be experiencing (again), then we can expect a total Lumia figure around the 8 million mark in 3 months' time. Not spectacular, but it would be another record breaking quarter. It would also prepare Nokia well for 4Q13, traditionally the most profitable time of the year for smartphone vendors.
Final thoughts
I don't know the extreme short term outlook for Nokia. Long term I am bullish as ever. 2Q13 was a decent set of results, no matter what the media may have you believe. More than any one set of results, I think the general trend of Nokia is upwards. As it deals with and dispenses with its struggles (Symbian, WP7 and now feature phone sales), its general upward momentum will become clear and the stock will accordingly continue to adjust upwards.
Disclosure: I am long NOK. I wrote this article myself, and it expresses my own opinions. I am not receiving compensation for it (other than from Seeking Alpha). I have no business relationship with any company whose stock is mentioned in this article.
Disclaimer: This article is not an investment recommendation. Any analysis presented in this article is illustrative in nature, is based on an incomplete set of information and has limitations to its accuracy, and is not meant to be relied upon for investment decisions. Please consult a qualified investment advisor. The information upon which this material is based was obtained from sources believed to be reliable, but has not been independently verified. Therefore, the author cannot guarantee its accuracy. Any opinions or estimates constitute the author's best judgment as of the date of publication, and are subject to change without notice.