I read a few weeks ago a piece by Paul Wagenseil on one of the FOX sites titled: Contractor Seeks 'Cyber Warriors' to Help Defend U.S.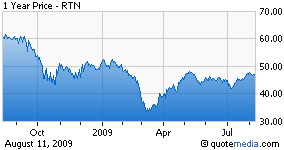 It grabbed my attention in a cheap thrill kind of way and then got me seriously thinking about the security plays out there, and much to my surprise, the story features one of our holdings Raytheon Co. (NYSE: RTN). I am posting today from sunny Martha's Vineyard where the first family will be vacationing (after our departure) furthering my curiosity about security issues and non-government organizations.
The fact is, everyone usually knows where the President will be staying, creating a real vulnerability. There were recent cyber attacks on US based banks, and government web sites and the US and South Korea taken down in July. Larger still, Facebook has been hacked and even Twitter.
Cyber attacks are real and could cripple much of our infrastructure. We are more dependent on our electronic connections every day. Fox of course went with sensationalism to draw attention, but they do sell ads for a living so I can't blame them. They drew my attention.
Want to be a "cyber warrior" defending your country? If so, there are plenty of well-paid jobs available.

Leading defense contractor Raytheon is looking for a few good men and women — a couple of hundred of them, in fact — to patrol the front lines of America's cybersecurity.

"We're aggressively recruiting," Raytheon Vice President of Information Security Solutions Steve Hawkins told FOXNews.com.
They even had a place to apply for the 30 different job types in the article.
"Our Raytheon cyber warriors play offense and defense, and know how the adversary thinks and can adopt their perspective," says the Web page, which lists positions ranging from "network and security engineers" to "data modeling engineers" to "media sanitation specialists."

Asked what that last job entails, Hawkins laughed.

"That's where you erase or destroy devices that would have sensitive data on them," he explained. "You try to find individuals who've been trained in doing that. But I'm afraid those positions have mostly been filled."
The firm has a strategy and I believe it is a major growth area. The article continues.
Nevertheless, Hawkins says the company's made about 50 to 60 hires so far this year, and wants to take on 150 more new cyber warriors by December.

Hawkins added that for those applicants who pass the most stringent security clearances, "which limits the available talent," there's "premium compensation ... I'd say they make 10 to 15 percent more."

"We're looking for those individuals who understand the inner workings of computer systems and software, who understand the interaction between hardware and software down to the nitty-gritty," he said. "Not people who've specialized in high-level computer languages."
This may be a real growth driver for RTN and other players in the defense field. I have heard the big consulting firms are developing teams for high end work beyond ecommerce and standard closed and open loop security for government. This is a new field and it makes sense the big players and small niche companies will be the first to create products and services.
To me it sounds like RTN is recruiting to support the government and large institutions who can afford their services and maybe, if you forgive the expression: are too big to fail.
Disclosure: Mr. Corn is Chief Investment Officer – Equities of Beacon Trust Company. Through various equity strategies under his supervision he is long RTN.