We wrote our very first article on Seeking Alpha on Feb. 12 of this year, recommending Exco Resources (NYSE:XCO) at around $6.50. Shares are up around 30% since that time, and we are now updating our stance on the name. We will start by discussing its deal with Harbinger Group, Inc. (NYSE:HRG) and how Exco utilized this to make an even larger deal with Chesapeake (NYSE:CHK). While we still like the name and continue to hold a large position, we are becoming more bullish on some other players in the space as well -- specifically, Encana (NYSE:ECA) and SandRidge (NYSE:SD).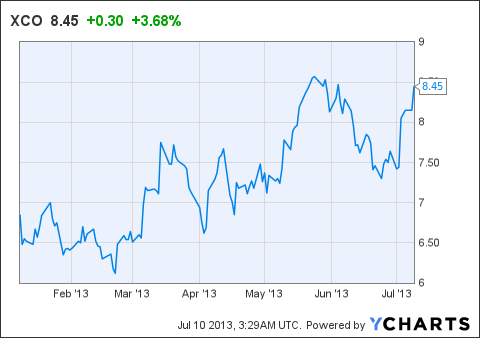 If you follow Exco and listen to the conference calls, you would already know that CEO Douglas Miller had a change in stance during the Q1 call. He stated that he was "tired of playing defense, and now is the time to go on the offensive." He hinted at the possibility during the last earnings call of putting together a "large" deal, which seems to have been a positive development as shares have gained about 15% in just the past few days. We will detail what has changed specifically with Exco, and the some of the specifics from the conference call surrounding the deal with Chesapeake. Also, we will look briefly at the Harbinger deal, which gave Exco the financing to enable such a large deal in a relatively short window.
On Nov. 5, 2012, Exco announced a deal with Harbinger Group related to the company's conventional oil and gas properties in Louisiana and Texas. The net proceeds of the deal to Exco was approximately $573.3 million, revising its borrowing base at that time to roughly $900 million. This in turn was a preemptive deal that enabled the financing for the Chesapeake transaction on July 3.
The details of the Harbinger transaction are as follows:
The Partnership holds conventional oil and natural gas assets previously owned by EXCO in West Texas, including and above the Canyon Sand formation, as well as in the Danville, Waskom, Holly and Vernon fields in East Texas and North Louisiana, including and above the Cotton Valley formation. Under the terms of the definitive agreements announced on November 5, 2012, the Partnership acquired the oil and natural gas assets from EXCO for $725 million of total consideration. The purchase by the Partnership was funded with approximately $225 million of bank debt, $348.3 million (after preliminary closing adjustments) in cash contributed from HGI and$119.2 million (after preliminary closing adjustments) in oil and natural gas properties and related assets being contributed by EXCO. EXCO has a 50% interest in the general partner of the Partnership and a 24.5% limited partnership interest in the Partnership. After giving effect to the 2% general partner interest in the Partnership, EXCO and HGI own an economic interest in the Partnership of 25.5% and 74.5%, respectively. The Partnership will be governed by a Board of Directors of the general partner consisting of two EXCO directors and two HGI directors. EXCO will continue to manage and operate the assets as contract operator of the properties and provide services pursuant to contract operating and administrative service agreements with the Partnership.
The partnership also added assets in East Texas and North Louisiana for $132.5 million from BG group PLC, Exco's partner on the TGGT midstream assets.
On Feb. 14, 2013, the Partnership agreed to acquire certain conventional oil and natural gas assets in the Danville, Waskom and Holly fields in East Texas and North Louisiana, including and above the Cotton Valley formation, from an affiliate of BG Group plc for $132.5 million, with an economic effective date of Jan. 1, 2013, and subject to customary closing adjustments.
What Did Exco Give Up on the Harbinger Transaction?
| | | | | |
| --- | --- | --- | --- | --- |
| Production: | Historical EXCO | Total Partnership | EXCO's 25.5% Share | Consolidated Pro Forma EXCO |
| Total production (Mmcfe) | $ 146,040.00 | $ (27,986.00) | $ 7,136.00 | $ 125,190.00 |
| Average production (Mmcfe/d) | $ 533.00 | $ (102.00) | $ 26.00 | $ 457.00 |
| | | | | |
| Revenues, excluding derivatives | $ 394,447.00 | $ (118,538.00) | $ 30,227.00 | $ 306,136.00 |
| Average realized price ($/Mcfe) | $ 2.70 | $ 4.24 | $ 4.24 | $ 2.45 |
| Expenses: | | | | |
| Direct operating costs | $ 59,084.00 | $ (34,138.00) | $ 8,705.00 | $ 33,651.00 |
| Per Mcfe | $ 0.40 | $ 1.22 | $ 1.22 | $ 0.27 |
| Production & Ad valorem tax | $ 20,671.00 | $ (14,303.00) | $ 3,647.00 | $ 10,015.00 |
| Per Mcfe | $ 0.14 | $ 0.51 | $ 0.51 | $ 0.08 |
| Gathering & Transportation | $ 78,183.00 | $ (9,352.00) | $ 2,385.00 | $ 71,216.00 |
| Per Mcfe | $ 0.54 | $ 0.33 | $ 0.33 | $ 0.57 |
| | | | | |
| Excess of revenues over direct operating expenses | $ 236,509.00 | $ (60,745.00) | $ 15,490.00 | $ 191,254.00 |
Exco sold roughly 102 Mmcfe/d in total, minus its 26 Mmcfe/d interest in the partnership, therefore the total production transferred to Harbinger was roughly 76 Mmcfe/d. Exco was retained as the operator of the newly formed partnership and retains a 25.5% interest in the overall partnership. From the 10-K, borrowings under the Exco/HGI partnership credit agreement are secured by the properties contributed. Also, Exco does not guarantee the Exco/HGI partnerships debt.
What Did Exco Obtain From Chesapeake?
The transaction was done at approximately 6 times trailing EBITDA and trailing 12 months EBITDA of approximately $165 million. Approximately 60% of the assets are proved developed wellbores, fairly low-risk proven assets acquired at reasonable prices. During the past two years Exco has been on the defensive by lowering production, selling assets, and lowering the overall rig count. This recent transaction is finally an inflection point that will start a growth trajectory in production along with a tailwind from increasing PV-10 values.
Click to enlarge images.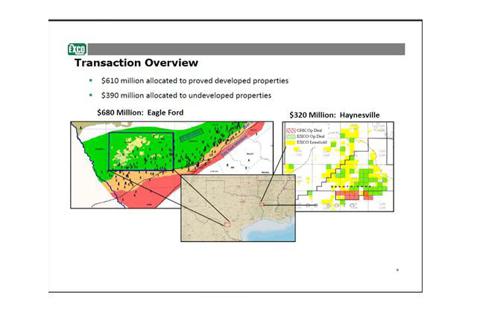 The composition of the Eagle Ford production is mainly oil (86% oil, 6% NGL, 8% gas) in combination with a nice bolt-on gas acquisition within Haynesville, adjacent to existing properties. This transaction provides some diversification into oil assets away from purely dry gas, and as per the call the Eagle Ford assets should be profitable with oil above $70. CEO Douglas Miller also stated the company will likely hedge a large portion of future oil production at current strip prices above $100.
Miller said his expectations for oil were relatively negative, forecasting a drop from above $100 to roughly $85 per barrel within a two- to three-year time horizon. Chesapeake has a 25% farm-out interest in the Eagle Ford on approximately 147K net acres. Miller stated this farm-out interest helps mitigate some of the risks with EUR's on undeveloped land, thus lowering the purchase price overall by providing this interest to Chesapeake.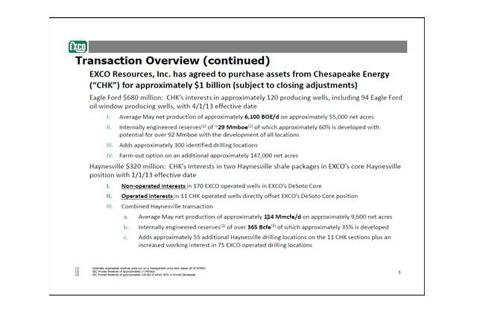 It seems to us that the management team at Exco made a fairly prudent and timely acquisition, selecting bolt-on assets adjacent to its existing Haynesville properties. The additional Haynesville assets can be leveraged by Exco due to its significant knowledge base on this particular shale geology. In the past, Exco has worked with Encana and others on the costs efficiencies and geology of the Haynesville acreage. In fact, Encana recently stated it would increase the Haynesville rig count from two to five throughout 2013 due to "low supply costs."
Exco also further diversified the asset base with the Eagle Ford acquisition, with production currently running at 6,100 BOE/d (86% oil). Miller stated that while capex would increase slightly it would still be relatively low, at roughly half of EBITDA upon completion of the deal. While we would like to see more gas acquisitions, this provides decent rates of returns if oil production is hedged aggressively at the current strip, which Miller has indicated is likely.
The next catalyst for Exco will likely be the sale of the midstream TGGT assets. We would like to see a full sale, but during the call Miller stated three of the four interested parties are looking for a partial deal. Given that the TGGT sale has been delayed many times (over a year) in the past, we view any sort of deal as a positive. A sale would likely provide the necessary capital to enable further gas acquisitions at roughly trough multiples.
Negatives
Exco acquired Eagle Ford oil assets at a price point north of $100 per barrel, which is likely very close to a peak multiple for oil producing assets. This could prove to be a losing acquisition if oil falls precipitously, and is not hedged significantly on the forward strip.
Exco leverage will be at the high end of the acceptable range. It is likely BG partners will take its 50% rights in the assets, which would help lower the overall risk.
We feel this deal is done with the assumption that the TGGT assets will be fully or partially sold within the next few months.
These unknown variables (BG partners and TGGT sale) cause quite a large discrepancy in what the end leverage would be after all the transactions have been completed.
The final concern is Exco levering up the balance sheet without a subsequent recovery in natural gas pricing in the coming years.
And there are the terms of the pending deal with KKR, which are still not fully released to the public.
While the shares of Exco have performed nicely over the past five months from our recommendation around $6.50, we have sold roughly 30% here in the $8.50s. We view other opportunities as relatively cheaper -- such as Encana (which we wrote about in late June) and SandRidge Energy, both at close to 52-week lows. While our favorite of the two is Encana, due to its natural gas exposure and relatively unimpaired balance sheet, we feel SandRidge has speculative upside in the Mississippian Lime. Overall, we have a bullish thesis on a long-term recovery in North American natural gas over the next two to three years and continue to be heavily concentrated in the space.
Disclosure: I am long XCO. I wrote this article myself, and it expresses my own opinions. I am not receiving compensation for it (other than from Seeking Alpha). I have no business relationship with any company whose stock is mentioned in this article.